This post may contains affiliate links for your convenience. If you make a purchase after clicking a link we may earn a small commission but it won't cost you a penny more! Read our full disclosure policy here.
In a previous post on Epcot, I demonstrated how you could see all of Epcot's Future World attractions in one morning using park open ("rope drop") and FastPass+ strategies to your advantage.  I put this plan to the test in August 2016.  This post goes through my plan and my success at completing the steps.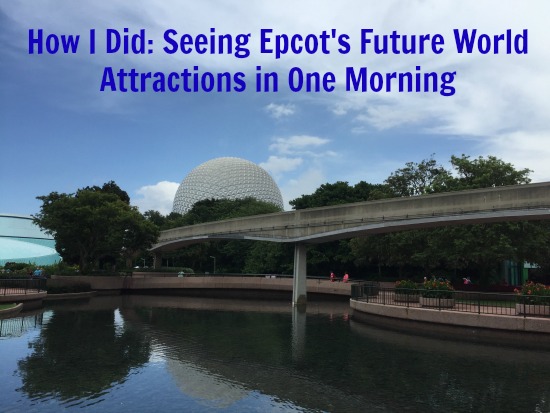 Pre-Trip Preparation
I was able to obtain the following FastPass+ reservations 60 days in advance:
Mission: Space 9:15-10:15
Spaceship Earth 10:15-11:15
Soarin' 11:20-12:20
I also made an ADR at Garden Grill at 1:00 p.m. about 4 months in advance.
Rope Drop
We arrived at the Mickey ticket readers at 8:15 and got in the line next to the reader where they were allowing those with breakfast ADRs to enter.  As predicted, that line converted to a regular line at about 8:40, so we hopped in that line, just two people back from the front. When they opened the park, we stayed to the right and headed toward Epcot Character Spot inside Innoventions West first.  We were first in line for the Inside Out character meet and greet and had to wait outside.  Surprisingly, only two other families queued up behind us, the crowd all heading toward the Land Pavilion for Soarin'.  We were let in the building at 9:00 a.m. and lined up for Joy and Sadness, who were a minute or two behind schedule.  The Joy and Sadness meet-and-greet is great, and they were able to communicate their emotions extremely well to our kids.  We immediately crossed the hall over to the Baymax meeting area.  The Baymax line moves more quickly than Joy and Sadness, as Baymax doesn't sign autographs and is limited in his movements and interactions with guests.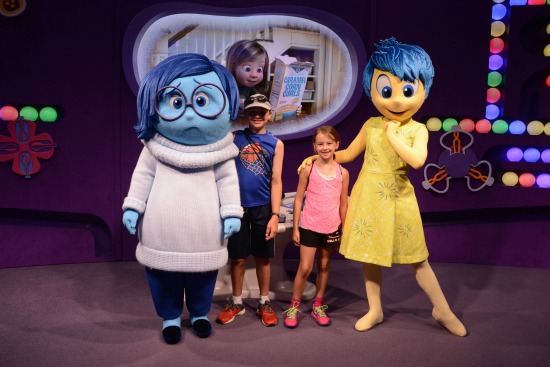 Joy and Sadness meet at Epcot Character Spot
By 9:15 a.m., we were on our way to Test Track where we were met with a posted 30-minute wait in the standby line, that was just outside the entrance door.  The wait was actually around 15 minutes by the time we got into the car design area.  After our ride, our kids showed great interest in all of the areas after the unloading area:  the video games where you drive your designed car, the gift shop, and even the new cars and trucks on display.  This is something I didn't consider – the kids will probably love one or more of these things, so you may want to build in some extra time here.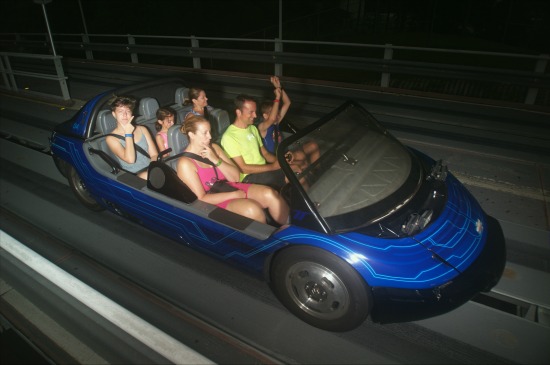 Test Track
Following Test Track, we stuck to the plan and went to Mission: Space for our first FastPass reservation, right around 9:45 a.m..  We stuck to the "green" version, which had a slightly shorter wait, but both sides were nearly walk-on at this time of the morning.  After Mission: Space, we were still good on time, so we stopped at Club Cool in Innoventions East for 10 minutes.
We rode Spaceship Earth using our second FastPass, and once again we got distracted with the post-show area where our kids were interested in the exhibits.  A quick restroom break followed, and then I got distracted myself and forgot we were supposed to head over to the Seas pavilion for Turtle Talk with Crush and The Seas with Nemo and Friends.  Instead, we went over to the Imagination Pavilion where we were going to ride Journey Into Imagination.  The wait there was posted at 40 minutes, and that ride just isn't worth that long of a wait.  Instead, we headed to the Disney/Pixar Short Film Festival and watched the three shorts.  While we've seen all of the films before, they did take on new meaning with the subtle movements of the seats and other 4-D effects.  Upon exiting, the Florida rains came down, so we had to take a few minutes to put on our rain gear.  At this point, I realized we missed our visit to The Seas, but we had entered the FastPass window for Soarin', and with the rain delay, I decided to skip The Seas and come back either after lunch or on a day later in our trip to see those attractions.
We went to The Land pavilion and went to Soarin'.  As soon as we entered the queue and validated our FastPass, I got on My Disney Experience and searched for a FastPass for Living with the Land, which I found for 12:05 and booked.  As recommended by many bloggers and other Disney "experts," we asked to be seated in the "B" section of the Soarin' theatre so that we didn't have to see the distorted views so many have complained about.  We had to wait one show more than we would have had to if we had gone with A or C, but it was worth the extra 10 minutes.  The new film is solid, and the CG effects, while noticeable, are really not that distracting and certainly didn't take away from our experience.  This is still a headliner and not-to-be-missed!
After Soarin', we stopped at a pressed penny machine and the restrooms before our FastPass window for Living with the Land opened.  The fourth FastPass was helpful, as we were met with a 20-minute standby wait.  We got in the queue just before our FastPass window opened (you get a 5-minute grace period before your scheduled time) and we were off in our boat.  We finished a bit earlier than our 1:00 p.m. ADR, so we checked in a little early, requested to be seated in one of the booths (so that we had a view facing out) and were in about 15 minutes later.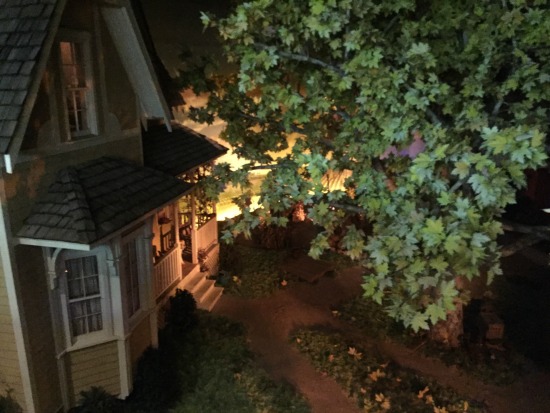 The farm scene from Living with the Land, as seen from Garden Grill
Lunch took just over an hour by the time we met all of the characters.  We weren't too tired, so we went to The Seas pavilion and rode the Nemo attraction with about a 10-minute standby wait.  We decided to tackle Turtle Talk with Crush on a day later in our trip.  We were out of the gates at around 1:30 p.m.
All-in-all, our plan worked well, save for missing Turtle Talk.  The crowds this day were probably mid-range, which helped us with the standby attractions.  I believe this plan could work for most families on a low or moderate crowd day.