This post may contains affiliate links for your convenience. If you make a purchase after clicking a link we may earn a small commission but it won't cost you a penny more! Read our full disclosure policy here.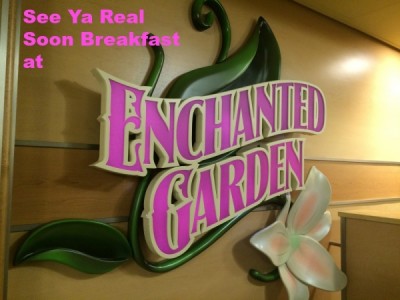 We will miss you, Enchanted Garden!
The See Ya Real Soon Breakfast on board the Disney Dream is the final breakfast of the cruise, on the day the ship returns to port. (Think of it as the Cruise Line's version of the Tragical Express from Walt Disney World back to the airport – it's coming, you know it's coming, but you don't want it to.)
Unlike the other breakfasts on board, you will be assigned a seating time and a restaurant. The object is for the staff to get you off the ship quickly so that they can prepare for the next guests.
Since we were scheduled for the 5:45 p.m. dinner seating, we were scheduled for a (gasp) 6:45 a.m. breakfast, at the Enchanted Garden. This meant we were all awake at 6:00 a.m., packing our last minute things into our day bag. (Our luggage had already been picked up from outside our stateroom, which made things interesting when we realized we packed all of my daughter's shirts in there and she had to wear her nightgown over a skirt to breakfast.)
Our previous breakfast at Enchanted Garden was a buffet, but the See Ya Real Soon Breakfast is table service. We were even presented with menus themed to the occasion.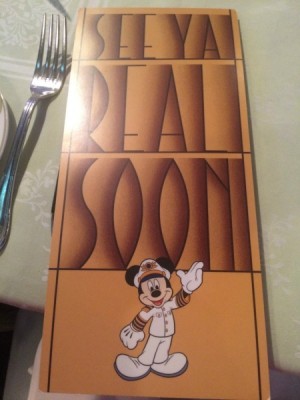 The See Ya Real Soon Breakfast Menu
As with the other table service breakfasts on board, we were offered beverages and a server came around with a tray of baked goods and pastries. We overheard guests at the adjoining table asking about peanut allergies. They were told that these pastries were one of the only things not prepared on the ship, so they didn't recommend them for people with food allergies.
I was drawn to the entrée called On The Move, which is a whole wheat tortilla stuffed with sautéed vegetables. Since I wanted some protein as well, I ordered a side of bacon. It was served with guacamole and salsa.
On the Move with a side of bacon
I really enjoyed this. The veggies were flavorful and not soggy, and the salsa was not too spicy. This almost made me forget how darn early it was.
Incidentally, we overheard another guest asking what time everyone had to be off the ship. "Nine o'clock," the server said, "which has never happened." He then imitated a cruise guest, "Oh, is it 11:00 already? Where has the time gone!"
Then it was time to bid a fond farewell to our servers who had been with us for the entire cruise. I admit to lingering before we left the ship; we stopped at Shutters to pick up some photos. I took some photos of the amazing atrium from the elevator deck. And then it was, See Ya Real Soon, Disney Dream!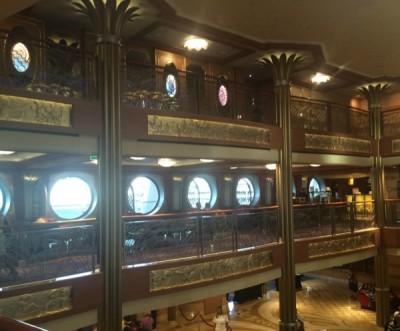 Have you experienced the See You Real Soon Breakfast? What were your thoughts?