This post may contains affiliate links for your convenience. If you make a purchase after clicking a link we may earn a small commission but it won't cost you a penny more! Read our full disclosure policy here.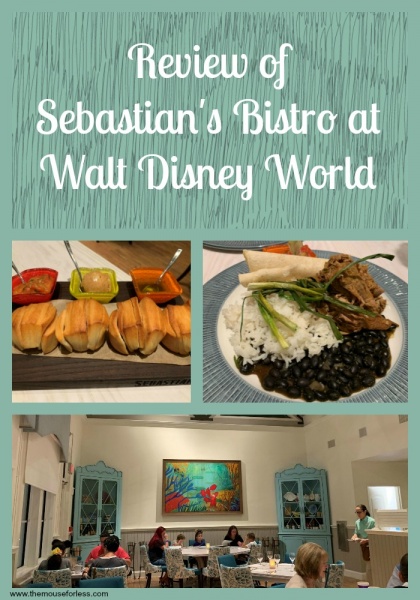 This weekend, I visited Walt Disney World and had one restaurant in mind that I wanted to make sure I tried. That was the newly opened Sebastian's Bistro which just opened at Disney's Caribbean Beach Resort. This restaurant just opened this month and with a menu of Caribbean-inspired dishes, I was excited to have the opportunity to try it out!
But let's get our bearings because Disney's Caribbean Beach Resort has seen some massive changes lately. The restaurant is part of the newly refurbished Old Port Royale, which is where the check-in desk is located, as well as the new quick service restaurant, Centertown Market, the new shop, Calypso Trading Post, and more. To get to Sebastian's Bistro, you do have to go outside, where you'll see the incredibly fun pool, you'll go past the new bar, Banana Cabana (which looks like just the most relaxing place ever!) and there, by the water, you'll find Sebastian's Bistro.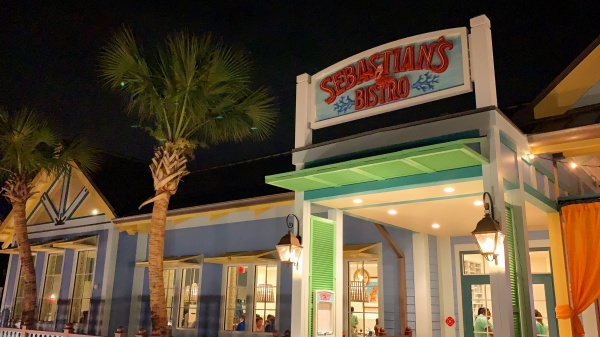 The restaurant, which is named after the crab from The Little Mermaid, had a very nautical, Caribbean feel to it, and rightfully so. It feels very modern and also welcoming. The restaurant is decently sized, it's open and airy, with beautiful artwork adorning the walls, many pieces featuring our favorite crustacean. Sebastian's Bistro serves lunch and dinner.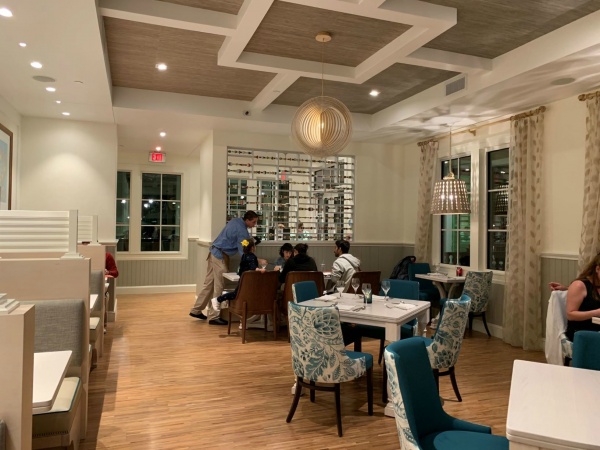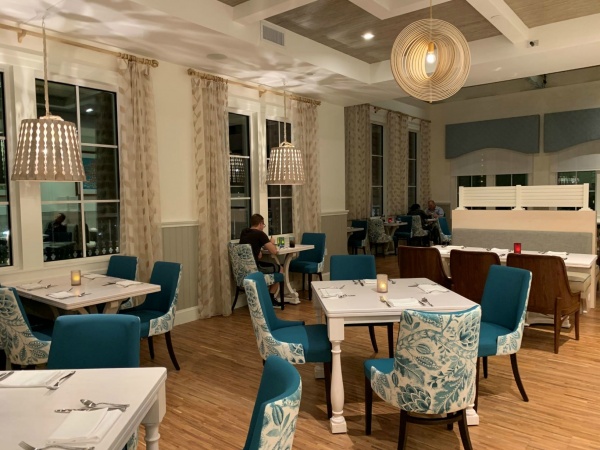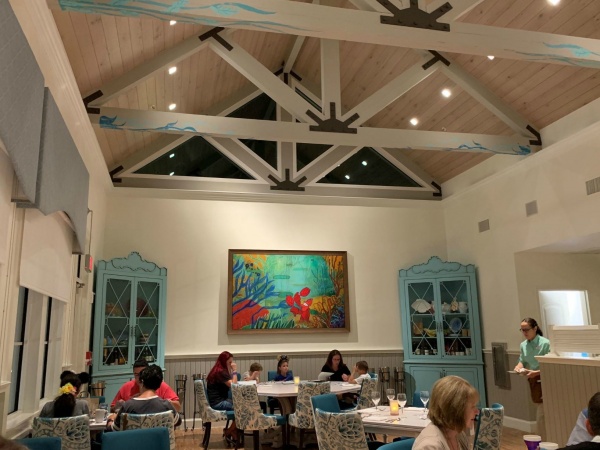 The first thing we tried was the Caribbean Pull-apart Rolls. These are served with with Guava Butter, Mango Chutney, and Jamaican Jerk Oil. These rolls were on the smaller side, but they pulled apart very easily – perfect for dipping. My least favorite was the mango chutney. I did like the Jamaican Jerk Oil though, which was olive oil with jerk seasoning. It had a small kick to it thanks to that. But my favorite was the Guava Butter. Oh my goodness. I could have eaten just this with the bread and been happy. It was sweet and delicious.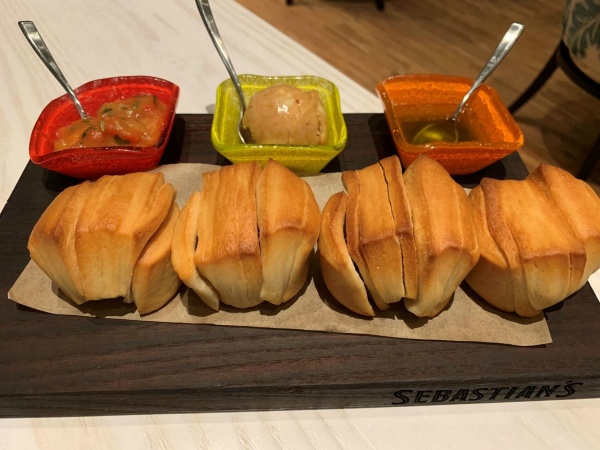 Next, we tried the Grilled Jerk Chicken Wings which is served with a Cilantro-Lime Crema and Carrot Ribbons. Now, I'm not one who likes cilantro, so head's up….this restaurant like cilantro. (Makes sense, it is a Caribbean inspired restaurant and they use that particular item in a lot of their dishes.) But I did try this and it was very creamy and perfect to pair with the spicy jerk chicken wings to cool them down a bit. For me, at first, they weren't too spicy, but as time went on, the heat on those wings just kept building and building the more I ate. There were 6 wings and perfect for an appetizer or a light snack.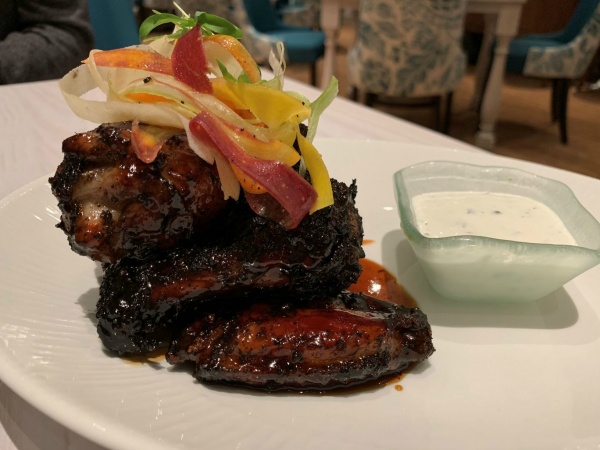 As for the main event, I chose the Slow-cooked Pork Shoulder which is served with Black Beans and Cilantro Rice, Corn Tortillas, and Mojo Sauce. This was fantastic. The pork was tender and had fantastic flavor. I did opt to have white rice, instead of the cilantro rice, and it was cooked to perfection. (I try not to change too much in these dining reviews, but I couldn't eat the cilantro rice.) The black beans were great too, though they did also have some cilantro flavoring to them. I would highly suggest this dish though overall.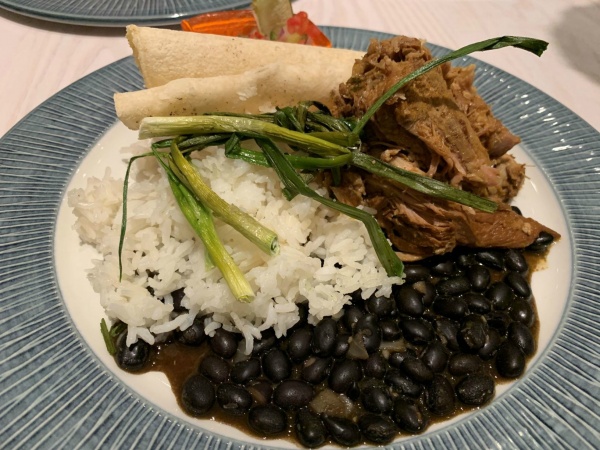 Now, you know I had to try dessert, right? And there was one dessert that was calling my name. It was the Warm Chocolate Pudding. This was served with a layer of Dark Chocolate Cake, Cocoa Nibs Tuile, and Caramel Crispies. The dish had the layer of crunch on top, and the rest was pure chocolate heaven. This is, hands down, one of the most rich desserts I've ever had in my entire life. I couldn't even finish it; that's how rich it was! (And it wasn't very big! That's basically a coffee cup that it's served in, which for the price is tiny, but for the taste, is just the right size.) If you are a chocoholic, you need to run to Sebastian's Bistro, just for this dessert.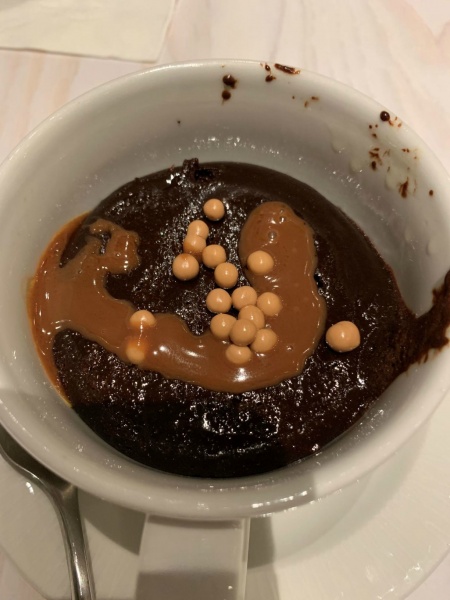 Overall, I think Sebastian's Bistro is a real winner. I will absolutely come back here in the future. My husband and I split everything and we both left exceptionally full.
Are you looking forward to trying Sebastian's Bistro? Have you tried it yet? Share them in the comments below or on Facebook or Twitter.
Did you like this article? Make sure to share it with your friends! Check below for easy ways to share!
Want to visit Walt Disney World? Contact The Magic for Less Travel for more information and a free, no-obligation quote.

Incoming search terms: