This post may contains affiliate links for your convenience. If you make a purchase after clicking a link we may earn a small commission but it won't cost you a penny more! Read our full disclosure policy here.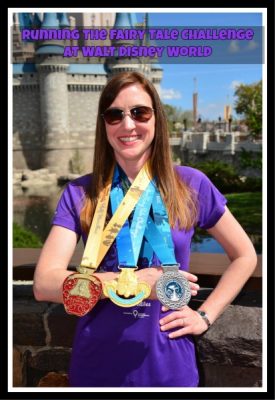 This year was my third year participating in the Princess Half Marathon Weekend.  I have run the 5K for the past two years and I decided that this year, I wanted to go for a bigger race. As I started thinking about signing up for my first half marathon, I was a little disappointed that I would miss out on my favorite distance, the 10K. I wanted to do both and the solution to my dilemma quickly became obvious. The Fairy Tale Challenge!
The Fairy Tale Challenge is a two day event that includes running the Princess 10K on Saturday, followed by the Princess Half Marathon on Sunday. Finishers not only receive a medal for each race, but are also awarded a special challenge medal. The medals this year were absolutely gorgeous! As soon as I saw them, I knew I had picked a great year to take on the challenge.
The Day Before the Race
My race weekend began with a visit to the expo to pick up my race bib as well as the other "swag" that participants receive. In addition to race bibs, all runners are given a shirt for each race that they run. Since I was doing the challenge, I received a third shirt specific to the Fairy Tale Challenge.  I had so many shirts, that I began to wonder why I had even bothered to pack any!
After picking up my bib, shirts, and some fun merchandise, we headed to Animal Kingdom for dinner and a relaxing evening watching Rivers of Light. My plan for the weekend was to take it easy since I had to run two days in a row. I had a chicken and rice bowl for dinner at the Satu'li Canteen in hopes that it would be good fuel for the race the next day. After dinner, we stopped to watch the Tree of Life for a little while before heading back to the hotel.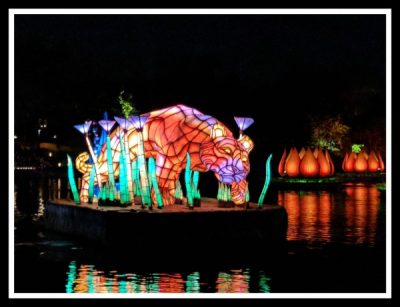 There are several hidden challenges that go along with an event like this. One of them is the early start times. To make it to the races without rushing, I had to set my alarm for 3 am. That's rough, especially since I am a night owl and find it hard to get to bed early the night before a race. I did my best though, and it was lights out before 11:00 pm.
The Princess 10K Race
Before I knew it, it was time to get up and head to the Epcot parking lot for the start. I dressed in my Brave themed outfit, scarfed down a bagel, and I was on my way. I have run several 10K races, so I felt more excited than nervous as I made my way to my corral.
Waiting is another hidden challenge of runDisney events. You get there, you are super excited, and you are ready to go! Except that you have to stand around for quite a while before the race actually starts. The DJ and announcers kept us entertained as we moved toward the starting line though. Just before 6 am, our time had come and our corral was in position. The fireworks exploded in the sky and we were off!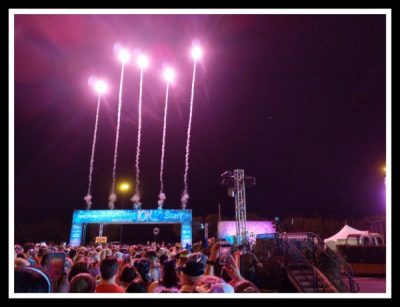 Another challenge for me is pacing. I get really excited and have a tendency to run too fast and wear myself out. Luckily, my race partner is a fantastic pacer and she helped me to be a little more conservative in this race since we had to do this 2 days in a row. We also tried to conserve energy since it was warm during the race. Since we weren't worried too much about our time, we made several stops to take photos with the characters. We actually finished this 10K slower than we normally do, but that was ok. It was all part of the plan.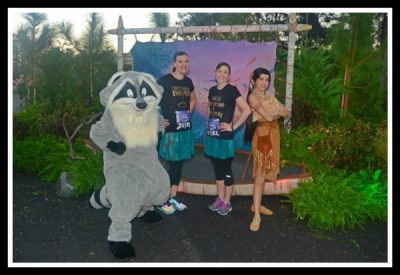 What was not part of the plan was spending so much of the day at the Magic Kingdom in the heat after the race. Temperatures hit the mid to high 80s and I definitely overdid it at the park. By around 3:00 p.m., I was toast and we went back to the hotel. I wasn't too sore, but I put ice on my joints as a preventive measure. I did not want to wake up stiff. One good thing about my level of exhaustion was that I managed to be asleep by 9:30 p.m.! This is the first, and probably only time, that I will manage that.
The Princess Half Marathon
Just before 3:00 a.m., I woke up with my heart pounding. No excitement this morning, this was 100% nerves. Not a feeling that I enjoy. I kept reminding myself that I had worked and trained for this. I was ready.
We arrived at Epcot and the announcer reminded us over and over that we needed to start making our way to the corrals because it was a half mile walk. I thought he was joking. He wasn't. I am not sure if it was actually a half mile, but it was far.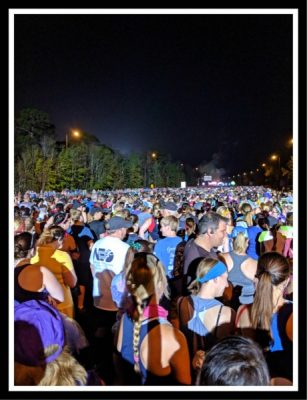 Since we had not provided proof of time for this race, we were in the biggest corral and looking at a 3o minute wait before we even made it to the starting line. I could barely even see the starting line from where we were!  I couldn't help but wonder what we had gotten ourselves into.
As each corral started and we inched closer, I started to calm down and get into the zone. By the time we started, I was back to excitement.  I still couldn't believe we were really doing this! We started off at a great pace and planned to be picky about our character stops. The first character stop came up and it was Jack Sparrow and Barbosa. We briefly debated, ultimately deciding it was worth it since the line was short. It was a risky move, but we went for it.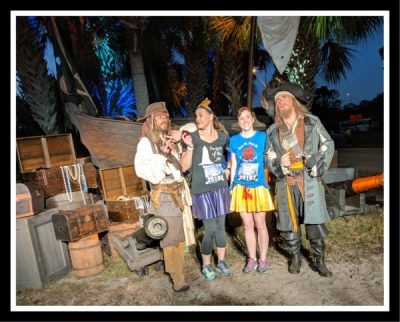 If you have read any of my previous posts about runDisney events, you know that I LOVE character stops. I would pose for photos at all of them if I could, but we had to be more conservative in this race because we are not the fastest runners. Still, there were so many great photo opportunities in this race and we were able to stop for quite a few. I was thankful that our spontaneous Pirates stop hadn't cost us much time.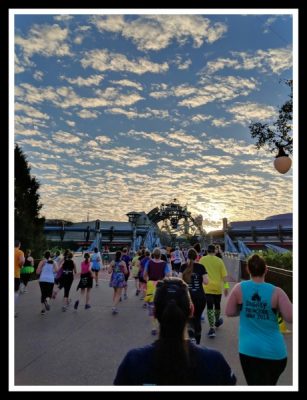 As the sun started to rise, we were approaching the Magic Kingdom. This was what I was looking forward to the most about the Princess Half Marathon. I could not wait to run down Main Street and through the castle. Spectators lined Main Street, cheering and holding signs. I almost felt like a celebrity. Coming through the castle was an amazing feeling. This was definitely one of the highlights of the race. It kept us going for the next few miles.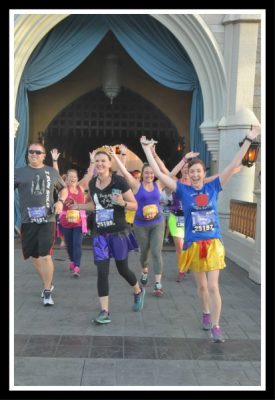 As we passed the 10K mark, we were happy with our pace and doing well. The sun was climbing though and the temperature was creeping up. Fast. The next few miles passed and we were still having a great race. It seemed like there were water stops almost every mile and I wasn't too worried about being overheated yet.
As we came up on mile 9 though, it started to feel like it was 100 degrees. Somewhere around mile 10 (I think) volunteers appeared with wet sponges sent from heaven! OK, they probably came from Wal-mart, but they were the best thing I had seen in the entire race!  They were just what we needed.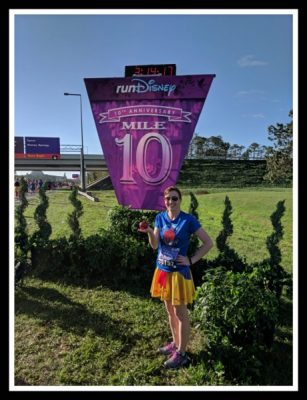 I won't lie. The next few miles were rough. The sun was beating down and we were on the open highway with no shade in sight. We had to run over a few overpasses and were exhausted. It was also around this time that the balls of my feet began to really hurt. This caught me off guard because that has NEVER happened to me in training. It was clear that spending most of the day walking all over the Magic Kingdom the day before had caught up with me. I should not have spent a full day on my feet. There was no way we were giving up though, so we kept going!
Almost There…
The mile 12 marker gave me hope and it was shortly after this that we passed another group of spectators cheering us on. They had some pretty hilarious signs and it helped a lot! I am not sure if the ChEar Squad knows how much their encouragement means to the runners, but it truly means a lot. Trust me.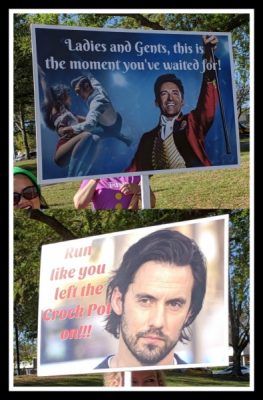 Coming into Epcot renewed our energy and we picked up speed. The end was in sight! We were going to make it! More spectators cheered us on (the park was open by now) and we ran toward the front of the park. Spaceship Earth had never looked so grand and miraculous.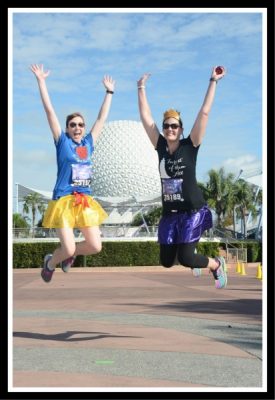 We still had a little further to go, but it passed quickly and in a blur. Before I knew it, we were crossing the finish line. I had just finished my first half marathon! I couldn't believe it!
I was a little choked up when a kind volunteer put the medal around my neck. That heavy Snow White medal was so much more than another race medal. This wasn't just a medal. It was nearly a year of planning and preparation. Months and months of training and sacrifice. It was a whole lot of sweat and tears (no blood, thankfully). This medal represented one of the biggest accomplishments of my life. I couldn't believe it was mine!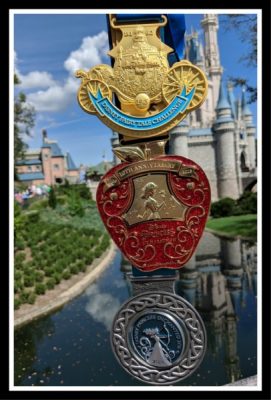 We collected our Fairy Tale Challenge medal, post-race snacks, and posed for our finisher photos. Then we were off to relax and enjoy the next 2 days. It was hard to believe it was over, but the memories will certainly last a lifetime.
I absolutely loved the Fairy Tale Challenge and I don't think it will be my last. I learned a lot and pushed myself to do something I wasn't sure that I could do. Can't wait for my next opportunity to run again!
Have you completed a Fairy Tale Challenge? Let us know what you enjoyed most in the comments!
Did you like this article? Make sure to share it with your friends! Check below for easy ways to share!
Incoming search terms:
https://www themouseforless com/blog_world/running-the-fairy-tale-challenge-at-walt-disney-world/
disney peincess fairytale challwnge
whats the disney fairy tale challeneg
Disney Fairy Tale Challenge
disney fairytale challenge
run disney princess fairy tale challenge