This post may contains affiliate links for your convenience. If you make a purchase after clicking a link we may earn a small commission but it won't cost you a penny more! Read our full disclosure policy here.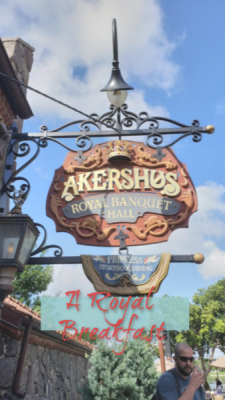 Now, let me start by admitting that, though I've always thought Epcot's Norway Pavilion in World Showcase was beautiful, it was one that I usually glanced around briefly and then walked by. Included in this, of course, was the Akershus Royal Banquet Hall. I always heard wonderful things about it, but it was a restaurant I had always put on the back burner.
Boy, was I wrong! Do not make the same mistake I did! On a trip this past July, my mother, a friend of mine and myself were very fortunate to have breakfast at Akershus in Epcot. This meal was something I was especially excited about on this trip since we had never eaten there before, so I could not wait! 
We had not made reservations before the trip, so we decided to try our luck when we got there. We had searched for any reservations that were available on the My Disney Experience App. Under the "My Plans" section, there is a Reserve Dining option. We simply searched the day and time we wished our reservation to be, and it lists all the dining options that were available. I was surprised how easy it was actually! Fortunately, Akershus was available for breakfast, and we immediately booked for 8:45 a.m.
The next day, my mom, friend, and I woke up early and got ready and then headed on Disney's bus transportation to Epcot. World Showcase did not open until 11:00 a.m., so not a lot of people were there yet. We arrived at the park early, so we enjoyed not having to rush to our reservations while it was not crowded yet since the park had just opened. When we arrived to the Norway Pavilion, two Cast Members were there with an iPad checking guests into the restaurant outside the entrance. Once we gave them our names we waited in line maybe five minutes until our name was called to go in. 
A tip – It is better to arrive prior to a reservation in case check in goes faster. There is a chance you could be seated a little earlier than your allotted time. Depending on how fast people eat, tables clear, and your arrival time, will depend on your wait time.
As we entered into the restaurant, it really truly welcomes you to a royal banquet! The castle interior was gorgeous, with a beautiful tapestry and a book where the Viking king and queen of the castle Akershus have always welcomed royal visitors to the castle. The tradition continues as they invite royal visitors of all ages to the banquet!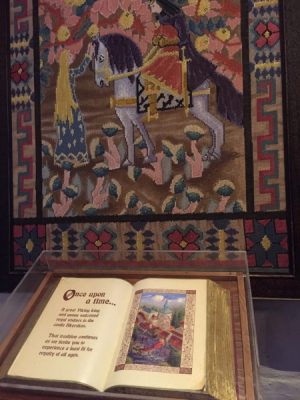 Immediately guests get to meet Belle before being seated. Her attendant had said that her dress was so big that she had difficulties moving around the tables to visit everyone, so she meets all of the guests here when they arrive. She was absolutely beautiful and spent so much time with us and signing our autograph books, welcoming us to Akershus!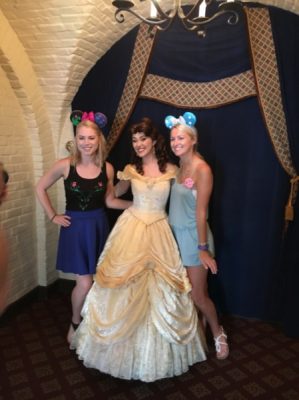 A hostess welcomed us to the Royal Hall and led us through the beautiful medieval castle with flags and cathedral ceilings and tall windows letting the sunshine in. Our table was amazing! We were lucky enough to be sitting in a little round sunroom off to the side of the main room that was nice and bright with a beautiful chandelier and big windows. It was a perfect little breakfast nook with a whole view of the rest of the castle.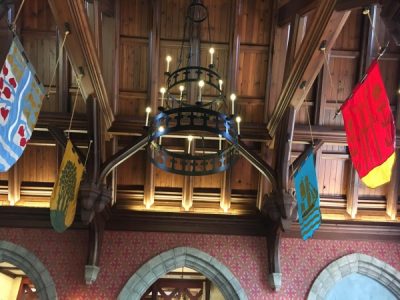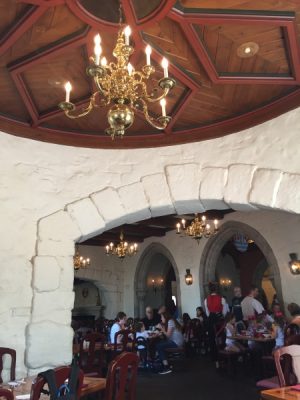 Our waiter, Christian, was extremely sweet and explained how breakfast worked. Part of it was buffet style, serving a Norwegian smorgasbord of meats and cheeses including smoked pork loin, salami, roasted turkey, peppered mackerel, and dilled salmon gravlax. Cheeses include muenster cheese, jarlsburg cheese, and gjetost cheese with various garnishes. Bread and fruit are also included.
An American breakfast is served family style with eggs, bacon, sausage, and a potato casserole. Being a massive fan of breakfast food, everything was delicious. Whether you're a fan of just the American breakfast, or the just the Norwegian smorgasbord, there is plenty of food and numerous options for everyone of all taste palates!
Once breakfast is served, it is not long until the princesses come to visit! As you eat, Ariel, Aurora, Cinderella, and Snow White all come around and visit each table. This was our favorite part of the whole meal because we LOVE meeting characters. As we saw them moving closer and closer to our table, we barely touched our food and grew more excited. (At one point we caught ourselves staring at Cinderella and thought, oops…let's not be creepy.)
The princesses were so gracious and kind, welcoming us to the banquet! Every one of them thought we were sisters. (It probably did not help that we were disneybounding as Anna and Elsa). They each spent so much time with us, and we had wonderful conversations with them. It was all so magical and fun, that the three of us were sad to leave once it was over.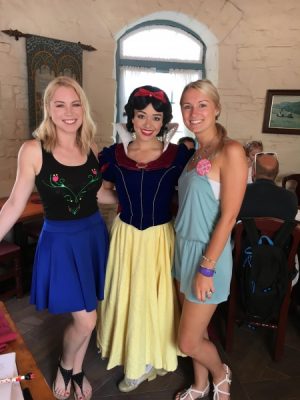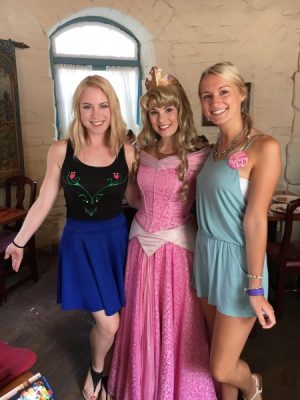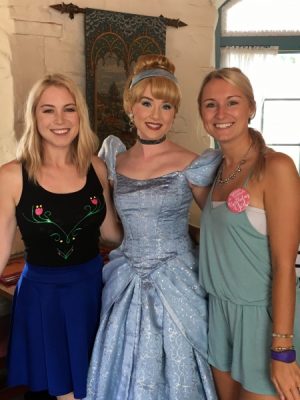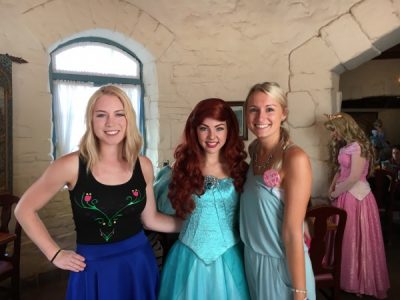 This dining experience is absolutely worth a try. If you have young princesses, or princes too, this is something to put on the planning list. It can cost up to $60 per person. Even if you don't have young princesses and princes, this dining experience is for everyone of all ages. We had the BEST time. The accommodations were amazing, and the food was wonderful!
Now, even though I've only done the breakfast, Akershus provides lunch and dinner reservations as well. At the beginning of each meal are the tastes of Norway for appetizers. A lot of the menu includes even more Norwegian cuisine such as seared pork tenderloin, or Svinestek med Frukt,  Tradisjonell Kjøttkake which are norwegian meatballs served with mashed potatoes, seasonal vegetables, and Lingonberry sauce, and herb roasted chicken breast, or Kyllingbryst. There are of course kid friendly meals too, which even come with a light up Buzz Lightyear or Ariel straw if the young prince or princess wishes! 
Akershus truly was an amazing character dining experience that I was glad we tried after walking by it all these years! It was exciting to try something different! I hope you get the chance to try Akershus in the near future!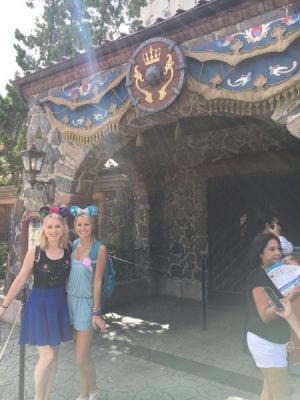 If you have tried Akershus, let us know what you thought! If you're planning on trying it or have any comments about it, tell us that too in either the comments, or on Facebook or Twitter!
Did you like this article? Make sure to share it with your friends! Check below for easy ways to share!
Want to visit Walt Disney World? Contact The Magic for Less Travel for more information and a free, no-obligation quote.

Incoming search terms:
norway breakfast character dining