This post may contains affiliate links for your convenience. If you make a purchase after clicking a link we may earn a small commission but it won't cost you a penny more! Read our full disclosure policy here.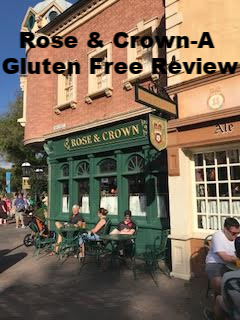 Is it worth a trip to Epcot's Rose and Crown if you can't eat gluten? I recently went and tried their famous Fish and Chips, sans gluten. Would I do it again? Read on to find out.
I had the pleasure of being at Epcot for the Princess Half Marathon Race Weekend in February. What a complete joy it was to see the sun in full force coming from the northeast where we have had a typical winter. As an added bonus it was during the Epcot Festival of the Arts too!
I ran the 10K this same morning, and so by this particular afternoon I was very hungry and felt fully justified in eating whatever I wanted. I had an Advance Dining Reservation for Rose and Crown.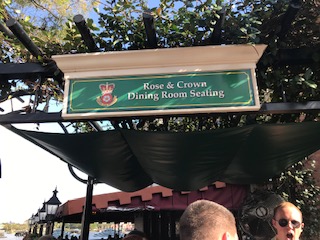 Below is a look at the allergen menu. I don't know about those of you that have to follow a strict gluten free diet, but I feel the need to compare the full menu with the gluten free menu. Partly for some morbid sense of seeing what I can't have any longer, but also to try and figure out what the gluten culprits are for my own education and knowledge.
If you have read my other "gluten free" blogs, you know that I totally understand that it is my problem and I am truly thankful for the efforts that restaurants, especially in Disney, make to ensure that people with food allergies are safe and have options. With that being said, I wasn't really a huge fan of the gluten free options I was offered at Rose and Crown on the menu. Many normal menu items are beer-battered and I understand that is important at an English Pub, but I do not think it should be a big deal to make the Shepherds Pie gluten-free. I do not see any beer-battered leeks or anything like that as part of the description, so I have to assume they must use flour with the beef or something. That could be an easy and inexpensive switch to cornstarch or a gluten free blend flour so all could enjoy it, but I digress.  I could swear I had the Shepherd's Pie as a gluten free option in the past here. Except for Corned Beef there were no other beef options to choose from on the allergen menu.
We had a wonderful waiter (Mike from Scotland) who offered to bring out a chef. I'm sure the chef would have made me something special, but I wanted to stick to the allergen menu to make it easier for all involved.  I also don't like to hold up the whole production asking a million questions. I decided I would start with the Coronation Salad followed by the Baked Fish and Chips.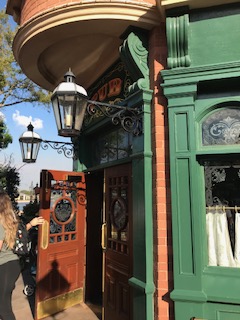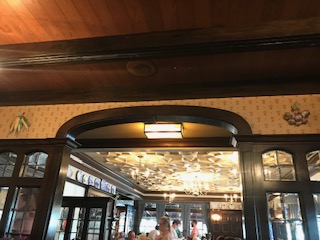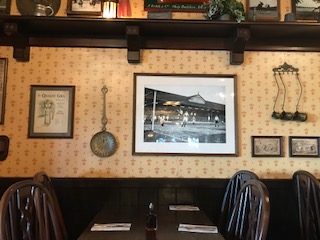 Coronation Salad –Crisp Salad with an Apple-Madras Yogurt Dressing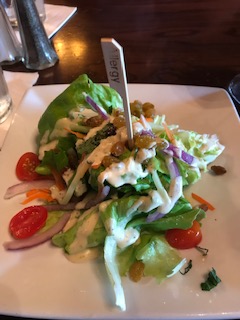 Baked Fish and Chips – Baked Cod with Lemon  For Gluten/Wheat, Egg, Milk, Peanut/Tree Nut and Shellfish Allergies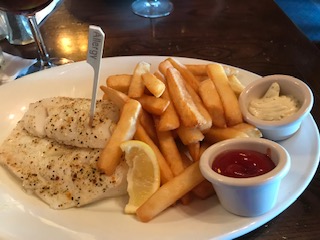 Secretly, I was very disappointed that I could not get a Scotch Egg as my appetizer. I suppose I could've spoken to a chef to see if they could modify one, but decided to just get the Coronation Salad as my appetizer.  As I mentioned in my comparison of the menus above, I can only guess that the sausage must be the gluten culprit with the Scotch Egg, because I did not have Bangers and Mash as an option either and the other items that come with either the Scotch Egg or Bangers and Mash do not normally contain gluten.  I just did not want to take the extra time to ask so many questions this particular visit, so I stuck with the items on the allergen menu.
I washed everything down with:
Red Sangria –Beso Del Sol Red Sangria made from a 100% natural marriage of Spanish Tempranillo Grapes, Orange, Blood Orange, and Lemon Juices with a touch of natural Cinnamon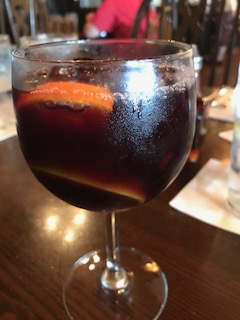 The Coronation Salad was fresh and tasty. The Apple- Madras Yogurt dressing was a nice touch. It also had some golden raisins added which gave it a bit of sweetness.
Prior to knowing I had Celiac and could no longer eat wheat, barley or rye, I did eat the Fish and Chips here in their full beer- battered glory, so I have a sense of what they tasted like in my head. When they delivered the gluten free version of the fish and chips, I was going to try not to make a mental comparison. The days of beer-battered deliciousness are over for me and I just have to face that.  The Baked Fish and Chips were NOT bad. The chips were delicious. The fish was good. It was a little oily, but I expected and even welcomed that. It was well seasoned with salt and pepper.
It was a risk to try and eat a gluten free meal at a place that touts beer-battered items. "Beer" and "Battered" are no longer things I can enjoy, but for the sake of the other's in my party, as well as the atmosphere I wanted to enjoy a meal here. Our waiter was spectacular and service was great.
I did have a good meal. I probably will not rush to make another dining reservation here again simply because of the limited options, but I'm not sorry I went this time!
Have you dined at Rose & Crown as someone with a gluten free allergy? Let us know your experience in the comments below or on Facebook or Twitter!
Did you like this article? Make sure to share it with your friends! Check below for easy ways to share!
Want to visit the Walt Disney World Resort? Contact The Magic for Less Travel for more information and a free, no-obligation quote.

Incoming search terms:
https://www themouseforless com/blog_world/rose-crown-a-gluten-free-review/
https://www themouseforless com/blog_world/rose-crown-a-gluten-free-review/#:~:text=Is it worth a trip Fish and Chips, sans gluten
rose and crown gluten free
rose and crown gluten free scotch egg