This post may contains affiliate links for your convenience. If you make a purchase after clicking a link we may earn a small commission but it won't cost you a penny more! Read our full disclosure policy here.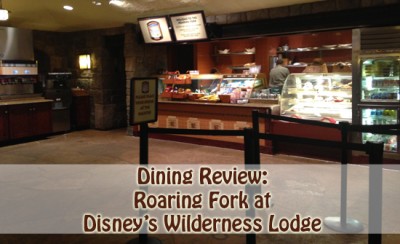 One of my favorite resorts at Walt Disney World is Disney's Wilderness Lodge. I love the feel, the smells, the sights – I honestly love everything about it. It is a must stop for me on most of my vacations. I just need to soak up the atmosphere. So, with that being said, one of my favorite places to make a stop is the resort's food court, known as Roaring Fork.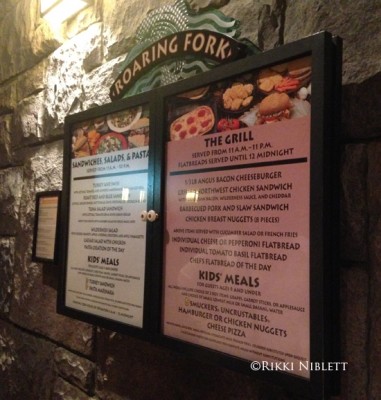 Roaring Fork is different than most other Counter Service locations. Here, Guests are asked to enter the rather small restaurant and gather up and snacks or beverages that they will need, then place their order. From there, your food will be delivered to you.
Guests are able to select entrees from many different options, including sandwiches, salads, handmade pasta creations, as well as flatbreads. The menu here is small, but there is something that will appeal to every member of your family.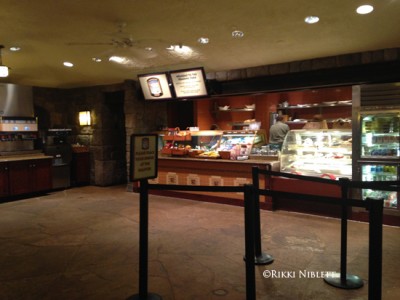 This quick service restaurant also has quite a few grab and go items that range from chips, to fruit, to their delectable pastries and desserts. Guests will also be able to use their Refillable Mugs here, or purchase other beverages.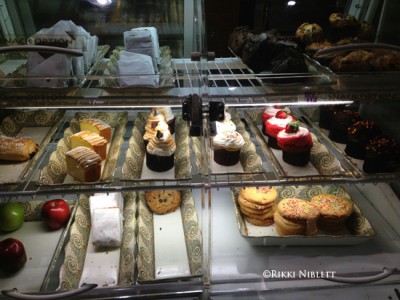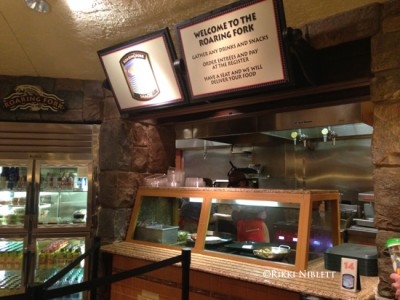 Once you have everything you want, you will walk up to the cashier and place your actual food order. You will pay for everything all at once. Because this restaurant wasn't originally set up for this type of ordering system, there is only a couple of registers in general and often only one is open. This can cause backups during exceptionally busy times.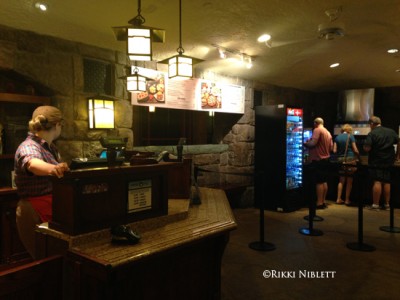 You will then be given a number and be instructed to head into the adjacent room where your food will eventually be delivered to you.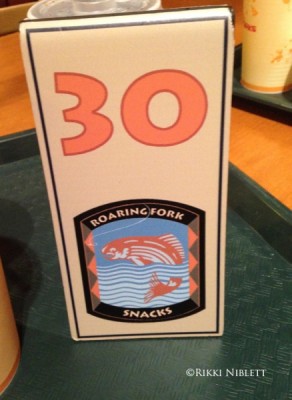 This room features all the condiments you'll need. Seating in here is exceptionally limited, however, but there is a few seats that are also available outside.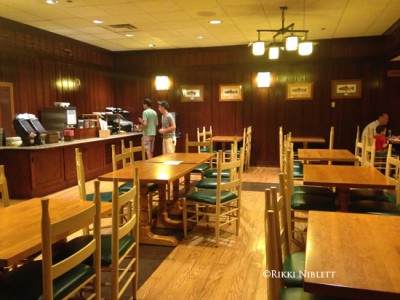 Eventually our food was delivered and I have to say, I was not expecting a lot, but ended up being pleasantly surprised.
My cheese flatbread had the right amount of crispness to the crust. There wasn't too much sauce (I hate a super saucy flatbread) and there was lots of great cheesy goodness on top. It was a substantial meal and I thought quite delicious.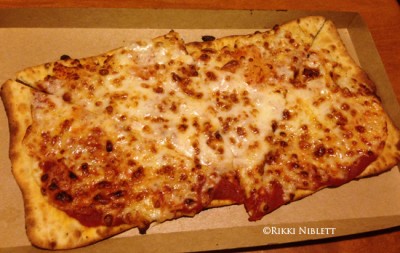 Roaring Fork also has a Wilderness Salad, which is served with Chicken, Walnuts, Apples, Cheddar, Croutons and Apple Vinaigrette. It was quite fresh and tasty and the size of the bowl that they give you contains a good amount of salad. It wasn't just an all lettuce salad with pieces of extras thrown in either, it was fully loaded.
The restaurant also features a Grilled Northwest Chicken Sandwich, which is served with Canadian Bacon, Wilderness Sauce and Cheddar.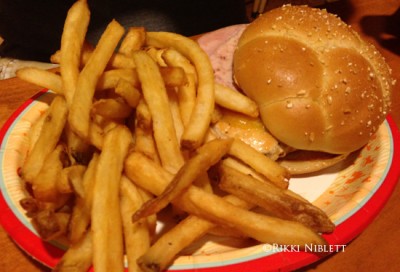 Of course, I am always drawn here for dessert or a snack. (Hello Magic Cookie Bar!) I think their snack options are usually quite good and unique.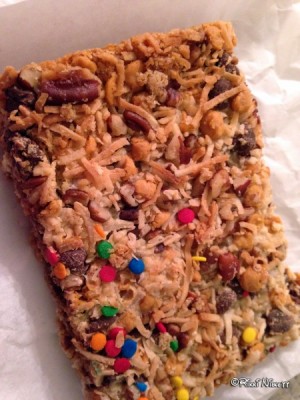 Overall, I give Roaring Fork high marks. It doesn't have a spectacular menu, but what it does offer is substantial options that are filling. It isn't fancy, but when you're hungry, it fits the bill and is a good option that you won't regret.
Have you ever stopped at Roaring Fork? What were your thoughts?