This post may contains affiliate links for your convenience. If you make a purchase after clicking a link we may earn a small commission but it won't cost you a penny more! Read our full disclosure policy here.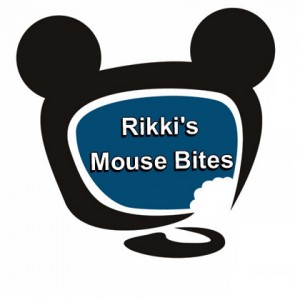 Joy and Sadness from Inside Out are now meeting Guests at the expanded Epcot Character Spot across from Baymax in Epcot. They are meeting Guests inside Headquarters from 9:00 a.m. until 9:00 p.m. FastPass+ is not available and Guests wishing to meet Mickey, Minnie, and Goofy can still meet them at their Epcot Character Spot meet and greet area across the breezeway.
The Stave Church in the Norway Pavilion will be closed for a refurbishment from April 18 through to May 27, reopening to guests on May 28, 2016.
Epcot's Sounds Like Summer concert series artists have been announced for 2016.

June 5-11: Don't Look Back – A Tribute to Boston
June 12-18: Hotel California – A Salute to the Eagles
June 19-24: Rumours – A Fleetwood Mac Tribute Band
June 25-July 1: Simply Tina – A Tribute to Tina Turner
July 2-9: Stayin' Alive – A Tribute to the Bee Gees
July 10-16: Bruce in the USA – A Tribute to Bruce Springsteen
July 17-23: DSB – A Tribute to Journey
Included with regular park admission, the tribute artist concerts take place in the America Gardens Theatre, at 5:30pm, 6:45pm, and 8pm.
Multiple attractions have now closed at Disney's Hollywood Studios. They include: Lights, Motors, Action Extreme Stunt Show, Studio Catering Co., Honey I Shrunk the Kids Movie Adventure Playset, and the Streets of America.
The Writer's Stop will see a new and limited lease on life, as Guests can drop by for an updated menu including pretzels, meats and cheeses, and nuts for sale in a relaxing atmosphere while Guests wait for their reservations at Sci-Fi Dine-In Theater Restaurant. The lounge area is open from 11:30 a.m. to one hour prior to the Sci-Fi-Dine-In Theater Restaurant close.
Now that Watto's Grotto has closed at Disney's Hollywood Studios, if you're looking for Star Wars merchandise, you should head to Tatooine Traders, Star Wars Launch Bay and Legends of Hollywood. The following items can be found in each place:

Tatooine Traders: Construct your own droid or lightsaber, pins, apparel and more.
Star Wars Launch Bay: Custom MagicBands, Star Wars artwork and replica costumes.
Legends of Hollywood: Star Wars clothing, toys and souvenirs.

Speaking of Star Wars, two new live entertainment experiences have joined the park's ranks –  Star Wars: A Galaxy Far, Far Away and the Stormtrooper march. Star Wars: A Galaxy Far, Far Away, is a live, stage show that celebrates iconic moments from the entire Star Wars saga, as well as popular Star Wars characters in person, such as Kylo Ren, Chewbacca, Darth Vader and Darth Maul. The show will take place multiple times each day at the Center Stage area near The Great Movie Ride. In addition, the Stormtrooper March will see Captain Phasma leading First Order stormtroopers as they march in formation from Star Wars Launch Bay to the Center Stage area. This will occur multiple times a day. Check the My Disney Experience app for exact showtimes.
New details are known about the Tree of Life Awakening. Each evening, the Tree of Life will draw Guests to Discovery Island for a gathering where the animal spirits of the Tree are brought to life. The Tree of Life connects all living things and in the awakening, its energy is brought to life by fireflies surrounding the tree, as well as other animations magically appearing. The Tree will awaken multiple times per evening at various times. Once the Tree awakens, it will remain active throughout the evening with multiple 2-3-minute animal fables, as well as shorter scenes. The best place for Guests to view the awakening is in the center of the hub. Guests will only be able to view the awakening at the front of the Tree, nothing will be visible from the back of the Tree. The awakening is not connected to Rivers of Light.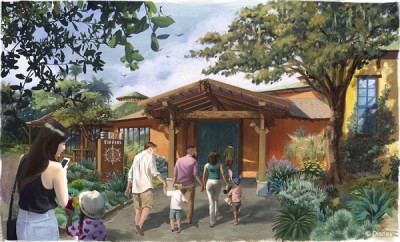 ©Disney
Tiffins, the upcoming signature restaurant for Disney's Animal Kingdom, will specialize in the theme of travel. When you enter the rustic front doors, you'll come upon an enormous map of the globe.  There restaurant will seat 252 people and will be separated into three different sections – The Trek Gallery will focus on Asia, the Safari Gallery will focus on Africa, and the Grand Gallery will focus on the animals that Disney protects through the Disney Conservation Fund. Lavish artwork including photograph collages, paintings and sculptures inspired by actual notes and field sketches of the Imagineers who created Disney's Animal Kingdom will be able to be found throughout the restaurant. Menu items will take diners to Europe, Africa, Asia and the Americas. Appetizers will include lobster-popcorn Thai curry soup; grilled octopus; salad drizzled with champagne vinaigrette; frog legs tempura, black-eyed fritters; cheese and chicken liver pâte. Entrees includes Berber-spiced lamb chop; pork tenderloin; miso-glazed black cod; pan-seared duck breast and leg confit; Wagnu strip loin and braised short rib; whole-fried sustainable fish. For dessert, enjoy crème brûlée; peanut butter mousse; or a classic ice-cream sundae. For an additional cost, Guests 21 years of age and up can choose from the renowned wine list—many of which are available by the glass—in addition to assortment of after-dinner liqueurs, dessert wines and specialty drinks.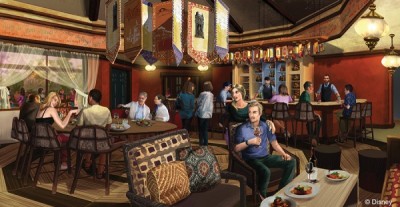 ©Disney
At the adjacent Nomad Lounge, there will be festive banners hung in the center of the lounge, each posing a different question about traveling the world and the thrill of discovery. During your visit, take a few moments to jot down answers to these questions on decorative tags provided by Cast Members. Later, your responses will be hung on a "tag chandelier" suspended above the bar for all to see. The Nomad Lounge will include small plates and a large selection of beer, wine and mixed drinks. Dishes will include vegetarian summer rolls; Indian butter chicken wings; seared Wagyu beef skewers and honey-glazed coriander-spiced pork ribs. Guests can enjoy a bevy of beverages including specialty martinis or after-dinner liqueurs such as Bailey's Irish Cream, Tia Maria and Amaretto di Saronno. Freshly ground coffees like espresso, cappuccino and coffee colada with rum and coconuts, and dessert wines such as Apple Icewine, are also available. Tiffins and the Nomad Lounge are expected to open in the summer of 2016.
The Walt Disney World Railroad will be closed from April 11 through to April 22, reopening to guests on April 23 2016.
The Walt Disney World Express Monorail will be closed on Tuesdays, Wednesdays, and Thursday from 11:30 a.m. until 6:00 p.m.
A new tour now occurs at Disney's Animal Kingdom Lodge called Sense of Africa. This new behind-the-scenes tour that gives Guests a unique peek into the people, food, art and animals of Africa and an insider's look at the sensory experiences unique to Disney's Animal Kingdom Lodge. The tour debuts on April 9 and is a three-and-a-half-hour experience that begins with breakfast at Boma – Flavors of Africa. A Cast Member from Africa will share stories from home that focus on the authentic details of the restaurant and Guests can enjoy a few exclusive African dishes as well as the restaurant's buffet. Following the meal, Guests board a special safari truck that takes them backstage for a series of up-close encounters with some of the resort's most-beloved animals: giraffe, okapi, ostrich and red river hogs. The tour costs $249 a person, and Guests must be at least 10 years old to participate. The experience is offered only on Tuesday and Saturday mornings.
At Disney's Coronado Springs Resort beginning Wednesday, April 6, Guests will be able to enjoy extra festivities every Wednesday. The Three Caballeros kids parade will kick occur in the El Centro Lobby at 11:00 a.m. and 5:00 p.m. In addition, throughout the day, Guests can enjoy special recreational activities and try out traditional roasted street corn and other Mexican treats from the food cart in the lobby.
At Disney's Grand Floridian Resort the Princess Promenade will begin at 3:45 on Sundays, Mondays, Wednesdays, Fridays and Saturdays.