This post may contains affiliate links for your convenience. If you make a purchase after clicking a link we may earn a small commission but it won't cost you a penny more! Read our full disclosure policy here.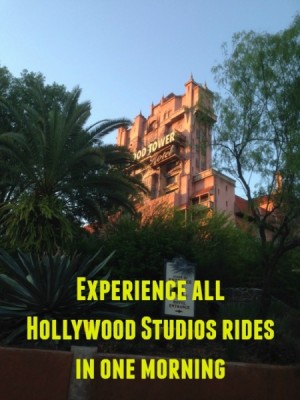 Due to construction at the park, Disney's Hollywood Studios currently has just five rides among its attractions. (This will change in the next few years as the Toy Story and Star Wars areas open.) As you plan your time for your Walt Disney World trip, you might consider this plan for a half-day at the Studios that gets you on every ride.
Now, keep in mind that Disney's Hollywood Studios has many more attractions than just its five rides; there are a number of live shows, films, stage productions, fireworks, and walk-through attractions that could fill an entire day. This article is primarily for those who have limited time and still want to experience all of the rides that the Studios has to offer.
The five rides Guests can ride are Toy Story Midway Mania!, Twilight Zone Tower of Terror, Rock 'n' Roller Coaster, the Great Movie Ride, and Star Tours–The Adventures Continue. To ride all five in one morning, this plan recommends you utilize FastPass+ and arrive for park open ("rope drop").
FastPass+ Reservations
FastPass+ at Disney Hollywood Studios puts attractions into different tiers; you are restricted to one experience in Tier 1. Tier 1 includes Toy Story, Rock 'n' Roller Coaster, and the Great Movie Ride, as well as two of the shows. For your Tier 1 selection, I recommend Toy Story, as that ride tends to attract a larger crowd jockeying for the front of the line at park open, so you are more likely to experience a longer wait first thing. For reasons that will follow, I recommend having your Toy Story FastPass+ for the second hour of the day.  For your Tier 2 FastPass+ selections, go with Tower of Terror for the first hour of the park's hours and Star Tours for the third hour. Great Movie Ride has a large capacity and is not as popular as the other rides, so you may be able to secure a 4th FastPass later in the morning or ride with a lower standby wait than the other attractions. Following the advice here, your FastPass+ selections might look something like this for a 9:00 park open:
9:00-10:00:  Twilight Zone Tower of Terror
10:05-11:05:  Toy Story Midway Mania!
11:10-12:10:  Star Tours–The Adventures Continue
Rope Drop
Your goal for Rope Drop is to get to Rock 'n' Roller Coaster and ride standby with minimal wait.  Arrive at the park 45 minutes before park open and get in one of the ticket scanner lines. If you arrive a little later, you may be able to hang around the early breakfast reservation lines, which will very likely convert to a regular line close to park open, getting you into the park faster than standing at the back of one of the longer "regular lines." (There's no guarantee that they will convert the line over, but it's fairly likely.) Once in the park, stay to the right as you go down Hollywood Boulevard, then take a right onto Sunset Boulevard, then veer to the left for Rock 'n' Roller Coaster. At park open, you should almost walk right on.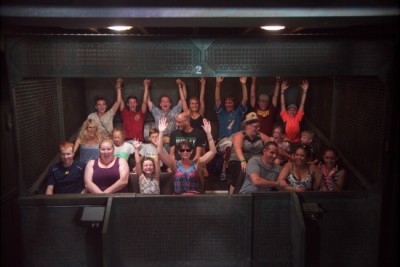 A little "drop" to liven up your morning.
The Rest of Your Morning
If you were successful in getting a Tower of Terror FastPass for 9:00-10:00, you can head right there after Rock 'n' Roller Coaster for another walk-on.  By the time you're done with Tower of Terror, it should be just about time for Toy Story using your FastPass. After Toy Story and before your FastPass window opens for Star Tours, you should have time to experience another non-ride attraction or show. Some suggestions are Star Wars Launch Bay, Voyage of the Little Mermaid, Muppet-Vision 3-D, Disney Junior–Live on Stage!, or meeting characters (Doc McStuffins, Sofia the First, Mickey, Minnie, or Olaf are among the current featured characters greeting in the mornings). You could enjoy a snack from a cart or counter-service restaurant as well. Head to Star Tours about five minutes before your FastPass return time window opens (you can usually get on board up to five minutes early). As soon as you check in with your FastPass, get on your My Disney Experience phone app and try to book a fourth FastPass for the Great Movie Ride for the next available time, hopefully right around noon.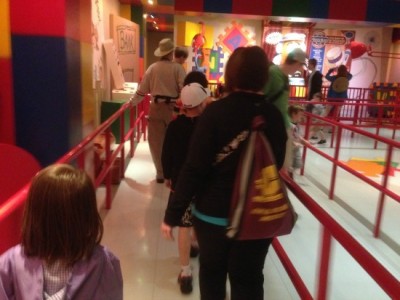 Heading into Toy Story Midway Mania!
After Star Tours, head to Great Movie Ride for either FastPass or standby. With a bit of luck, you should be done right around noon, after which you can experience other attractions in Hollywood Studios, eat lunch, hop to another park, or head to your next destination.
I plan to put this plan to the test for my trip in August 2016. I'll write a follow-up blog post right here to let you know how it went!
Do you think this plan will work? Have I missed something? Leave suggestions in the comments!