Tips for Riding Up Front on the Monorail at Disneyland
|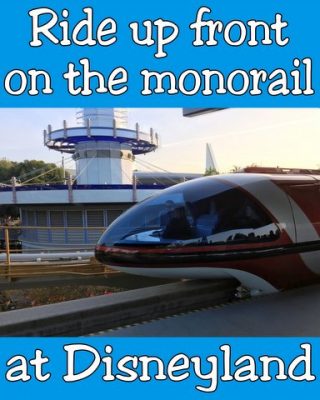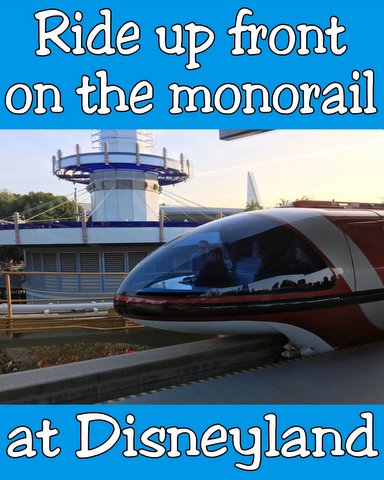 The monorail at Disneyland works differently than its sibling at Walt Disney World. Instead of being transportation between resorts and theme parks, it has only two stops, one of which ends inside of Disneyland. And a unique experience only available now at Disneyland is the chance to ride in the nose cone. Join us as we ride up front on the monorail at Disneyland.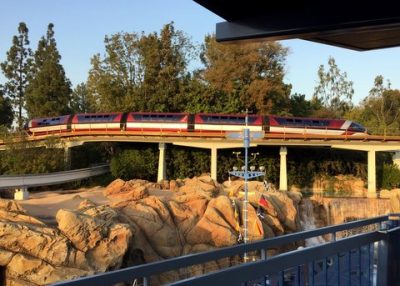 Disneyland's monorail opened in 1959 and was the first daily operating monorail in the United States. The trains have been circling Disneyland with their distinctive horns ever since. One station is in Tomorrowland above the Finding Nemo Submarine Voyage queue. The other stands at the western edge of Downtown Disney.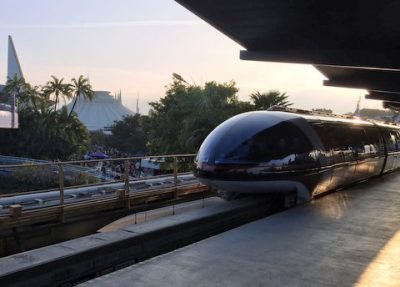 If you want to ride up front on the monorail at Disneyland, here's what you'll need to know:
If you board at the Tomorrowland station, you can stay on for a full round trip
Four people maximum can ride in the nose cone
Boarding is at the discretion of the Cast Member loading the train
You may wait for another train if the front seats are full
The rear bubble of the monorail is also available to sit in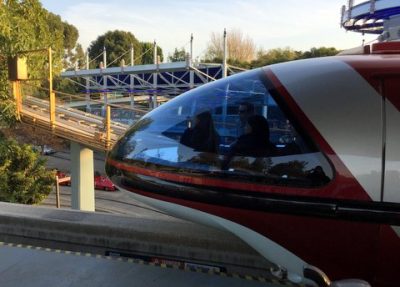 To put yourself in the right position to enter the front, stay to the left when you come up the ramp in line. Stand at the first gate you come to in the station (looking at the monorail this will be on your left). You can ask the Cast Member there if you will be able to ride but they will not guarantee you a spot — it is first come, first served.
You travel with the monorail driver when you ride up front. Our driver told us that she had been driving the monorail for almost six years, and that it was the third attraction she was qualified to run. Potential monorail drivers have to apply for a spot, and are selected not only for their driving skills but for their ability to interact with guests. Disneyland trusts its signature system to only the best!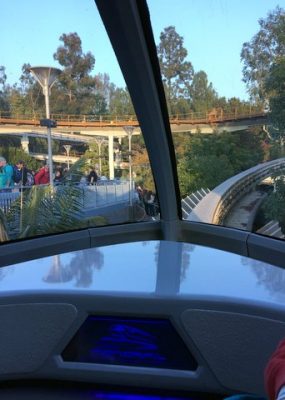 The view from the front is unparalleled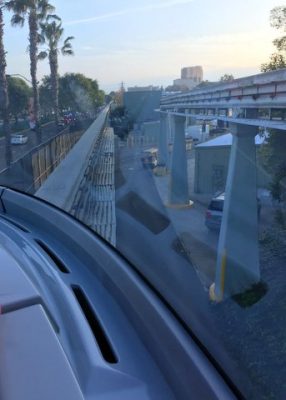 On the trip to Downtown Disney, you'll circle Tomorrowland before heading south along Harbor Boulevard toward Disney California Adventure.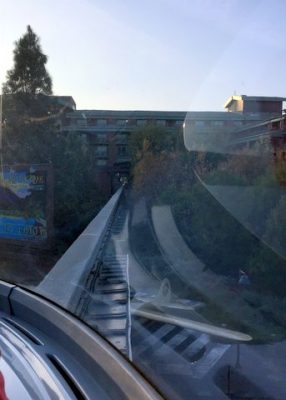 The monorail runs along the front edge of California Adventure — over Monster's Inc., Buena Vista Street, and Soarin' — before running through the Grand Californian Hotel.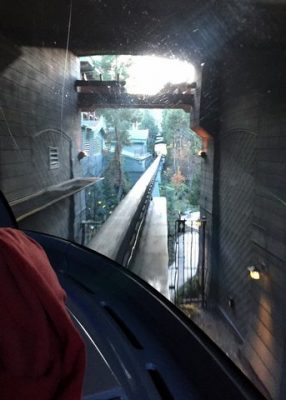 How often do you get to drive through your hotel on vacation?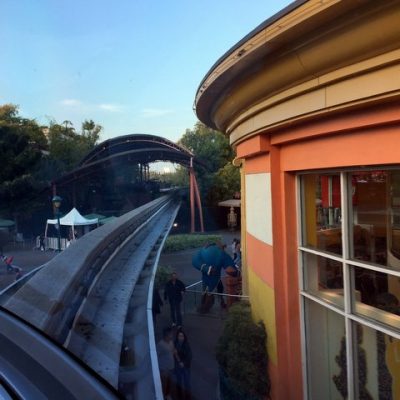 Downtown Disney station ahead, Lego Store to the right
All too soon your monorail slows in the final turn and you land in Downtown Disney for shopping and dining. You may stay on back to Tomorrowland or give your spot to some luck fan waiting at this station.
Have you had the chance to ride up front on the monorail at Disneyland?
Incoming search terms:
can you ride in the front of the disneyland monorail?
ride the monorail front disney
how to get to sit in the front of a disney monorail
disneyworld riding in front of the monorail
disneyland monorail ride front veiw
disneyland monorail front cab ride
disney world last ride in front of monorail
disney to allow you to ride front of monorail again
disney guests ride in front of monorail
sit in front of monorail