This post may contains affiliate links for your convenience. If you make a purchase after clicking a link we may earn a small commission but it won't cost you a penny more! Read our full disclosure policy here.
This weekend, I made the impromptu decision that I needed to be down in Walt Disney World for the opening of Toy Story Land. I was down there for the opening day of Pandora and it just seemed right that I make it down for this opening day too. So, I, along with thousands, upon thousands of my closest friends descended upon Disney's Hollywood Studios to see what this brand new land was really all about.
I got to the park and immediately saw the lengthy lines. Yikes! They went up and down the former Pixar Place, all the way past The Chinese Theater, finally making their way to just in front of ABC Commissary. And that was just the line to get into the land. Then you had the hours upon hours wait to actually ride any of the attractions. Luckily, I had made a FastPass for Toy Story Mania, which granted me access into the land that day. (And even then, there was a line for those with FastPasses to have the opportunity to enter the land.)
But, I finally made it!  Toy Story Land is definitely a cute land. Guests are thrust into Andy's backyard, where they are shrunk down to the size of a toy and they are here to play with the other toys in this brand new land. All your favorites from the Toy Story franchise are here. Woody, Jessie, Buzz, Mr. Potato Head, the Green Army Men, the Aliens, and yes, of course, Slinky Dog! There are great touches everywhere and while I wasn't able to see as many of them as I would have liked to (due to being packed into the land. I mean it was opening day.) what I did see was pretty fantastic.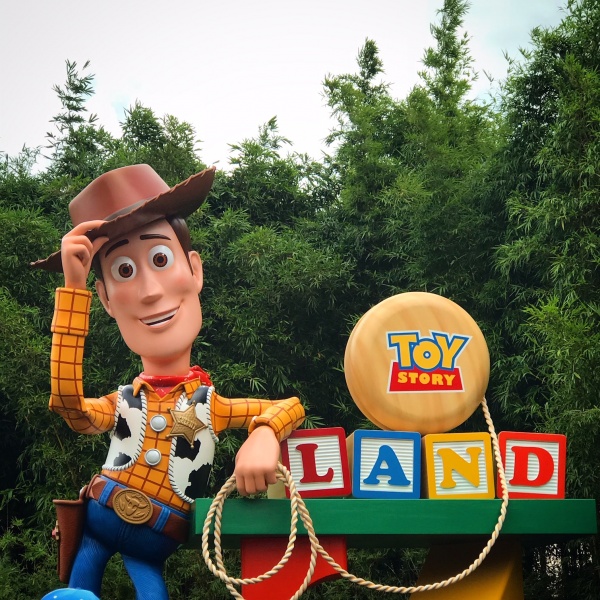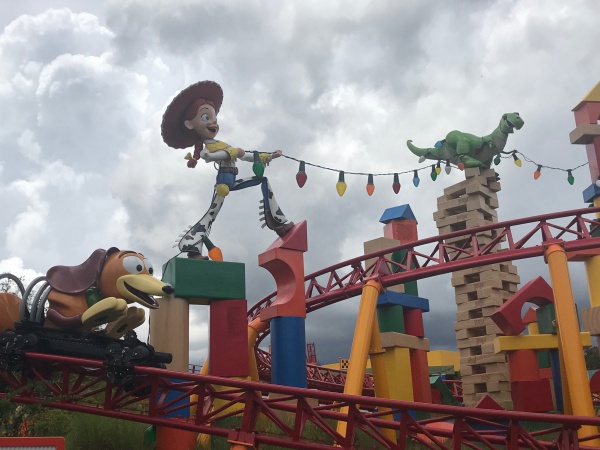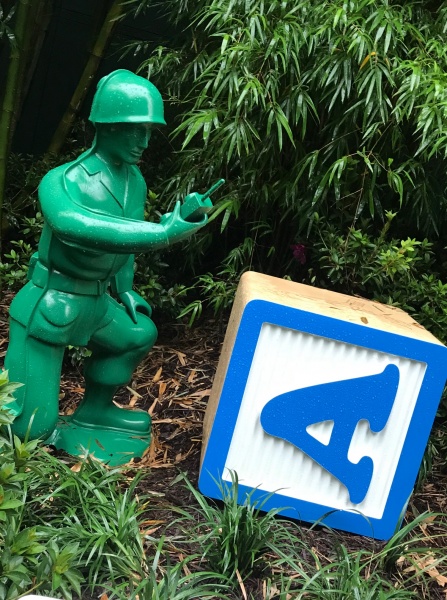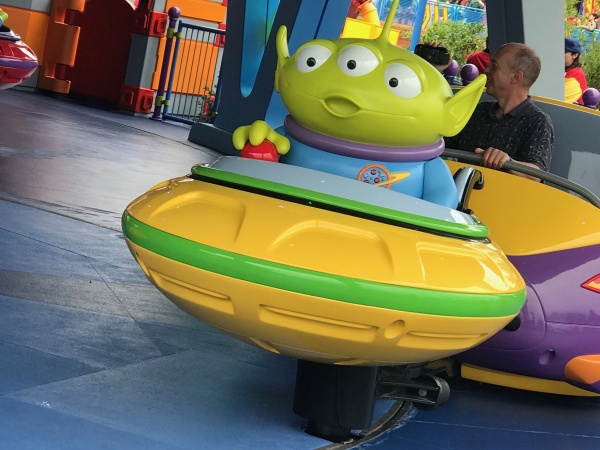 Of the two new attractions, I was able to ride Slinky Dog Dash, which let me tell you, it is a super fun coaster! I actually giggled through the whole thing. It's thrilling, but not overtly so. I would put it on the level with Big Thunder.
But, you came here to hear a review of the food. I mean it is Foodie Friday, after all! Woody's Lunch Box is themed after a Woody the Cowboy Lunch Box of Andy's that's now serving delicious foods that one might expect to have in a delicious lunch experience. Menu items include sandwiches, soups, pastry tarts, tater tots, and more.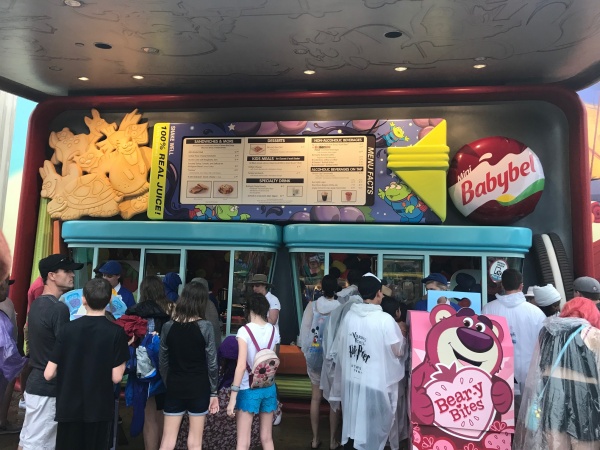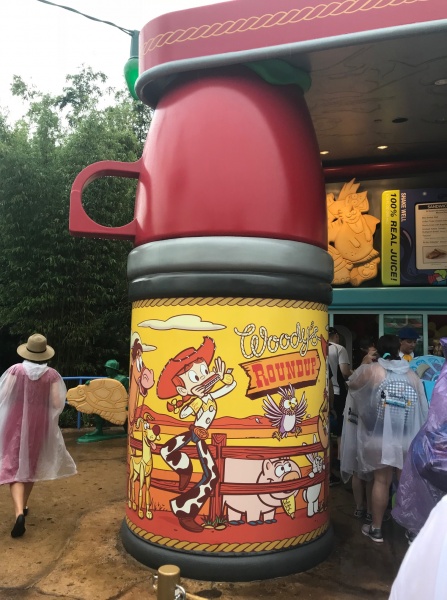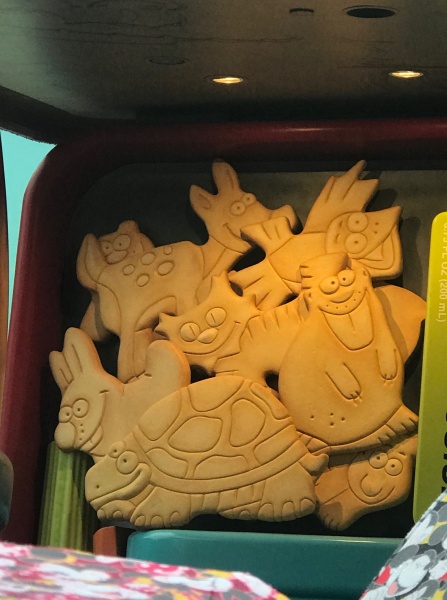 Do keep in mind that Woody's Lunch Box is an outdoor food location and seating is at a premium. There are a number of tables with umbrellas, which would have been handy, if we had been able to snag one, as it was raining while we were eating our lunch. Good thing I had my own umbrella I held up while dining.
The seating at Woody's Lunch Box is cute though, as the restaurant is sponsored by Babybel cheese, so there are lots of nods to the delicious snack. Including a table with the seats made out of the cheese wheels!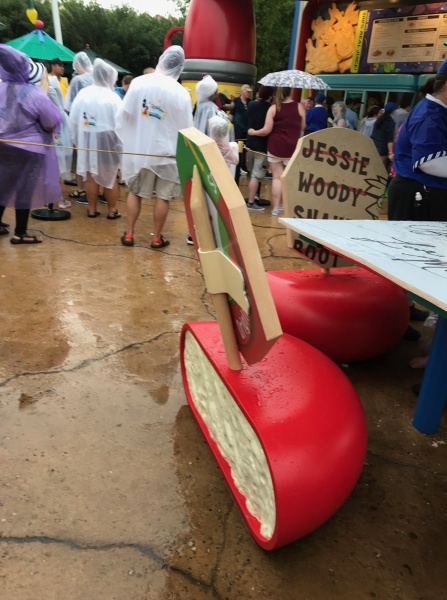 So, after waiting in a very lengthy line for this quick service walk up window, I was able to place my order. We decided to dine on the Monte Cristo with Raspberry Jam and the BBQ Brisket Melt. Both are served with a side, which can be either tater tots, soup, or pasta salad. Unfortunately, we forgot to mention that we wanted to try the soup or the pasta, so we were automatically served the tater tots.
Frankly, the Monte Cristo wasn't really my jam. (Get it.) It featured ham, turkey, Swiss, and raspberry jam with a custard soaked bread that's grilled. I didn't personally enjoy this, however my table mate thought it was delicious and he ate the entire thing.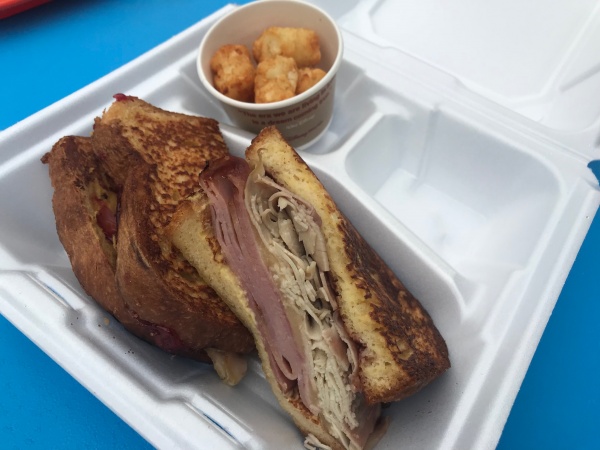 I myself, ate the BBQ Brisket Melt which for a counter service location at Disney's Hollywood Studios, was pretty darned good! It was Texas-style smoked brisket features cheddar, Monterey Jack, pickles, and BBQ sauce on garlic butter-grilled sourdough. The BBQ sauce had a good amount of zip, the garlic was a great touch and really this was a yummy sandwich.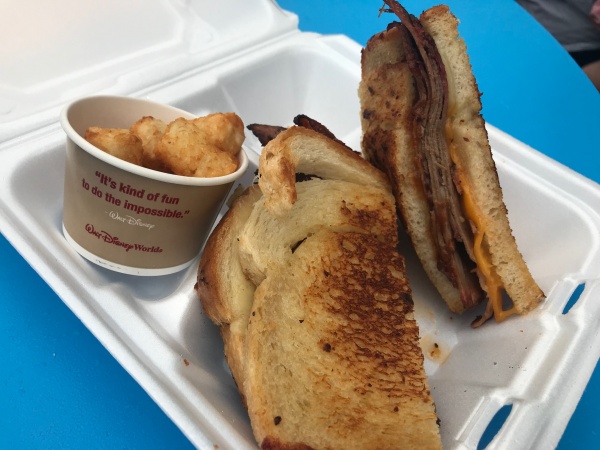 However, the winner of the day, was the Totchos! These, however, were not served the way that Disney claimed them to be. They included tater tots,chili, and two kinds of cheese, plus sour cream. Missing was the corn chips. Not sure if that's because it was the first day or it was something that they took off the Totchos. I'll have to get them again and find out. However, these were fantastic. They were big enough to share, especially if you get a sandwich and split the two options, however, I could have made a meal out of these. I found them to be quite delicious.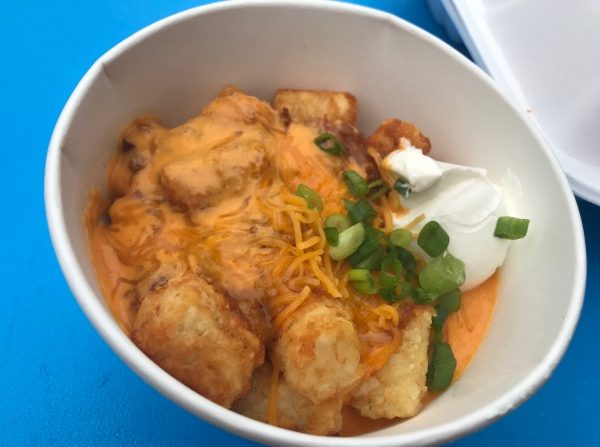 I also tried the chocolate hazelnut tart with carmelized bacon. There certainly wasn't a lot of bacon, but the tart itself was flaky and the chocolate hazelnut filling was plentiful and tasty.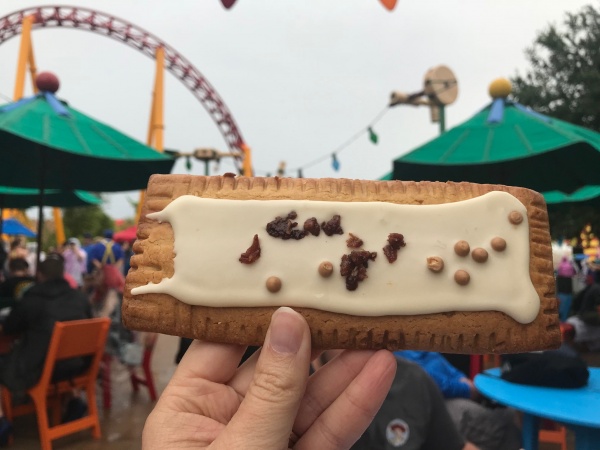 Overall, Woody's Lunch Box is a welcomed addition to Disney's Hollywood Studios. It's a well needed counter service option that's serving more than just hamburgers, chicken nuggets, and hot dogs. While I do wish that it was a bigger location, as well as wish it had indoor seating, I very much enjoyed my meal here and will absolutely be returning and reviewing this location once it's past it's opening day jitters. And you can bet I'm looking forward to breakfast at Woody's Lunch Box too! But that's a review for another day.
Are you looking forward to dining at Woody's Lunch Box? What are you looking forward to trying?  Share in the comments, or on Facebook or Twitter.
Did you like this article? Make sure to share it with your friends! Check below for easy ways to share!