This post may contains affiliate links for your convenience. If you make a purchase after clicking a link we may earn a small commission but it won't cost you a penny more! Read our full disclosure policy here.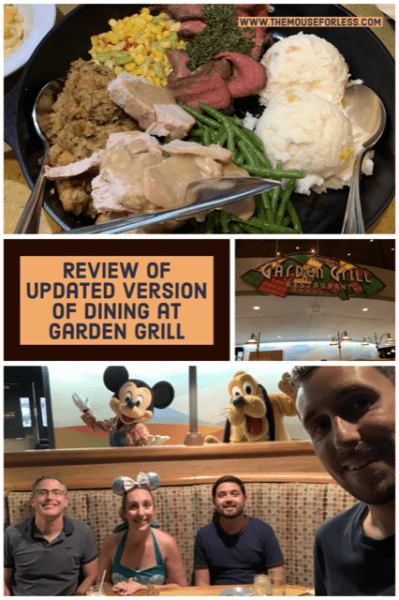 There have been many changes with dining at Walt Disney World since things reopened back a few months ago. One of the major changes has been with character dining. While most restaurants aren't offering a character experience, there are a select few that are. One of them is Garden Grill found in The Land at EPCOT. We wanted to find out what dining here was like first hand.
Garden Grill, for those who don't know, is a character meal with Farmer Mickey, Pluto, Chip and Dale. Dinner here is served family style, which means it is brought to your table and it is an all you care to eat option.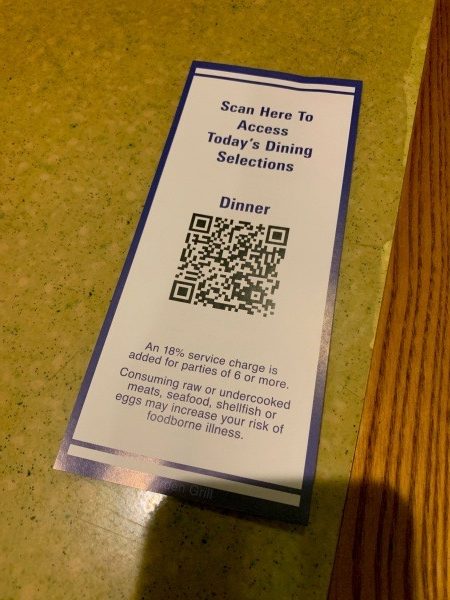 First, while Guests don't need to order anything, the Cast Members do provide a slip of paper with a QR code on it so you can see the menu for the day. On our day, the chef had a special of barbecue beef brisket in addition to the other meat options or turkey and chimichurri steak.
The first items that are brought to the table are salad (which is sourced from Living with the Land) and rolls. The salad is extremely fresh with a nice, light vinaigrette dressing.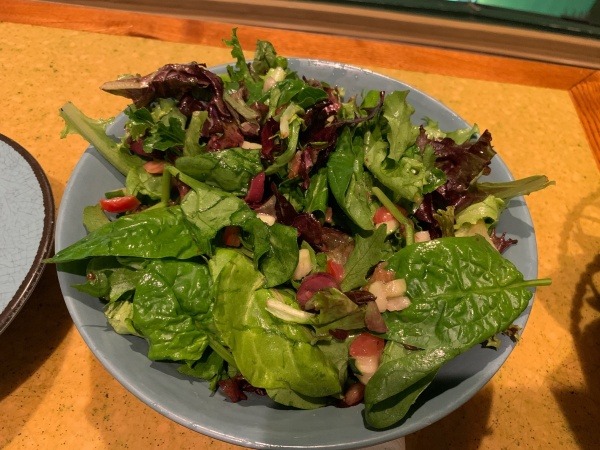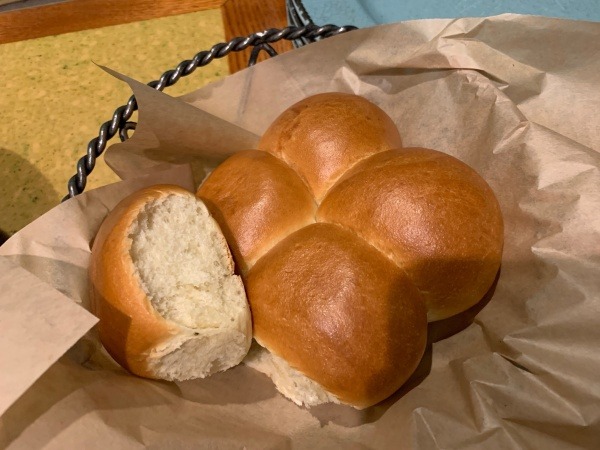 Moving on, we were then served with the main course. Besides the meat options on the skillet, today we were served with stuffing, green beans, mashed potatoes, and succotash. In addition, one of the staples here is a bowl of mac and cheese with goldfish crackers on top!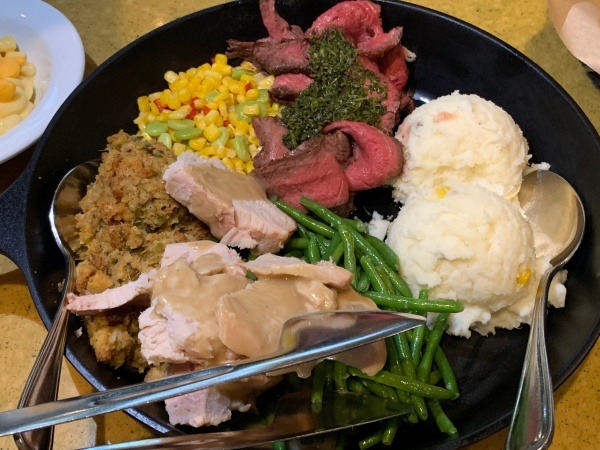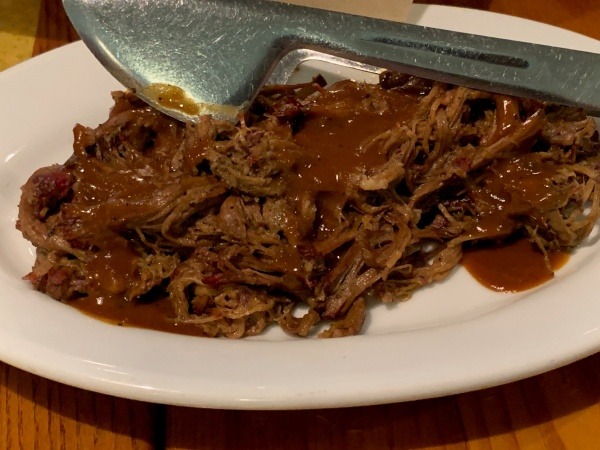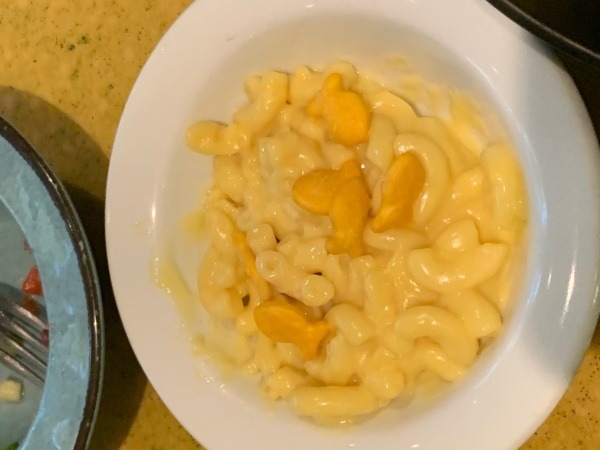 All of the menu items served are delicious. And since it's all you care to enjoy, if you want more of something, like we did with the mac and cheese, all you have to do is ask!
As far as dessert is concerned, Guests are served a berry shortcake. Again, the flavors are exceedingly fresh and it's a nice heaping slice of pound cake.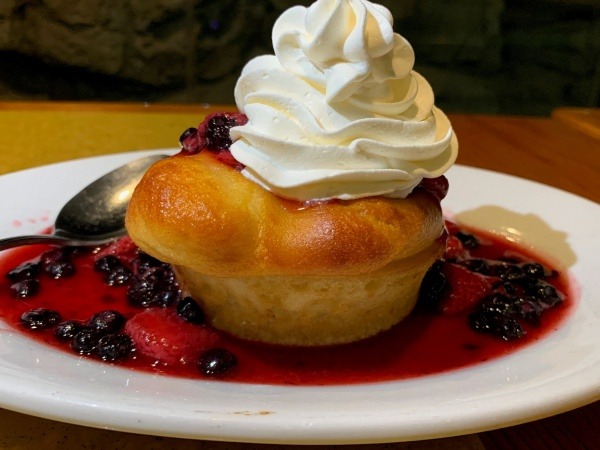 One of the big changes with this meal comes in the form of character greetings. Before, the characters would visit your table, one at a time and pose for photos of everyone in the family. Now, things are a little different. The characters now stand behind on the top level of the restaurant. They also come in pairs and Guests, while they can take multiple individual shots, find that a selfie with one person taking it and the rest of the family in the background tends to be the better option. I will note that this is a little difficult to do, as the person in the foreground tends to be in sharper focus than the rest of the family. The characters do come around multiple time though, so if your first attempt at capturing the image isn't perfect, you'll have another chance.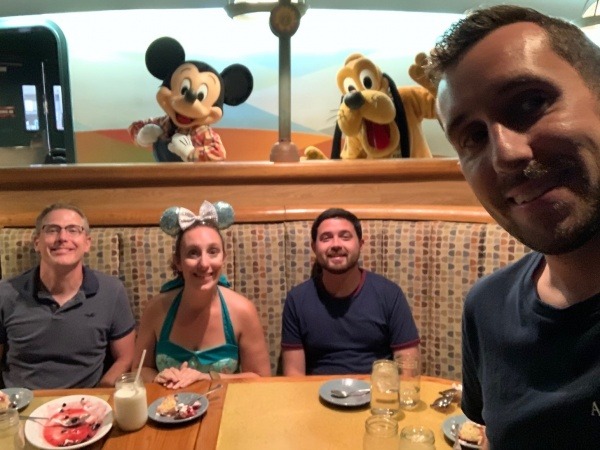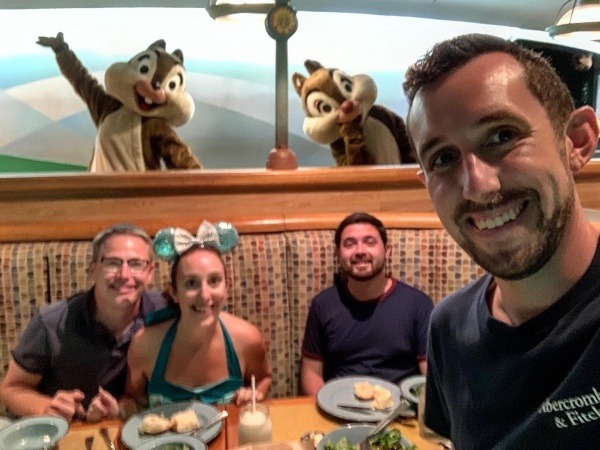 While it certainly isn't the same kind of of character dining experience, it is nice to have the option to still be able to have them. And for us, the food at Garden Grill is so good, the characters really are secondary anyway. Do keep in mind that the cost for this meal is still the same as it was prior to COVID, even though the experience is slightly different. Keep that in mind if you are really here for the characters, as this is not a cheap meal.
Would you consider dining at Garden Grill with this new character dining set up? Comment below or on Facebook or Twitter!
Did you like this article? Make sure to share it with your friends! Check below for easy ways to share!  
Want to visit a Disney Destination? Contact The Magic for Less Travel for more information and a free, no-obligation quote.