This post may contains affiliate links for your convenience. If you make a purchase after clicking a link we may earn a small commission but it won't cost you a penny more! Read our full disclosure policy here.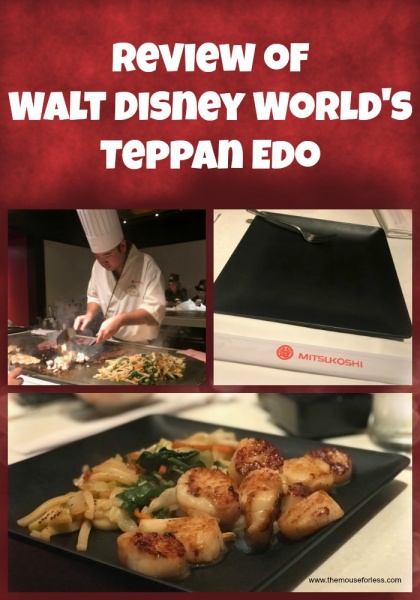 One of the best parts about Epcot's World Showcase is having the ability to dine on cuisine that is representative of dishes from around the world. From French, to Moroccan, to German. There's a treasure trove of deliciousness. One such great dining option is Japanese. Recently, I made a stop at the table service restaurant, Teppan Edo.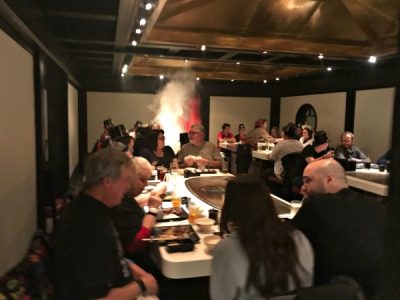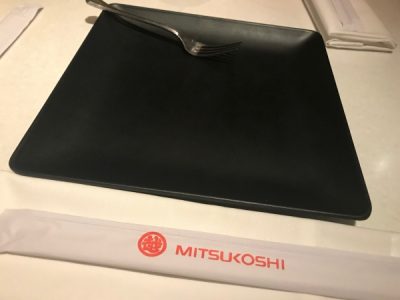 Teppan Edo is a traditional hibachi-style restaurant. Guests watch on as their chef expertly prepares their meal in front of them on the giant grill. The set up is likely the same as your local Japanese hibachi restaurant, with the same premise in mind. The best part about Teppan Edo is because it's in a Walt Disney World theme park, you'll get little Disney touches in the presentation!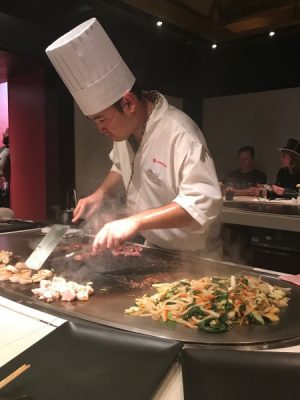 This is a restaurant where there are eight Guests seated around the grill, so if you are dining here, you will likely be sitting with another family or couple of families. Due to the nature of seating, this makes Teppan Edo a great choice for solo travelers though.
Guests are seated and place their order. Options include sushi, steak, shrimp, chicken, as well as combination platters.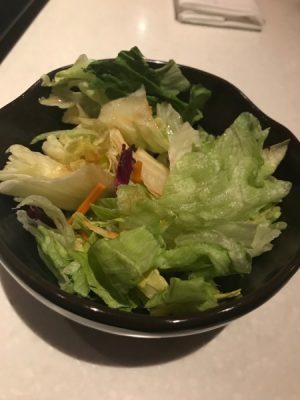 Guests are served a salad with a ginger dressing. I found this to be good, but always find salad at these restaurants to be a placeholder until the main course, which is what I've come here to enjoy. There's never anything super special to me about salads from Japanese restaurants.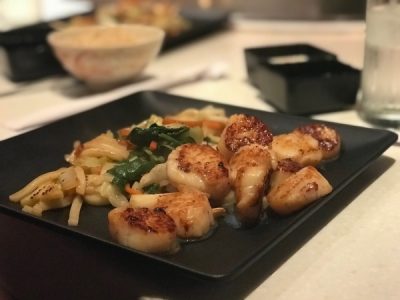 I order the Hotate, which is northeastern cold water sea scallops. You may know that I'm a sucker for scallops, so there was never any question of what I was going to order.
The scallops were cooked to perfection. They weren't chewy at all. The vegetables served alongside were interesting. They weren't the usual mix of veggies you expect at a hibachi restaurant. In addition, dishes are served with udon noodles which were a nice pairing. Overall it was a good, solid meal.
In a way though, it's hard for me to recommend Teppan Edo. I find that my local Japanese hibachi restaurant offers the same choices, plus additional accouterments, all for a usually cheaper price. However, due to the fun Disney touches, as well as the fact that there are a few more upscale-feeling choices served instead of what's usually served at your local Japanese restaurant, Teppan Edo also isn't necessarily on the skip list for me either. I've certainly enjoyed my meals here, but think the overall value is much better off-site.
Have you dined at Teppan Edo before? What are your thoughts? Is it a must do for you? Share your thoughts in the comments.
Did you like this article? Make sure to share it with your friends! Check below for easy ways to share!
Incoming search terms:
https://www themouseforless com/blog_world/review-teppan-edo/