This post may contains affiliate links for your convenience. If you make a purchase after clicking a link we may earn a small commission but it won't cost you a penny more! Read our full disclosure policy here.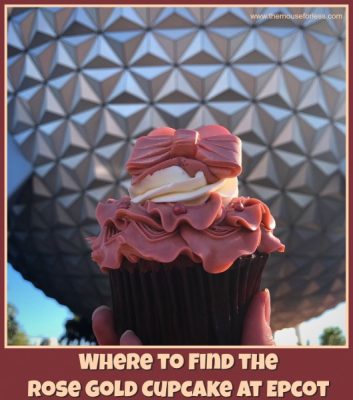 Rose gold has quickly become the it thing. From rose gold ears, to rose gold spirit jerseys, and more, everywhere you look when walking around the Walt Disney World Resorts is coming up….rosey. And you know that with any popular trend and because they love their cupcakes, Walt Disney World introduced a version of the rose gold cupcake at almost every theme park and resort on property.
The first of these introduced was found at Sunshine Seasons though in The Land Pavilion at Epcot. Guests will be able to find this great in the bakery section of the quick service dining location.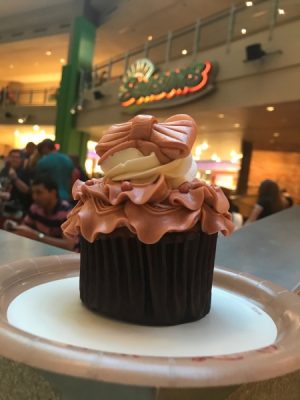 So, you know I had to do some research while I was visiting Walt Disney World and bravely took one for the team.
With its rose gold and cream colored icing inviting me in and the adorable bow and ears I knew this was going to be a treat not only for the eyes!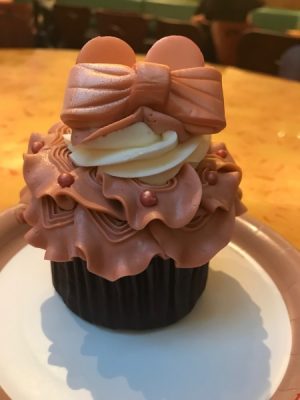 When biting into the Rose Gold Cupcake, as you all know, I'm a fan of sweet icing and this did not disappoint! It was that sickly sugary icing that makes me happy. The bow and ears were made of fondant and had that kind of gummy feel you'd expect with no real flavor. The cupcake itself was surprising. It was a marbled cake with both a vanilla and Nutella flavor! (Not the chocolate I was expecting). Now, personally, I think I would have preferred the chocolate flavoring, but I did enjoy the nutty taste of the Nutella.
The cupcake is large and could be shared if you wanted to. But I was able to eat the whole thing in one sitting without a problem. (Now, I probably shouldn't have eaten the entire thing in one sitting, but….)
If you love Nutella or rose gold everything, this is certainly the cupcake for you!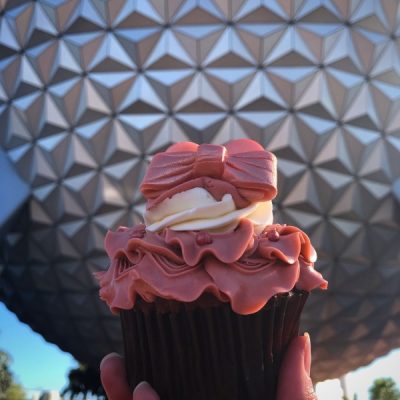 Have you tried the rose gold cupcake yet at either Sunshine Seasons or at any of the other Walt Disney World resort locations? Share your thoughts of the treat in the comments.
Did you like this article? Make sure to share it with your friends! Check below for easy ways to share!