This post may contains affiliate links for your convenience. If you make a purchase after clicking a link we may earn a small commission but it won't cost you a penny more! Read our full disclosure policy here.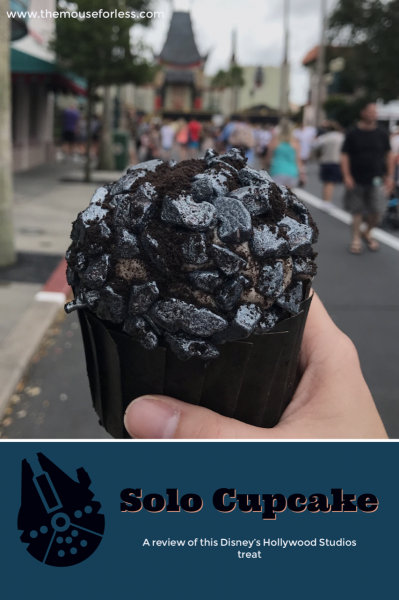 Walt Disney World is all about the cupcake. They constantly have unique cupcakes for just about every purpose and of course, the tie in with the film, Solo, Disney's Hollywood Studios has introduced a brand new cupcake option.
Known as the Solo Cupcake and sold at the Trolley Car Cafe (otherwise known as Starbucks), this is a chocolate cupcake, with buttercream cookies and cream icing, chocolate "space rocks", cookie crumbles, and a chocolate piece with Solo emblazoned on it. For those looking for this cupcake, you can find it in the refrigerated front section where other treats are found, as well as bottled beverages.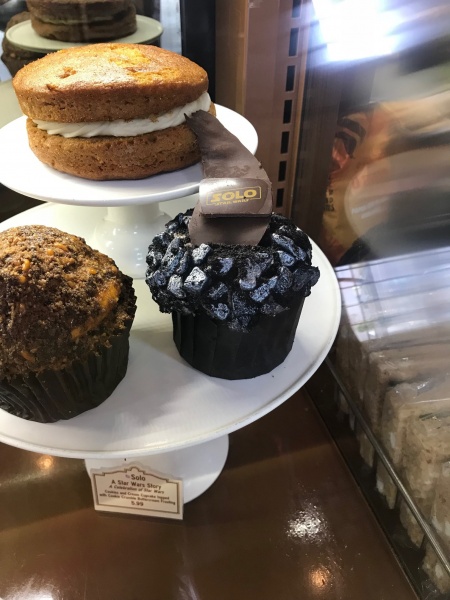 The cupcake was definitely decently sized. And it should have been for the price of $5.99. (These cupcakes are a great use for a snack credit for those on the Disney Dining Plan.)
Biting into the behemoth, this was a very moist cupcake! Not at all dry, like I find a number of other Disney cupcakes to be. In addition, the cookies and cream icing was fantastic and there was a ton of it! No skimping on this one.  Oh and I really loved the space rocks! They were solid chunks of chocolate.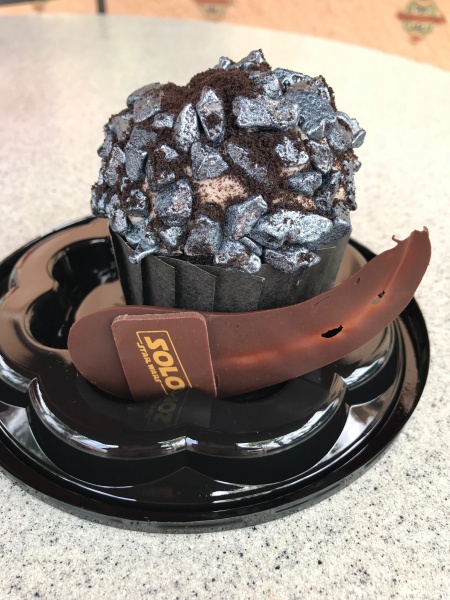 Honestly, this was one of my favorite cupcakes I've ever gotten at Walt Disney World. I actually really hope that Disney decides to bring this one back in another form after Solo has ended its theatrical run because it was simply delicious. (And I regret not buying a second one….that's how good it was. Kind of hoping it will be there still in July when I go back again.)
So, should you get the Solo cupcake? If you are a fan of chocolate, I say 100%, yes. This was a fantastic option! And no, I didn't share it with anyone.
What do you think? Would you want to try this cupcake? What's been your favorite Disney cupcake you've ever had? Share in the comments.
Did you like this article? Make sure to share it with your friends! Check below for easy ways to share!