This post may contains affiliate links for your convenience. If you make a purchase after clicking a link we may earn a small commission but it won't cost you a penny more! Read our full disclosure policy here.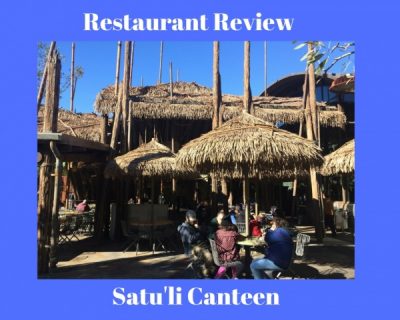 The outdoor seating area of Satu'li Canteen
In January, my family took our first trip to Walt Disney World since Pandora: The World of Avatar opened in Animal Kingdom. We knew we'd want to spend a lot of time in this new land, and we decided to have lunch at this area's quick service location, Satu'li Canteen.
Satu'li Canteen has both indoor and outdoor seating available. The outdoor seating is shaded by thatched umbrellas. I'm guessing this area gets crowded at traditional mealtimes, since this sign explains that only people eating at Satu'li can sit here: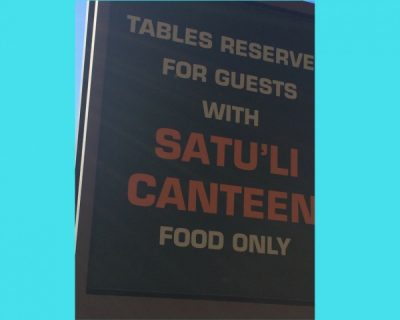 Sign posted in the outdoor seating area
The ordering stations here are set up as in any standard quick service location. You order at the cashier, pay, and then approach the counter to get your food once it's ready.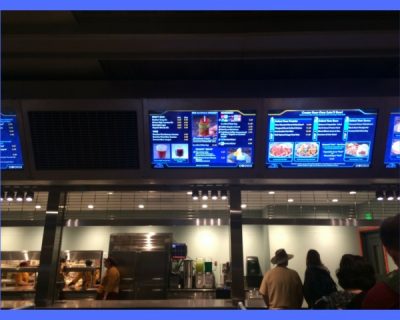 Ordering stations
According to my receipt, we ordered our food at 11:14 a.m., and there was hardly any wait. Our food came out quickly, and we were able to find an interior table for five with no problem.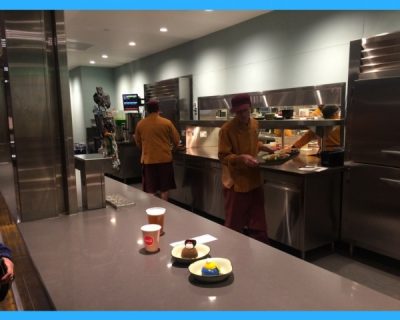 Our drinks and desserts
As with any Disney restaurant, don't forget to look up! The ceilings in the bright, airy dining area featured lovely nature inspired designs. One could imagine the Na'vi having a hand in the décor.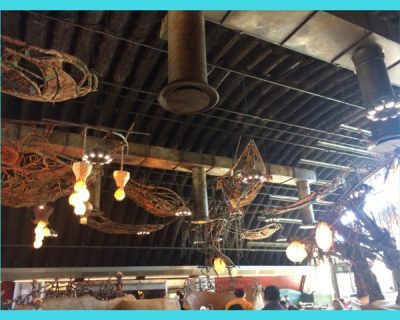 Yes, I have a "thing" for Disney ceilings!
The featured menu item here is a customizable bowl. It's ironic that although there are many different combinations you can order, my husband and I, without realizing it, ordered exactly the same thing: a chicken bowl with sweet potato hash and black bean sauce. My daughter ordered off the kids' menu: a cheese quesadilla with root vegetable chips and grapes. I had heard good things about the blueberry mousse and I ordered one for us to share.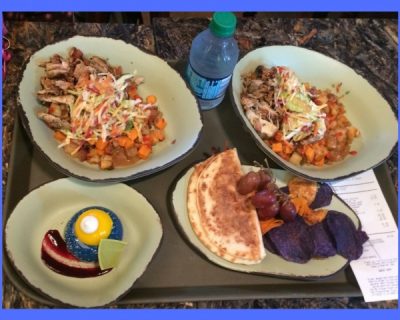 Clockwise from upper left: Two chicken bowls, kids' quesadilla, blueberry mousse
The chicken was perfectly cooked, still moist and juicy, and the sweet potato hash was warm and comforting on this cold January day. The black bean sauce had a slight kick to it, but was not overly spicy.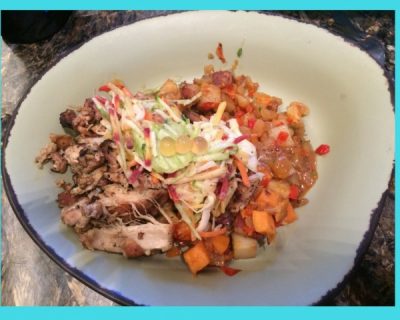 Chicken bowl with sweet potato hash and black bean sauce
My daughter enjoyed her quesadilla and ate several of the chips before realizing that someone had snuck some health into her vacation food. (I'm pretty sure the root vegetables used were beets and sweet potatoes, judging from the color.)
The blueberry mousse dessert was outstanding. It was bursting with flavor without being overly sweet, with a mild tang from the cream cheese. The passion fruit curd was rich but not overpowering.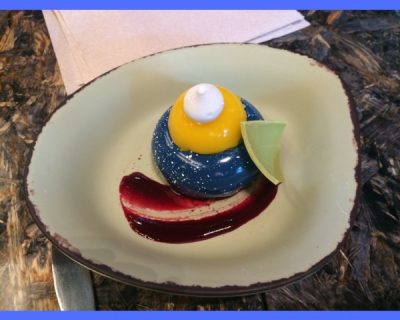 Delicious blueberry mousse
My mother ordered the chicken bowl on a bed of greens, and got the chocolate dessert, which she let us taste. While it was certainly tasty and quite chocolately, it didn't stand out the way the blueberry mousse did.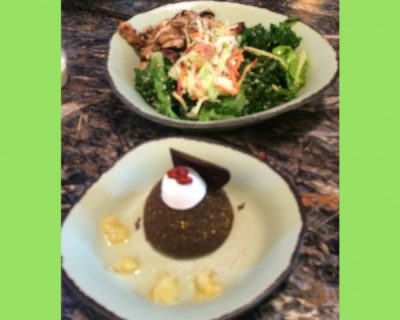 Chicken bowl on a bed of greens, chocolate dessert
I definitely will return to the Satu'li Canteen. I love the healthy slant of the menu, and the fact that I can customize my meal.  This is a great addition to the quick service scene at Animal Kingdom.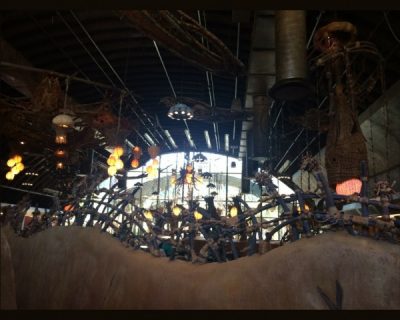 Have you dined at Satu'li Canteen? What were your thoughts? Share in the comments, or on Facebook or Twitter.
Did you like this article? Make sure to share it with your friends! Check below for easy ways to share!