This post may contains affiliate links for your convenience. If you make a purchase after clicking a link we may earn a small commission but it won't cost you a penny more! Read our full disclosure policy here.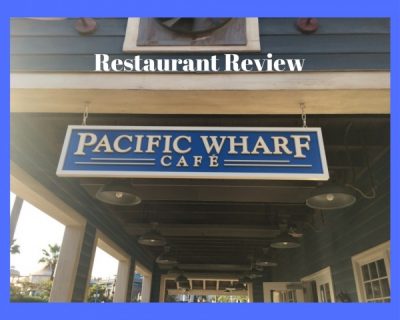 The Pacific Wharf Cafe, in California Adventure
There are times when I want to experience a new restaurant at Disneyland, and there are times when I just want to enjoy my favorites. On a lovely day that hinted at Fall, my parents treated my family and I to dinner at the Pacific Wharf Café in California Adventure.
The Pacific Wharf Café is one of a cluster of quick service restaurants in the Pacific Wharf area of the park. Other options in this area include Cocina Cucamonga Mexican Grill, which serves burritos and quesadillas; Ghirardelli Soda Fountain and Chocolate Shop, where you can indulge your sweet tooth; Lucky Fortune Cookery, which serves Asian fare; Rita's Baja Blenders, where you can enjoy slushy drinks, both with alcohol or without; and Sonoma Terrace, where you can pair small plates with wines.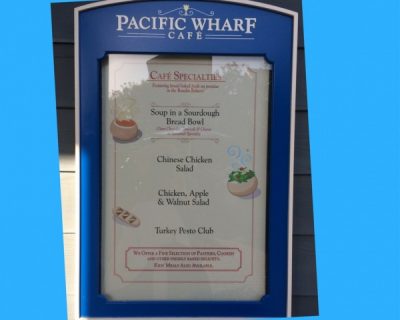 The menu at the Pacific Wharf Cafe
There is ample outdoor seating at a central location among these establishments, so it's easy for members of your party to split up, get what they want, and meet back at a table to eat together. However, this area can get quite congested at peak mealtimes. We find it's easiest to get a table at 11:00 a.m. for lunch and 5:00 p.m. for dinner.
My Mom and I both ordered from the Pacific Wharf Cafe, where soups, sandwiches and salads, all featuring sourdough bread, are the highlights of the menu. There are also two Kids Mickey Check Meals and one Toddler Meal available. A bakery case showcases several desserts. On the day of our visit, two of the options were gluten-free. There is also an allergy-friendly menu available upon request.
I have only ever eaten one entrée here, because when I first tasted it, I fell in love, and I have no desire to try anything else! The Chicken, Apple and Walnut Salad is tossed in a light dressing and sprinkled with dried cranberries. The celery and greens are fresh and tasty.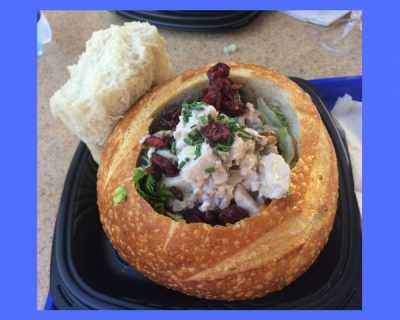 Chicken, Apple and Walnut Salad
As you can see, the salad is served in a sourdough bread bowl, and the inside of the bowl is served alongside the salad. I am not a huge bread person. I'm usually the annoying person who skips the bread basket and asks for vegetables rather than starches on the side when I eat out. However, this bread was excellent. It's made by Boudin, the same company who hosts the Bakery Tour nearby. (Although this is not a Must Do at California Adventure, it's cute to watch how the bread is made, especially for young kids. And you can sometimes snag a sample at the end!) The bowl has a crispy exterior, chewy interior, with just the right tang from the sourdough. It's a good thing I walked so many steps this day so I could work off those carbs!
It's good to see that, even at Disney, some good things never change. This salad is one of them!
Have you stopped by Pacific Wharf Cafe? What are your favorite options here? Share in the comments.
Did you like this article? Make sure to share it with your friends! Check below for easy ways to share!