This post may contains affiliate links for your convenience. If you make a purchase after clicking a link we may earn a small commission but it won't cost you a penny more! Read our full disclosure policy here.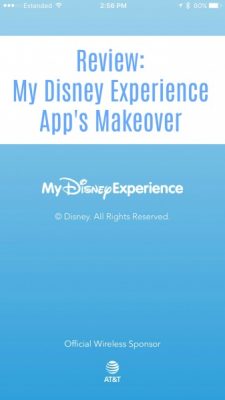 I fell in love with the My Disney Experience app even before our family's first Disney World vacation last fall.  It was user-friendly and a great way to keep your vacation organized.  What could be better?  As Disney usually does, they found a way to step up their game and gave the app a makeover earlier this year.
Let's start with the basics.  The My Disney Experience App is available for iOS and Android.  It can be downloaded from the App Store or Google Play.  I highly recommend downloading it and logging in before your trip.  It can be a great tool for your initial planning and is truly an essential in the parks.  (Worried about your data usage?  Don't forget to take advantage of Walt Disney World Resort's free Wifi!)
Is it any good?  I personally use the iOS app and have found it to run smoothly!  It's easy to use and is relatively (if not entirely) bug free.  Our family has not had any real issues with it impacting battery life.  The app is consistently rated highly by users on the App store.
What can you use it for?  I honestly think the better question is what can't you use it for.  The app has you covered for finding restrooms, showtimes, character experiences, and more.  It's easy to make your FastPass+ selections or find/book/change dining reservations.  You can view your PhotoPass photos and check out the Spotlights section for information on what's new at the parks.  The app syncs with your My Disney Experience account and your MagicBand – everything is seamless!
Time for a tour!  We've established that the app is not only helpful but can also be a powerful tool.  Let's take it for a spin!
After you've downloaded and logged in to the app, you will be brought to the main landing page.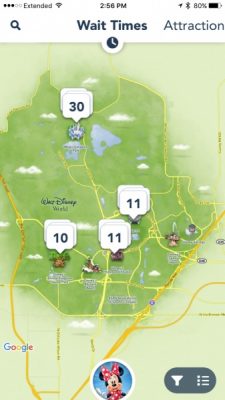 Main page of the My Disney Experience app.
From here you can use the search function in the upper left corner if you're looking for something specific.  You can scroll side to side through the options in the main toolbar at the top of the app.  To see personalized information, click on your character at the bottom center to open your "My Account" information.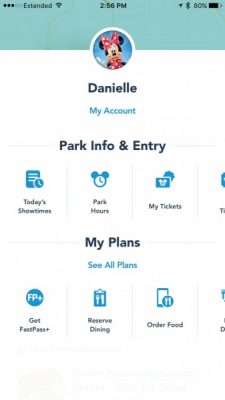 The My Account page within the app.
This page is your gateway to so many tools!  I love the "Today's Showtimes" button for a quick snapshot of what is happening on property that day.  The "Park Hours" button offers more quick info for planning your day.
If you scroll through the"My Plans" section, you will get a glimpse of your upcoming plans.  (Click on "See All Plans" to see all reservations associated with your account.)  Below this you can check out your PhotoPass pictures under "My Photos."  Scroll just a bit further and can find details on what is new at Disney under the "Spotlight" section.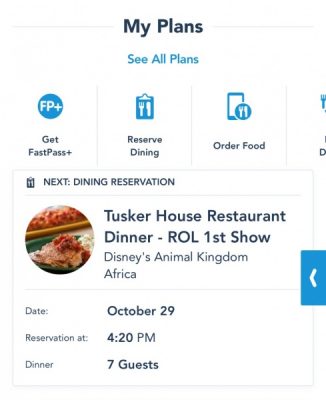 Your reservations are visible at a glance.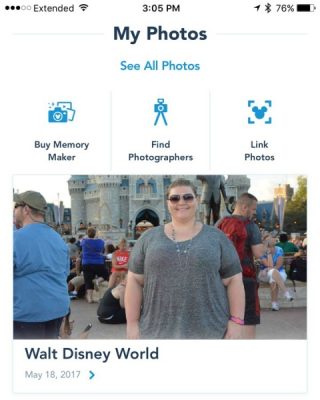 View your PhotoPass pictures.  Link photos and find photographers from here, too!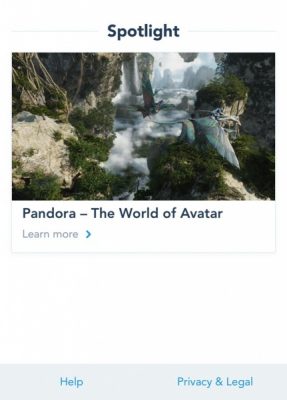 Find the newest information under the "Spotlight" section.
This main "My Plans" page is the easiest spot to get started with making FastPass+ reservations.  Just click on "Get FastPass+" and the system will walk you through selecting your party, dates, parks, and attractions.  The process is incredibly similar to how you book your FastPass+ reservations through the My Disney Experience website.
The "My Plans" page is also the easiest spot to get started with making Advance Dining Reservations.  Click on "Reserve Dining" and the system will again walk you through the process very similar to the website.
Need to change or cancel an existing reservation?  Just click on the specific plan and you will have options to cancel or modify.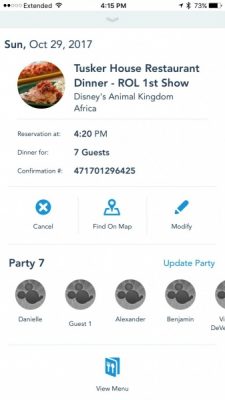 Make changes, cancel, or get more details on your reservations right from the app.
The app also allows you to click not only "View Menu" for dining plans, but you can also click "Find On Map" for all of your reservations.  This feature is available with nearly all functions within the app – finding characters, attractions, restrooms, etc. – and is an absolute lifesaver if you're new (or even not so new) to the parks.  You can even select "Get Directions" and it will help you get exactly where you need to go. You can also take part in the new Mobile Ordering option where you can order your food at select counter service locations ahead of time.
The final piece that we have found to be so helpful while navigating through the parks is the locator tools.  These can be found on the top toolbar from the main app page.  You can find attractions (and wait times), restrooms, characters, photographers, and more right from here!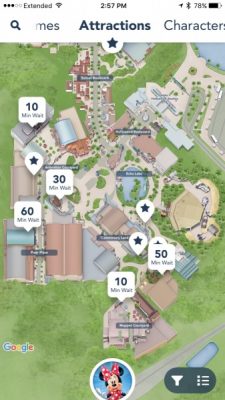 An example of the initial results when using the locator tools.
Once you've found what you're looking for, you can select one of the items for more details.  You can get directions for each item.  For characters, you'll be able to click on the character's name for a short biography and the hours they are scheduled to appear.  These details are invaluable when you want to be sure that you won't miss your favorite characters!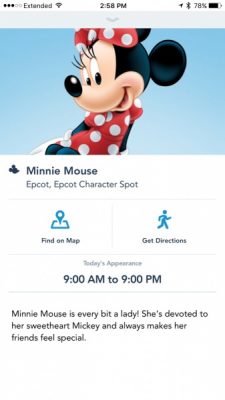 Use the app to be sure you never miss your favorite characters.
The My Disney Experience app's makeover has made it more streamlined and even more user friendly.  It is certainly a powerful tool that can help make your vacation easy and relaxing.  Ready to get the app to help make your next vacation a little more smooth?  Check out additional details or visit the App Store or Google Play to download today.
Have you used the app recently? What are your favorite new additions? Share in the comments.
Did you like this article? Make sure to share it with your friends! Check below for easy ways to share!