This post may contains affiliate links for your convenience. If you make a purchase after clicking a link we may earn a small commission but it won't cost you a penny more! Read our full disclosure policy here.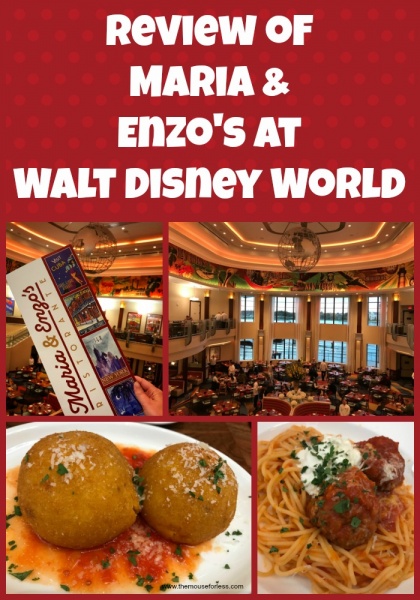 This past weekend, I was in Walt Disney World for marathon weekend, but it also just so happened to be opening weekend for a brand new restaurant at Disney Springs, Maria & Enzo's. The restaurant is connected to the recently opened Pizza Ponte and is part of The Edison complex.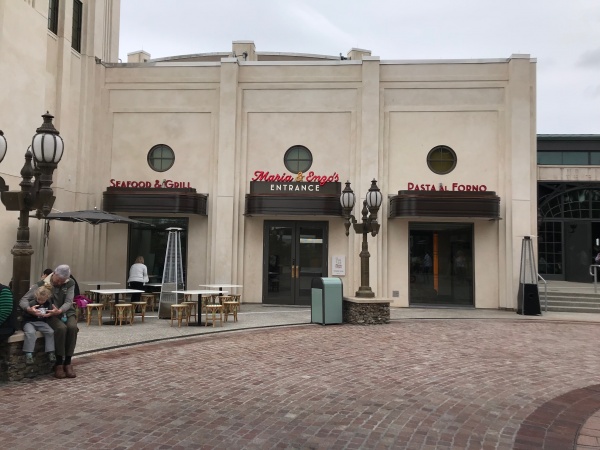 As the story goes, Maria & Enzo's is located in Disney Springs' former airport. This is apparent by the giant globe hanging from the ceiling, as well as the artwork that adorns the wall showcasing different locations that travelers could go to. The restaurant itself is extremely airy. It has large windows in the back that look out on the water and features an open concept, as most tables are located downstairs. (There are a few tables located in the upstairs portion.)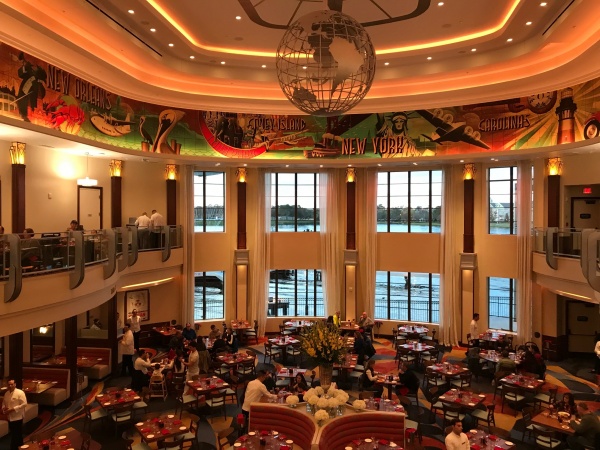 The menu is quite large, and features incredibly diverse beverage options. Matter of fact, the number of beverage choices are actually larger than the number of food choices. The wine list is extensive, there are many beer options, and cocktails are numerous too.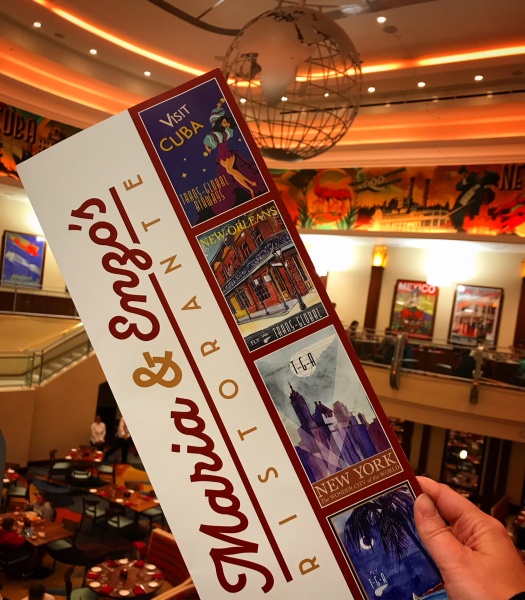 As far as the food goes, there aren't as many options as I was expecting…especially given the vastness of the beverage choices. Maria & Enzo's does offers a number of appetizers and small plates, some salads, a few pasta dishes, and then some meatier options.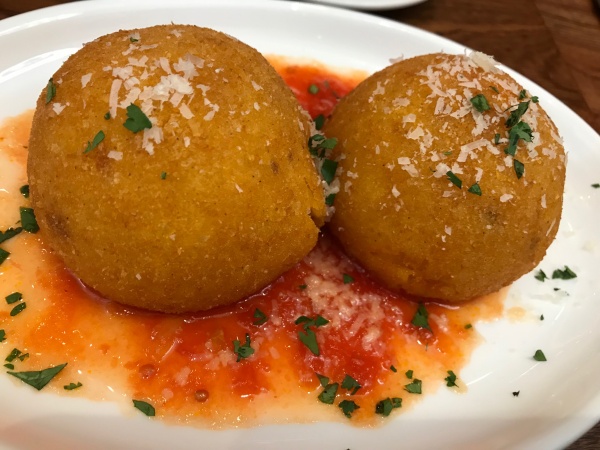 On my trip, I was able to try a few things. First, I tried the Arancini di Carne which is essentially a fried rice stuffed with meat ragù, peas and mozzarella. This was quite good and different from the version served at Via Napoli. There were only two on a plate, but the balls are quite large.
A friend got the Caciocavallo Fritto, which is fried sicilian cheese, spicy tomato and pomodoro sauce, thinking it would be similar to a mozzarella stick. It wasn't. It was more bread crumby than we were all expecting. The cheese, it seemed, was mixed in. These were good, even though they were not what was expected.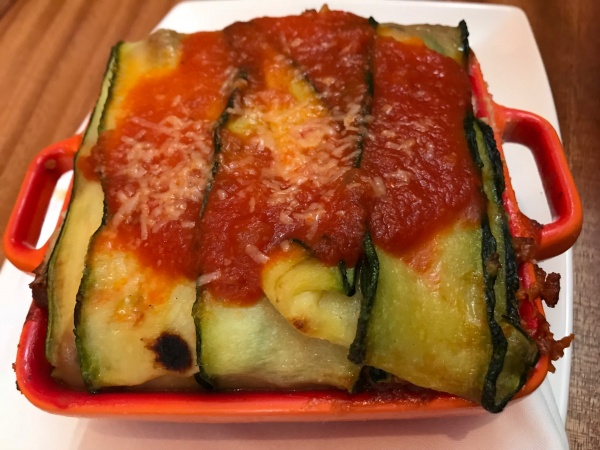 Moving on to entrees, my husband got the N'Casciata al Forno, which classic sicilian layered baked pasta, meat ragù, peas, zucchini, caciocavallo cheese. This was equated to us to be a kind of a different type of lasagna. It's served in a small ramekin. It was good, for sure, and he ate it all and was full when all was said and done, but I don't know that my husband would get it again. He likes a meatier lasagna-type dish.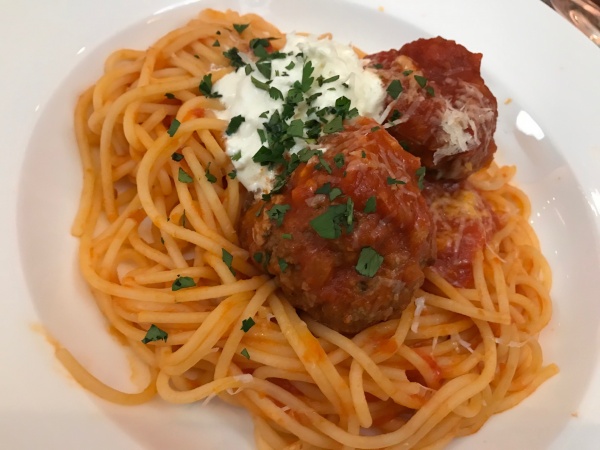 I tried the Spaghetti Alla Chitarra which is served burrata and meatballs. I liked that the sauce was light and the pasta was perfectly al dente. The meatballs had a good flavor, without a lot of spice. The cheese was a nice touch. The spaghetti was a decent size portion overall.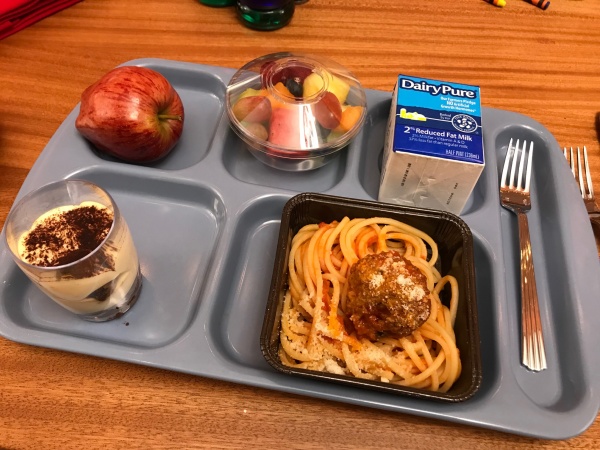 Our friend's daughter ordered the kids meal and oh my goodness! It was served on a tray like they would have served your airline meal on! It was adorable! Kids can mix and match their meal from a number of options.
One of my pet peeves about Italian restaurants at Disney overall is that there are many good Italian places to visit likely in your hometown, and most of the time, they cost less money for the same type of dishes. I do feel that pricing here was a touch higher than it should be. $25 on average for pasta dishes is a lot.
While I enjoyed my meal here during my visit, with all the options that are in Disney Springs, a restaurant like this needs to be phenomenal, especially for that pricing. Maria & Enzo's was good, but didn't quite reach the phenomenal status for me.
Are you looking forward to trying Maria & Enzo's? Share your thoughts in the comments. 
Did you like this article? Make sure to share it with your friends! Check below for easy ways to share!
Incoming search terms:
review maria amd enzo disney springs