This post may contains affiliate links for your convenience. If you make a purchase after clicking a link we may earn a small commission but it won't cost you a penny more! Read our full disclosure policy here.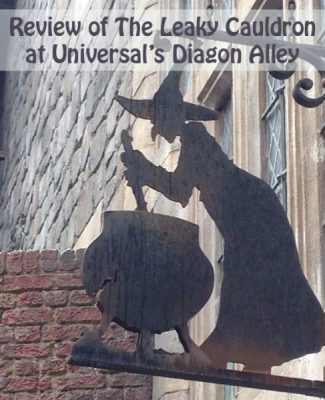 You all know I'm obsessed with Harry Potter, right? I love the books and re-read them frequently and anytime the movies are on Freeform, I immediately turn them on. It doesn't matter that I know it all by heart. To me, it is just a great story that I never tire of.
Which is why, I am also obsessed with The Wizarding World of Harry Potter. These two areas, both Hogsmede and Diagon Alley at the Universal Orlando Resort are some of the greatest extensions of storytelling I've ever experienced. The Wizarding World of Harry Potter is like lightning in a bottle. The elements all combine to create a place that goes beyond our wildest imaginations. Everything is real; it's tangible. It looks, smells, feels, sounds, and yes, tastes, like my imagination always thought it would.
Which brings me to today's Foodie Friday post. One of the places that always seemed intriguing to me when reading and watching the story unfold was always The Leaky Cauldron. This spot, located in Diagon Alley, was a spot where Harry and the magical realm spent considerable amounts of time. It was a pub designed for witches and wizards to congregate, and grab a drink or a meal.
Now, while the version at Universal Studios Florida is mostly full of muggles, not witches and wizards, it still serves its initial purpose. It is a great place to enjoy a wonderful meal.
When you enter the counter service location, and gaze upon the magical menus, you immediately notice one thing; the fare here isn't your typical theme park food. In fact, it is far from it. Guests can delight on fish and chips, bangers and mash, toad in the hole, and stew. This is traditional English fare and I would expect nothing less in a land so in tune with every little detail.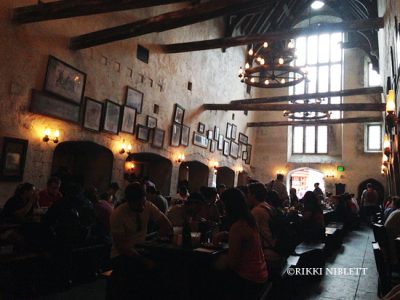 The layout of the restaurant is pretty darn spot on too.  There are long tables like there were in the film. Oh and don't forget about the actual leaky cauldron. The restaurant is so authentic, there are even moving pictures lining the walls. Some posters are even searching for that mysterious Sirius Black.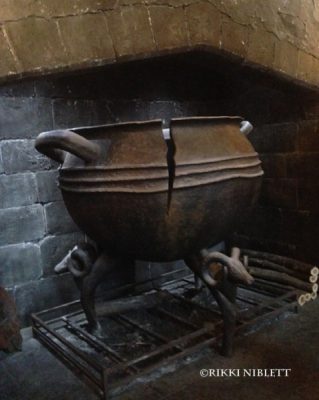 On my visit, I decided to get the Cottage Pie. Cottage Pie is a favorite of mine. It features meat and vegetables underneath a potato crust.
The pie itself was quite good. The meat was a little overdone (I really don't like meat cooked well) but the flavors were quite on point. The mashed potato "crust" was fluffy and buttery. The crust on top wasn't over done; it was the perfect amount of crunch.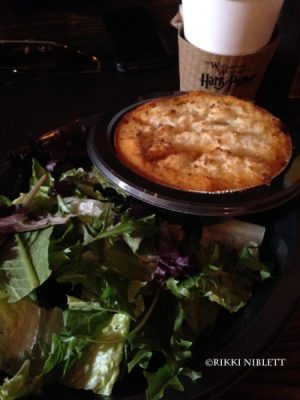 Another unique aspect to a meal at Leaky Cauldron that makes it unusual fare for a theme park? There's no french fries. Nope…instead, Guests are served salad. This was a refreshing change. The lettuce was crisp, not wilted. There were different dressing options to choose from. It's not a fancy salad, but again, it is an incredibly unique option that you aren't going to find anywhere else.
Of course, you can't enjoy a meal at Diagon Alley without a Butterbeer, right? On my visit, I enjoyed arguably the best version of Butterbeer…warm Butterbeer. It is so smooth with a great butterscotchy flavor. Seriously…warm Butterbeer is where it's at.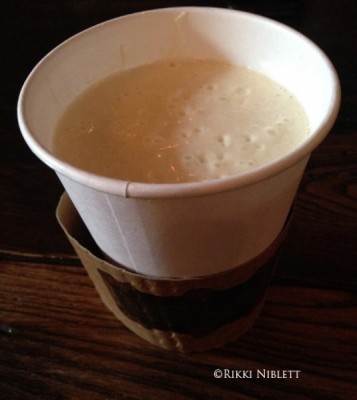 The Leaky Cauldron is a great stop for Guests, especially those looking for something unique and different. Something other than traditional theme park quick service meals. The best part is that there are so many great options to try, that I really think it's difficult to choose just what to get. But I guess that means I just need to go back and try something different. If only I could apperate there now.  Darn the fact that I am indeed, muggle born.
Have you spent any time at The Leaky Cauldron? What is your favorite thing?
Incoming search terms:
https://www themouseforless com/blog_world/review-leaky-cauldron/