This post may contains affiliate links for your convenience. If you make a purchase after clicking a link we may earn a small commission but it won't cost you a penny more! Read our full disclosure policy here.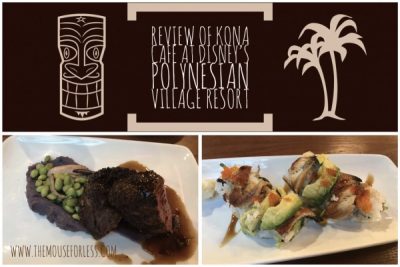 Recently, I was celebrating my birthday at Walt Disney World and my husband asked where I wanted to go for my birthday dinner. We were going to be at the Magic Kingdom that day, so I immediately answered with Kona Cafe.
Kona is found in the upstairs of the Great Ceremonial House at Disney's Polynesian Village Resort. The restaurant is open to the main lobby and features food with a South Pacific/Asian flair. Kona isn't particularly large, but I've always found that I'm able to make reservations here relatively easily. (It's certainly much easier to get a ressie here than at 'Ohana.)
Kona has been well known for the breakfast, with its signature dish being the delicious Tonga Toast, which is banana stuffed french toast that's rolled in cinnamon and sugar and topped with strawberries. I wanted to celebrate with dinner though because Kona also has been known to have options that are stellar. However, I regret to say that this trip, I found that things had changed.
As some backstory, I'd heard that Kona had gotten a new chef in the not so distant past and because of that, the menu here had been changing and many beloved items had been removed from both breakfast and dinner. But I'd just been there in December and had been happy with my experience.
That has all changed. I feel as though the menu has been hacked to bits. The favorite appetizers are still there, like the pot stickers and the chicken wings and Kona does still offer delicious sushi options, but the rest of the menu is relatively uninspired. Honestly, it's almost like someone may be trying too hard (And two of the items listed under entrees didn't even have prices, they were just listed at Market Price, which never makes you feel good when you're paying out of pocket. By the way, there were only nine items total on the entrees portion of the menu.)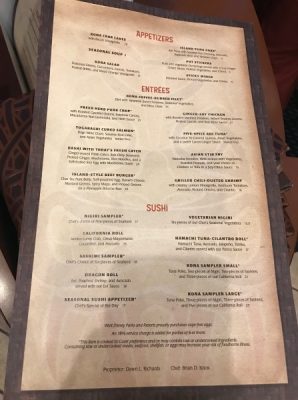 Since it was my birthday, I wanted something a little special, so I opted for the Kona coffee-rubbed filet. I love me some Kona coffee, so this sounded intriguing.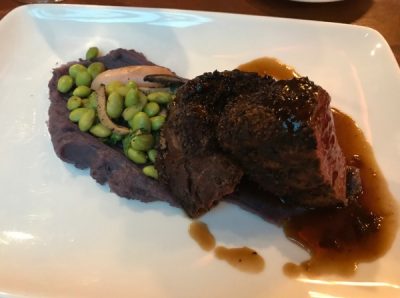 I'm going to be honest, if you don't like coffee….you absolutely should not get this steak. Or you should at least ask for it without the coffee-rub.  I know that should be a self-explanatory notion, but this steak was covered in coffee grounds and it caused it to have an extremely bitter taste. The only thing that saved the steak was the miso glaze that was served with it. Which I had to ask for more of, just to kind of kill the bitter flavoring.
The dish was served with Japanese Sweet Potatoes, which are purple. While an odd color, they were delicious. There was also lima beans, which added some interesting color and were a nice accompaniment.
My husband got the sushi, which he very much enjoyed. But he always enjoys sushi.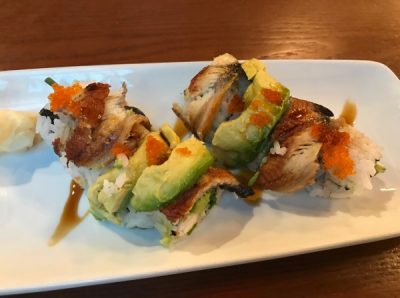 Overall, I feel that with the current menu at Kona, you should go there for the appetizers, sushi, and desserts, but the entrees are certainly not super intriguing. And that makes me sad because I love Kona. The good news, it seems the menu here changes every 6 months or so, so by the next time I head there, there will likely be different things offered and hopefully the entree options will be much better.
Have you tried Kona Cafe lately? What do you think of the new menu? Let us know in the comments, or on Facebook or Twitter.
Did you like this article? Make sure to share it with your friends! Check below for easy ways to share!
Want to visit Walt Disney World? Contact The Magic for Less Travel for more information and a free, no-obligation quote.