This post may contains affiliate links for your convenience. If you make a purchase after clicking a link we may earn a small commission but it won't cost you a penny more! Read our full disclosure policy here.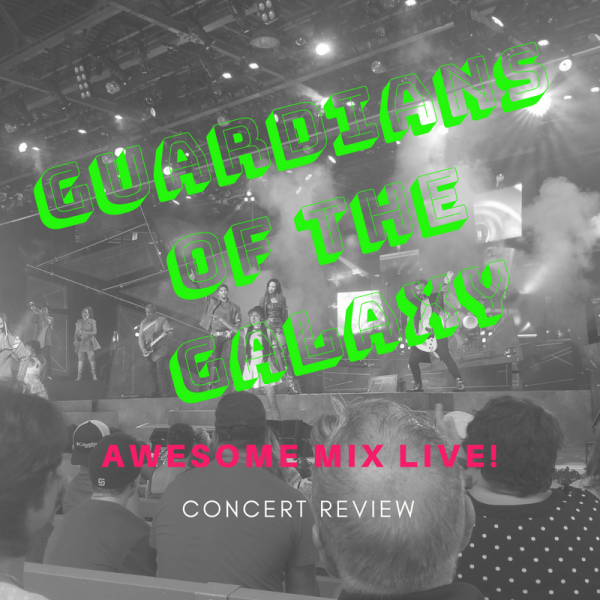 As part of Walt Disney World's Summer 2018 events, Epcot's America Gardens Theatre presents Guardians of the Galaxy-Awesome Mix Live! This concert runs now through August 19th, 5 times daily. (1:30, 2:30, 5:30, 6:45, 8:00)
A medley of 70s and 80s music from Peter Quill's (aka: Star-Lord) Awesome Mixes 1 and 2 pumps through the speakers leading up to showtime and the stage is set with a futuristic-looking yellow drum kit, several video screens and some craggy, rock-like set pieces.
The story goes like this: An alien orchestra from the planet Xandar have found their way to Earth, thanks to Peter Quill and Nova Prime's outreach program, the band is  about to "serenade" the Terran (human) audience. The problem? Xandarian music is…hard on the ears.
Enter Star-Lord.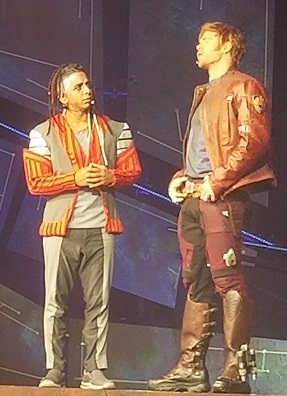 Quill explains that as a native Terran, he knows what the audience likes and gives the Xandarian Chamber Orchestra headsets with access to his Awesome Mix cassettes. Behind the music is none other than that adorable dancing tree, Groot. Little Groot hooks up the audio feed and the feel-good music begins.
The band starts with Blue Swede's "Hooked on a Feeling" and soon they start to get in the groove, much to Gamora's dismay. (She's concerned about saving the galaxy, of course.) But the band plays on, including hits like "Come and Get Your Love," "Hit Me With Your Best Shot," and "Don't Stop Me Now."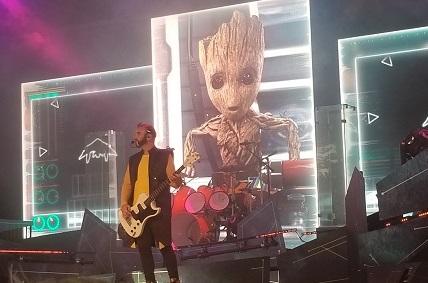 The show itself starts a bit slow but the energy picks up and the singing is on point. The lead male vocalist pulled off Queen with ease and the female-duetted "Hit Me With Your Best Shot" was right up there with Pat Benetar.
Between Star-Lord's cheesy dance moves (which he teaches to the audience before running into the crowd) and Gamora's disdain for music (though she eventually gives in to the beat), the show is pretty true to the trademark humor of the Guardians of the Galaxy movies. The songs are great for singing along and the wide aisles of the theatre are perfect for dancing, especially after you've learned moves like "The Trash Panda" and "Baby Groot."
There are a few pyrotechnics, lasers, lights and a lot of smoke and fog to enhance the show. My 4 year old especially loved the smoke-filled bubbles that float around during "Come and Get Your Love." The alien band members each get their shining moments throughout the concert and they are finally ready to play without Quill's help and end the show with a great rendition of Jackson 5's "I Want You Back."

Overall, what I thought was going to be a forced and cheesy show turned out to be very entertaining and I would definitely see it again. While it seems a bit misplaced in its home in World Showcase, the vocals were fantastic and the overall energy in the theatre was pretty great.
The particular time we went to watch was cancelled by rain, so it seemed the next show's audience was a little thin but I'd imagine on a busy weekend, the theatre would be filled. I would recommend that you show up about 15-20 minutes before showtime for a seat, but there is plenty of standing room on either side of the theatre, too.
There is an option for advanced seating for Annual Passholders on a first-come, first-served basis and wristbands for the Guardians of the Galaxy-Awesome Mix Live! show can be acquired just inside of The American Adventure building.
Oh, and if you stop at the Fife and Drum Tavern, you can pick up some Guardians-themed food and beverages. We grabbed a Galaxy Cupcake before the show and it was 4 year old (and mom!) approved!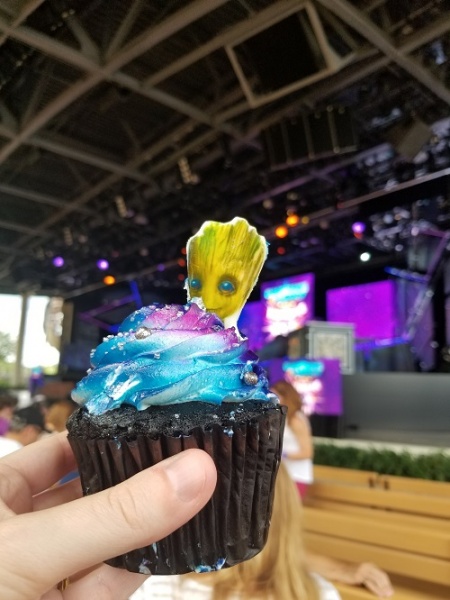 Catch Guardians of the Galaxy-Awesome Mix Live! daily, now through August 19th at the America Gardens Theatre at the American Adventure Pavilion in World Showcase at Epcot.
Have you stopped and watched the Guardians of the Galaxy-Awesome Mix Live show? What did you think? Share in the comments, or on Facebook or Twitter.
Did you like this article? Make sure to share it with your friends! Check below for easy ways to share!