This post may contains affiliate links for your convenience. If you make a purchase after clicking a link we may earn a small commission but it won't cost you a penny more! Read our full disclosure policy here.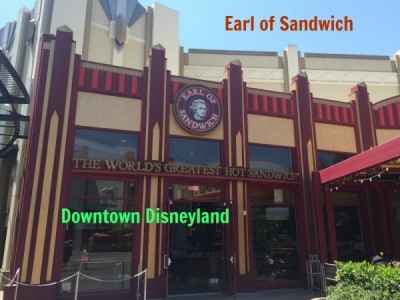 The Earl of Sandwich at Downtown Disney in Disneyland
I recently took my daughter for a lunch date at Downtown Disney. Since we're saving up our pennies for our big Disney Cruise in August, we decided to eat at the reasonably priced Earl of Sandwich.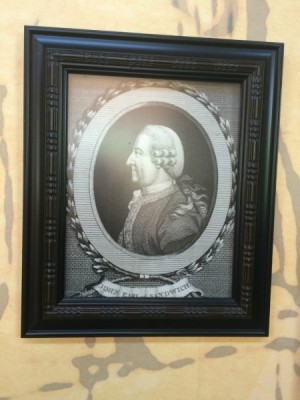 Portrait of our "host," John, the Earl of Sandwich
For those of you not familiar with the layout of Disneyland, the three official Disney hotels, Downtown Disney, and the two theme parks are right next to each other, and the best way to get around is on foot. The Earl of Sandwich is located right next to the Disneyland Hotel, which makes it a very convenient quick breakfast stop for those staying there.
On the other side, Earl of Sandwich is flanked by the AMC Movie Theaters, which makes it an excellent choice for a pre- or post-flick meal. And across the way you'll find the monorail station, which means it's easy to leave Disneyland Park (from Tomorrowland) for a quick and relatively inexpensive lunch at the Earl. (Just remember to get your hand stamped for re-entry.)
I'm usually a salad girl, but it seemed silly to order one (although they were tempting) at a restaurant named for sandwiches. So I opted for a Caprese on whole wheat.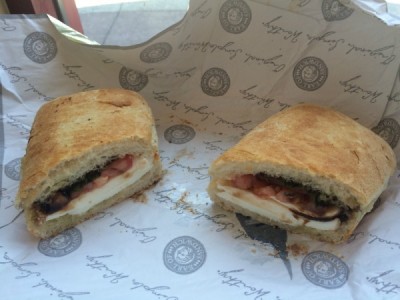 Caprese Sandwich on Whole Wheat
The bread was delightfully crispy on the outside and pillowy on the inside. There was a perfect ratio of mozzarella to tomato. The basil was fresh and the balsamic tangy without being overwhelming.
My daughter ordered a kids' grilled cheese on white bread. The bread resembled a bun so the concoction didn't really resemble a traditional grilled cheese. However, she loved it. The Cheddar and Swiss cheeses melted together perfectly.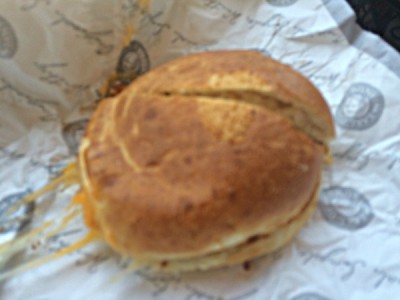 Kids' Grilled Cheese on White Bread
We also split an order of green and red grapes, which were plump, fresh, and chilled, perfectly refreshing on this hot summer day. I've said it before and I'll say it again: I don't know why, but Disneyland grapes tend to be top notch.
We opted for water from the soda machines, and were given small plastic cups to fill our own. The water was brain freezingly cold which we appreciated. Later in the day, we stopped in to ask for more water and were cheerfully given fresh cups and told to help ourselves.
There is ample seating outside, under shade, and a small seating area inside. We chose to eat indoors, at a counter which looked out floor to ceiling glass, and enjoyed people watching as we ate.
Our bill came to $15.09, which is just about as inexpensive as you can get around these parts. The food was satisfying, filling, and tasty. Earl of Sandwich is an excellent choice for those wanting a simple, quick meal.
Are you a fan of Earl of Sandwich? What is your favorite thing to get? Share in the comments.