This post may contains affiliate links for your convenience. If you make a purchase after clicking a link we may earn a small commission but it won't cost you a penny more! Read our full disclosure policy here.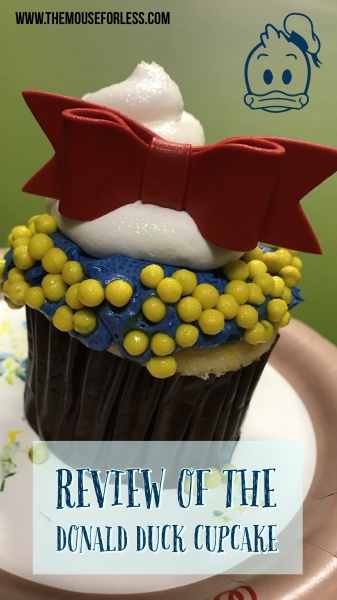 At Walt Disney World, this summer as part of the Incredible Summer, Disney's Animal Kingdom has rolled out Donald's Dino-Bash. This new character experience celebrates the fact that Donald has learned that birds are descended from dinosaurs and he wants to celebrate. Donald's Dino-Bash includes lots of meet and greet opportunities with some of your favorite (and some unique) characters, like Donald, Daisy, Chip and Dale (dressed as dinosaurs), Launchpad McQuack, and Scrooge McDuck! There's also a great dance party for Guests to enjoy too!
But of course, you know with any bash at Walt Disney World, there's a cupcake too, right? And Donald's Dino-Bash is no exception. Found at Restaurantosaurus, this cupcake gets its name from the color design used. The icing is blue and white, with yellow crispy pearls and a red fondant bow. The cake itself is yellow and there is a lemon filling in the middle.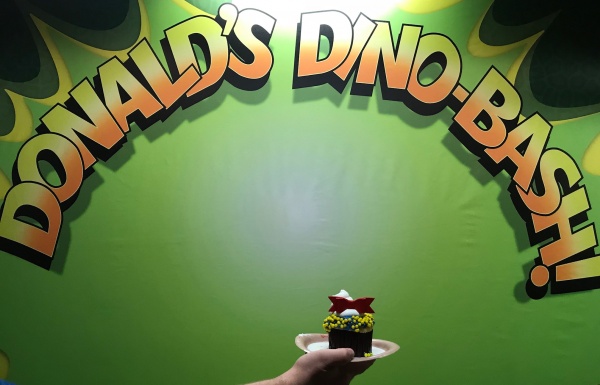 Personally, I'm not a fan of lemon, however, there was such a small amount of the filling in there that it was actually easy to eat around. (Though those who like lemon will enjoy it.) The icing is the kind I like; it was a buttercream icing and it was very sweet. The crispy pearls gave the cupcake a nice bit of oomph, though they didn't have much flavor. Also, the cake was moist and I found it to be delicious. Really, the only miss was the fondant bow, which was TERRIBLE. My entire party thought it was awful and I even wondered if I was eating plastic. So, if you get this cupcake, just throw the bow away!
This was a nice, large cupcake that I ended up sharing among the four of us in my party and we were all satisfied, however, I think that one person could eat this cupcake too, if they wanted to.
If you're heading to Donald's Dino-Bash and looking for a sweet treat, don't hesitate to pick up the Donald Duck cupcake!
Have you tried the Donald Duck Cupcake yet? What were your thoughts?  Share in the comments, or on Facebook or Twitter.
Did you like this article? Make sure to share it with your friends! Check below for easy ways to share!