This post may contains affiliate links for your convenience. If you make a purchase after clicking a link we may earn a small commission but it won't cost you a penny more! Read our full disclosure policy here.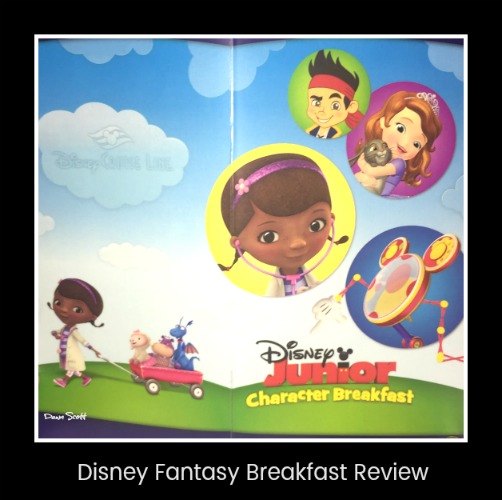 Over the summer, my family opted to sail for a second time on the Disney Fantasy. As usual, we booked are adventure with The Magic for Less Travel Agency. They will do as much or as little as you would like them to for your vacation and we always opt to do our own special event and excursion bookings  as soon as they are available at midnight of our check-in date.
We heard about the new to us Disney Junior Character Breakfast and knew we wanted to try it out. This fun experience is available to book during your pre-cruise online check-in process. There is no extra charge for this breakfast but you must have a ticket to experience it.
The breakfast was offered on the morning of our stop in Grand Cayman. The arrival to this port is later than most other ports so this dining experience was a great option for a morning activity. The tickets were delivered to our stateroom and they indicated that the breakfast would be held in the Animator's Palate dining room.  
We arrived at the breakfast right on time and checked in at the hostess stand.  While we were being taken to our seats, the server explained the breakfast process. First, a tray of pastries would be brought around for us to select sweet treats. Now unlike some other breakfast we have been to at Walt Disney World, they did not leave the tray. They served our pastries and moved on to another table.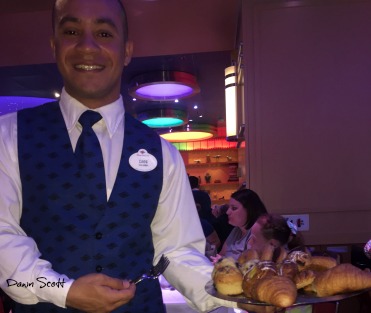 The next step was to order our breakfast from the menu.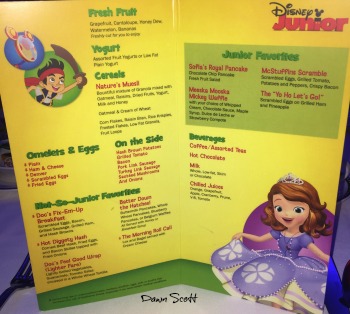 My husband chose the Denver omelet with a side of sausage and a side of hash brown potatoes along with coffee to drink. He felt that it was just the right amount of ingredients mixed into the omelet and it was delicious.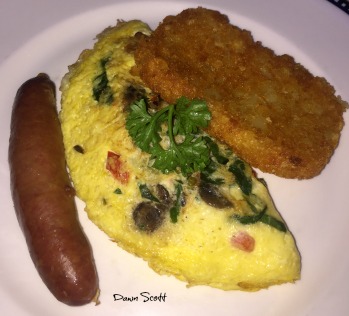 I chose the ham and cheese omelet with a side of hash brown potatoes. The Disney Cruise ships all know how to make the crispiest hash browns and I love them. The omelet was a good portion and tasted great.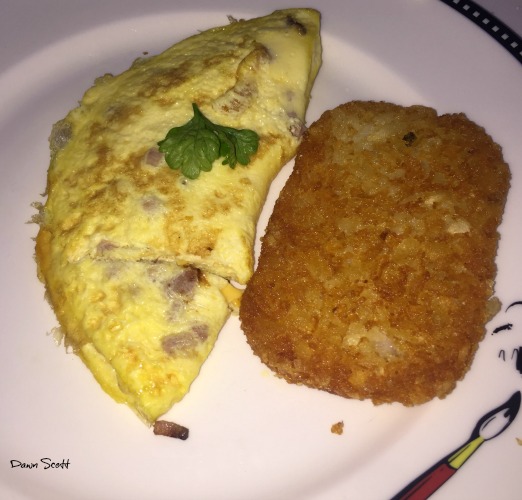 My daughter opted for Sofia's Royal Pancake which included a chocolate chip pancake and fresh fruit salad. The pancake comes with whipped cream, chocolate sauce, and  strawberry preserves. The fruit salad consisted of grapefruit, cantaloupe, honeydew, and watermelon. She also got a side of sausage. I have mentioned before that sausage is one of her favorite foods.
She chose to dip her bites into the different sides one at a time. As with most kids, the chocolate was the one she liked best. My daughter loves this meal because it was like eating dessert for breakfast.
Now as we were dining we had visits from some of our favorite Disney Junior characters. First, Jake came to the table from Jake and the Neverland Pirates. Then, Sofia the First stopped over. After that, we got to see Goofy. And finally we got a visit from Mickey Mouse.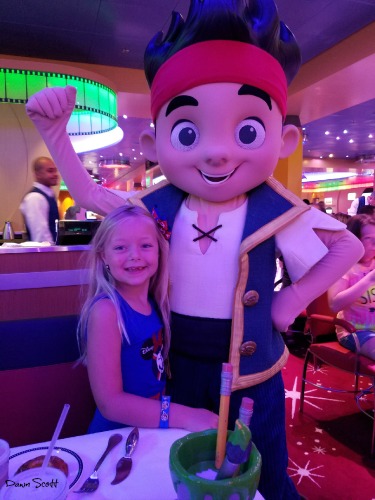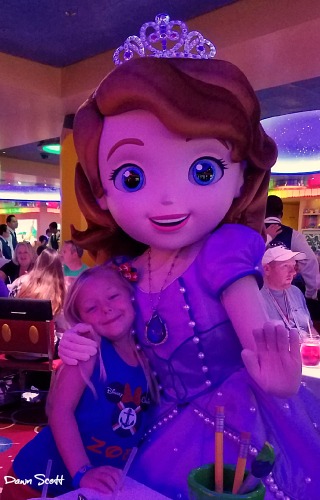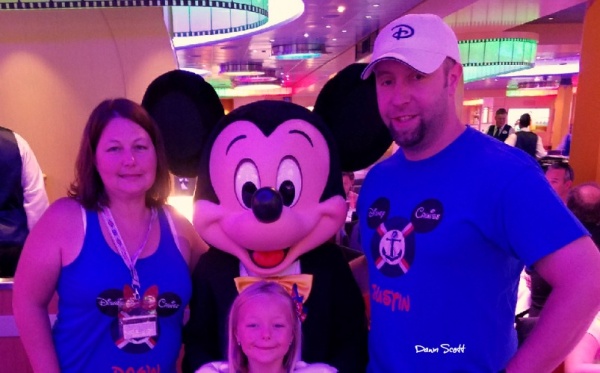 My family all loved the character breakfast and we highly recommend that you book this special dining event if it is offered on your next cruise. The food was great and the service was amazing! Our server even cut my daughter's pancakes up for her!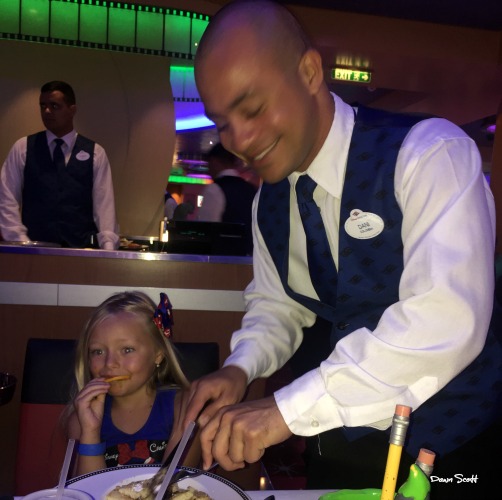 Have you tried the Disney Junior Character Breakfast on a Disney Cruise? Share your thoughts in the comments.
Did you like this article? Make sure to share it with your friends! Check below for easy ways to share!
Incoming search terms: