This post may contains affiliate links for your convenience. If you make a purchase after clicking a link we may earn a small commission but it won't cost you a penny more! Read our full disclosure policy here.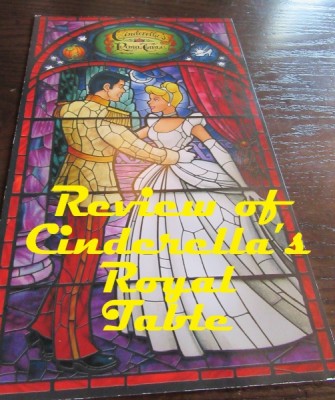 Cinderella's Royal Table located in Disney's Magic Kingdom is one of the harder reservations to get at Walt Disney World.  This summer, my family had the privilege of being able to eat here for lunch.  We had a fun time and enjoyed the food we had as well.  Here is our magical experience.
When checking into Cinderella's Royal Table (CRT), you do so right outside the backside of the castle.  This is where you would also tell them if you are celebrating a birthday, wedding, anniversary etc as they put it on your ticket.  If you have your whole party, which I suggest you do, they will let you know that you will be called when your royal invite is ready.  This is probably the hardest part as you are waiting outside in the heat.  We were lucky in that we didn't have to wait for more than a few minutes; however, if your wait is longer there are stores right nearby to cool off in before heading into the castle.  Like I said, we didn't have to worry about this as we were quickly invited into the castle.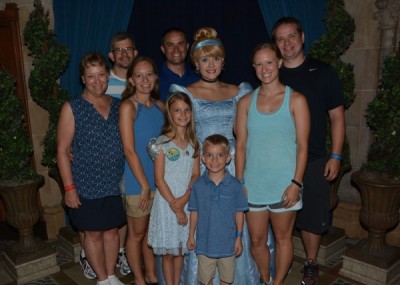 Family with Cinderella
Once entering the castle, there is water waiting for you which is a nice and welcoming touch.  This entryway is where you wait for your picture with Cinderella.  Again we were extremely impressed with the cast members in here making sure everything was organized and moved at a decent pace without rushing kids through the experience.  While you are waiting, make sure you look around as there are a lot of details put into this room included a few mice that want to join the party.  Our 9-year-old princess was excited about meeting Cinderella, as was my sister, and we felt like we got a lot of pictures taken for the time we were given.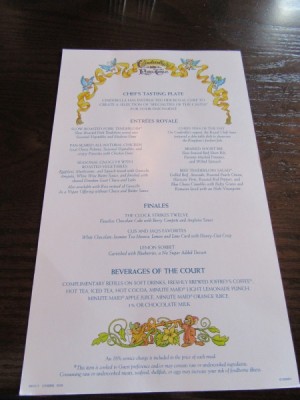 Menu at Cinderella's Royal Table
Following pictures, you walk up the spiraling staircase to the dining area.  Here we were greeted in a royal manner by another cast member who saw us to our table.  We had eight people and were given two tables of four which worked out nicely when it came to the visiting princesses.  Our kids were given a sword and a wand and our daughter was given a signed placemat from the princesses as well.  It was a fun way to start our experience.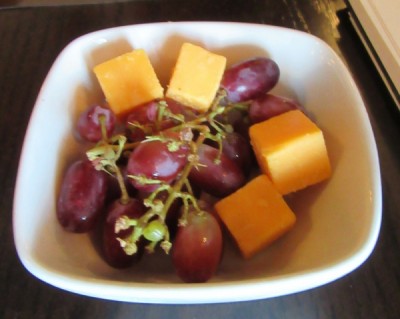 Appetizer for the kids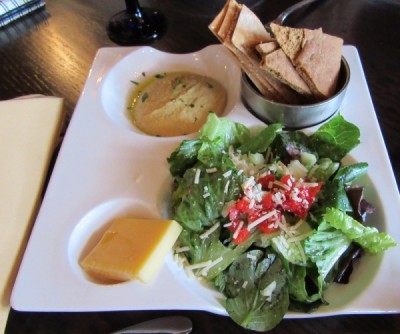 Appetizer for the adults
As we looked over the menus, we were brought appetizers to share.  The kids were given their own bowls of grapes and cheese while the adults had what they call a chef tasting plate.  The plate is an assortment of cheese, breads and salad.  Our server was efficient and friendly calling everyone the customary lord/lady which made my dad and husband happy.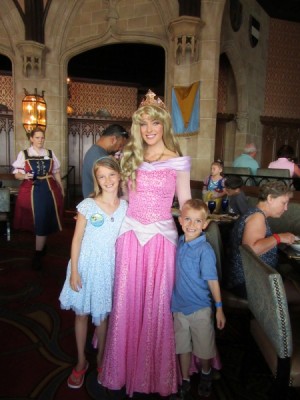 Kids with Princess Aurora
Once ordering was completed, the princesses started to come around the tables.  Each princess is announced by a narrator who tells her story.  I was a little disappointed in how hard it was to hear this part and I felt the anticipation of the coming out wasn't as much as it could be because the prince and princesses couldn't hear and therefore didn't notice them coming.  After being announced each princess makes her way around the dining area.  I am always amazed at how Disney has this all planned out so no tables should be missed.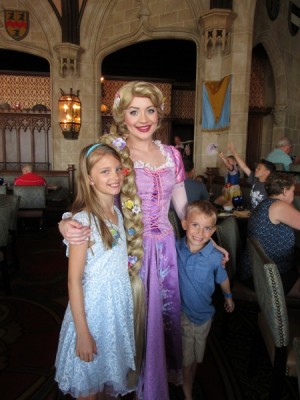 Kids with Rapunzel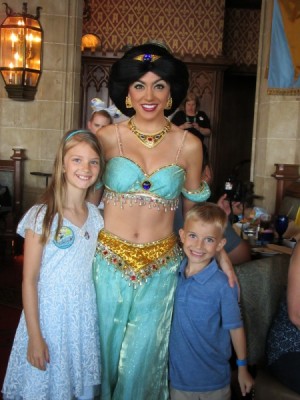 Loving Princess Jasmine
 While we were there, we were able to see Aurora, Jasmine, Snow White and Rapunzel.  Everyone in our party was extremely excited about Jasmine as she is a favorite.  Our daughter was excited about Rapunzel because the last time we made our way to Disney four years before we didn't get to see Rapunzel at all so this was super excited to her.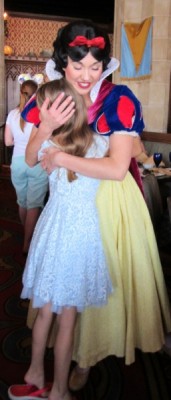 Our daughter getting birthday love from Snow White
Each princess was absolutely lovely as she interacted with our son and daughter.  Each one made a big deal about our daughter's birthday weaving in part of their stories with her birthday celebration which was a lot of fun.  We felt each princess took a decent amount of time with our table where we didn't feel like any of them were rushing to get going.
During our meet and greet with the princesses our food came as well and it was delicious.  We all ordered a variety of different foods and each of us thought the food was made to perfection with great flavor and meat that was cook amazingly well.  Here are some pictures of what we ordered.
Slow-roasted Pork Tenderloin served over Seasonal Vegetables and Madeira Demi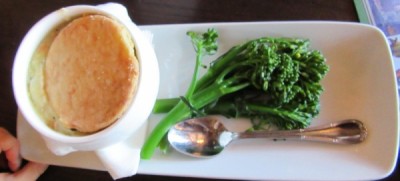 Kids' Mickey Check Meal – Turkey Pot Pie
Beef Tenderloin Salad
Grilled Beef, Avocado, Roasted Pearls Onion, Haricots Verts, Roasted Red Peppers, and Blue Cheese Crumbles with Baby Greens and Romaine laced with an Herb-Vinaigrette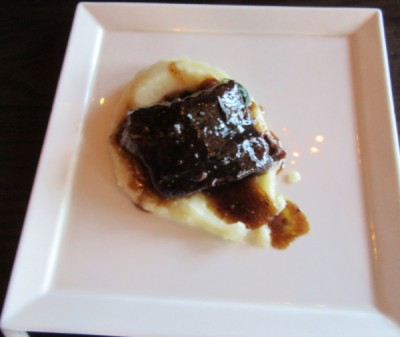 Braised Short Rib
Slow-braised Beef Short Rib, Parsnip-mashed Potatoes, and Wilted Spinach

Kids' Mickey Check Meal – Roasted Chicken Leg   
Of course a trip to the castle wouldn't be complete without dessert.  We felt that the desserts offered at Cinderella's Royal Table had more variety than a lot of other restaurants that we had visited.   Here are some pictures of the ones we had while here.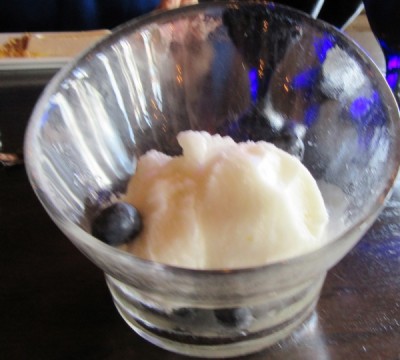 Lemon Sorbet
Garnished with Blueberries, a No Sugar Added Dessert
Gus and Jaq's Favorites
White Chocolate-Jasmine Tea Mousse, Lemon and Lime Curd with Honey-Oat Crisp
While eating, the kids were brought a wishing star which they were instructed to make a wish on during a small program.  This, like the announcements of the princesses, was hard to hear and the kids didn't really know what they were suppose to do.  This would have been the only part of our experience that we could have done without not because it was awful but it didn't add anything to our experience while dining.
We did have a pleasant surprise when we received our bills.  We were all on the Disney Dining Plan therefore Cinderella's Royal Table required two table service meals, but what I didn't know was that our tips were included in the meal price.  This was a nice surprise because if you know the pricing for Cinderella's Royal Table you know that a tip here for a family of four could be expensive in and of itself.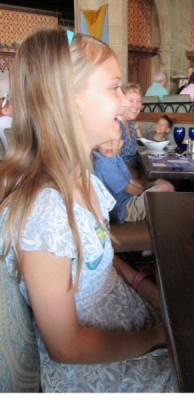 Our daughter loving the castle
Our overall experience at Cinderella's Royal Table was nothing less than magical.  The service, food and atmosphere is everything that we hoped it would be when making our reservations.  If your princess or prince wants to meet the princesses in the best atmosphere I would highly recommend Cinderella's Royal Table.
Have you ever dined at Cinderella's Royal Table? What was your experience? Share in the comments.
Incoming search terms:
does everyone have to eat at cinderellas royals table?