This post may contains affiliate links for your convenience. If you make a purchase after clicking a link we may earn a small commission but it won't cost you a penny more! Read our full disclosure policy here.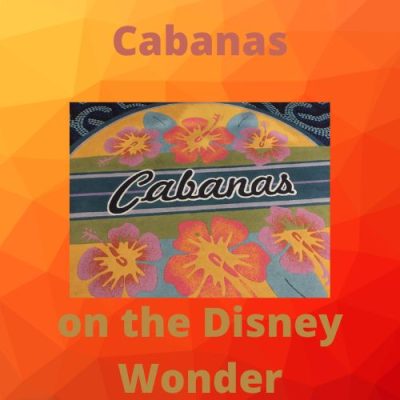 Welcome to Cabanas on the Disney Wonder!
I recently experienced the vacation of a lifetime aboard a Disney Wonder cruise to Alaska. Onboard my family experienced fun character greetings, wonderful stage shows, interactive family fun, and a lot of food!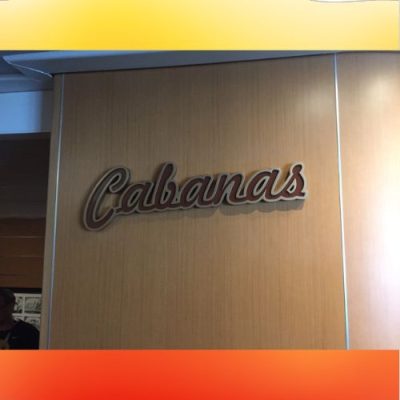 The entrance to Cabanas
Disney Cruise Line feature a rotational dining service which means you will be eating at different table service restaurants at dinner. For breakfast and lunch, you are free to try a table service restaurant, room service, or the bountiful buffet at Cabanas.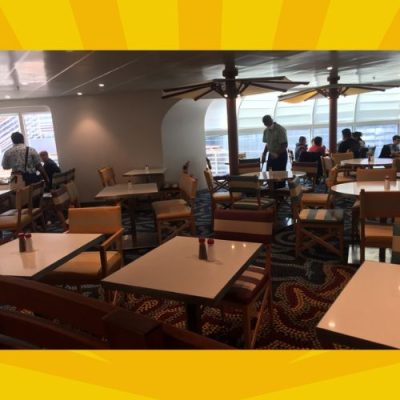 Ample indoor seating
Cabanas became my family's go-to choice for breakfast and lunch. Located on the 9th deck, which also features the pool and several fast food options (as well as soft-serve ice cream) it features ample seating both inside and on deck. Hours of operation varied from day to day. It seemed to depend upon what time the ship arrived in each port.
Mural depicting playful otters
We first enjoyed Cabanas for lunch on our embarkation day. The first thing I noticed was subtle differences from its sister restaurant aboard the Wonder. The décor was slightly different. Here, pretty murals depicting sea life from Disney films decorated the walls.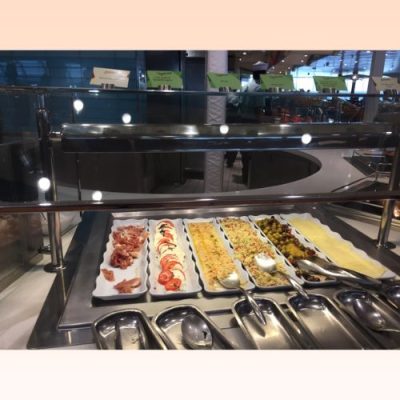 Salads for lunch
For lunch, we were treated to a large variety of options. Hot and cold salads, sliced meats, cheeses, fresh fruit and vegetables tempted us. Protein choices were abundant, from poultry to meat to seafood. Since this is an Alaskan cruise, both salmon and peel-and-eat shrimp were offered pretty much every day.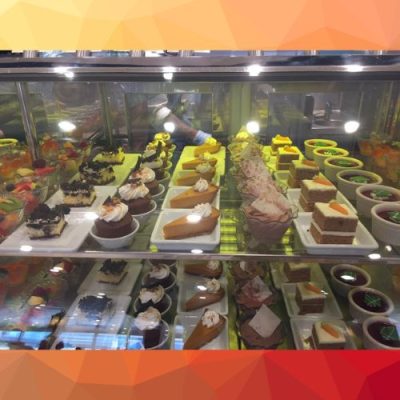 Tempting desserts
For dessert, we could choose from small portions of cheesecake, bowls of fresh fruit, pumpkin pie, chocolate mousse, carrot cake – just about any sweet you could think of. And since each portion was small, we felt no guilt about trying more than one!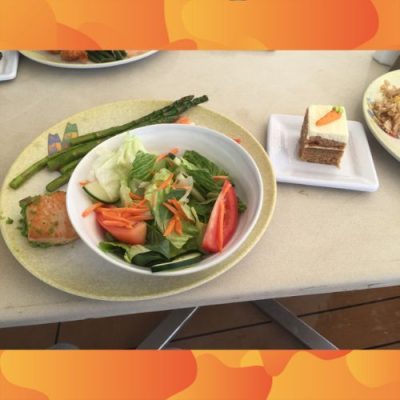 A delicious lunch
We noticed that every two days, different options were swapped out. One day there was grilled turkey breast; the next, grilled chicken. One day the fish of the day was halibut; the next, salmon. Certain items, such as the peel-and-eat shrimp and salads, seemed to be available all week.

The next time we enjoyed Cabanas, it was for breakfast. Once again, the choices were almost staggering. Every day there was creamy scrambled eggs, either plain or with add-ins. This rotated between tomato and bacon, ham and cheese, and my favorite, smoked salmon and fresh chives.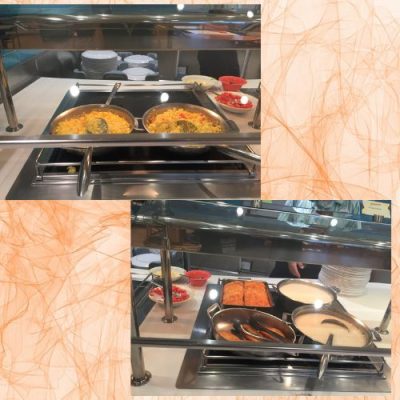 Breakfast options
Hashbrowns, oatmeal, sausage and bacon were always offered. Fresh fruit was consistent throughout the cruise: whole apples and bananas as well as cubed pineapple, watermelon, cantaloupe and honeydew melon. A couple of people in our party took apples and bananas with them for snacks later or to eat in the cabin if we woke up earlier than Cabanas was open.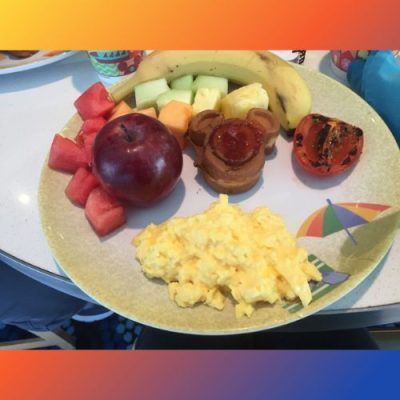 Look at that cute mini Mickey waffle!
British guests (and Anglophiles like me who enjoy full English breakfasts) will appreciate the addition of grilled tomatoes, baked beans and sauteed mushrooms. And would it be a Disney cruise without adorable little mini Mickey waffles? Methinks not.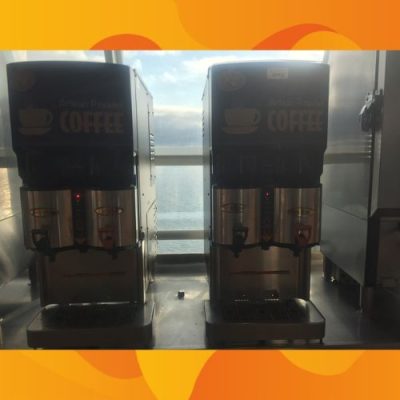 Drink dispensers
There are a few drink dispensers inside of Cabanas as well as some outside the restaurant. The ones outside are available all day and all night. These dispense soda, juices, water and coffee. A note to coffee lovers: This coffee is weak. I found myself falling asleep in a chair on our first day at sea because my coffee was not strong enough. If you like strong coffee, pay for a real cup at one of the lounges or bars throughout the ship or do what I did and drink two cups of the coffee-scented hot water at Cabanas.

Despite the weak coffee, we all loved Cabanas. There is enough variety here that everyone in your party – from the pickiest kid to the most adventurous eater – will find something yummy to eat for both breakfast and lunch. And since it's a buffet that is included in the price of your cruise, go ahead and try something you wouldn't ordinarily eat. If you don't like it, just go back to the buffet and get yourself an old favorite!
Do you enjoy dining at Cabanas? Share your thoughts in the comments or on Facebook or Twitter!
Did you like this article? Make sure to share it with your friends! Check below for easy ways to share!  
Want to visit a Disney Destination? Contact The Magic for Less Travel for more information and a free, no-obligation quote.
Incoming search terms:
https://www themouseforless com/blog_world/review-cabanas-disney-wonder/
https://www themouseforless com/blog_world/review-cabanas-disney-wonder/#:~:text=For breakfast and lunch, you the bountiful buffet at Cabanas
teviewing food on thr disney wonder