This post may contains affiliate links for your convenience. If you make a purchase after clicking a link we may earn a small commission but it won't cost you a penny more! Read our full disclosure policy here.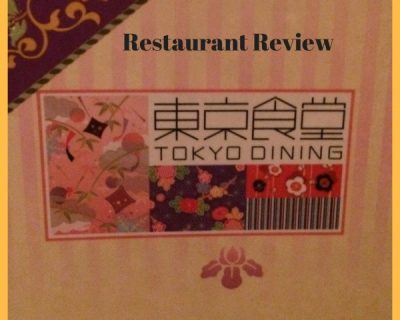 Welcome to Tokyo Dining, in Epcot's Japan pavilion!
Tokyo Dining is one of the two table service restaurants in Epcot's Japan pavilion. We recently had dinner here. It is run by the Mitsukoshi company, a Japanese company that has been in existence for over three hundred years!
My traveling party consisted of nine people, and we had a hard time booking a table at this restaurant. Every time my sister tried to find a table online, she could not find one. Finally, she called, and was told that the system was not set up to take reservations for a party of nine. She took their suggestion to book one table for eight, and another table for one.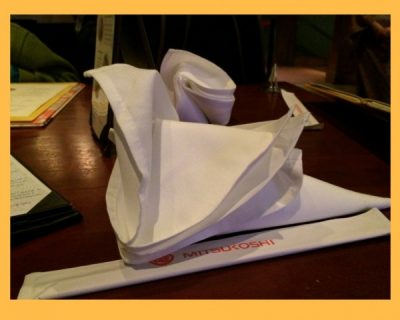 Origami napkin
When we arrived at the restaurant, we explained the situation, and they were able to accommodate us, but we were seated about 25 minutes late because of this. We did not notice other people waiting this long, so I'm assuming the wait was because of our particular situation with our large party.
When we sat down at a long table, our places were set with chopsticks, menus, and cloth napkins folded like swans. It was an unusually cold night in the first week of January, so my sister ordered hot sake for the table.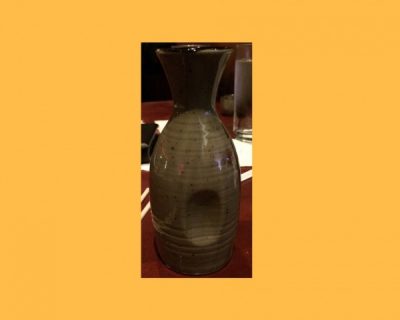 Hot sake
I'd never had hot sake before, but it hit the spot! I also found myself reflexively warming my cold hands on the hot ceramic bottle! Although each person at the table ordered their own entrees, we wound up sharing a lot of them.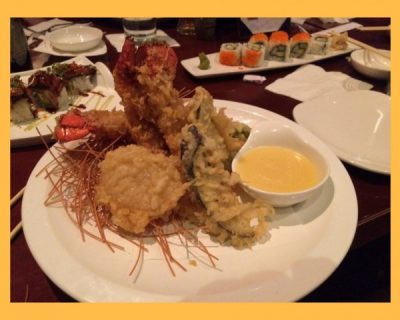 Foreground: mixed tempura.  Background: freshwater eel rolls (left) and California rolls (right)
We ordered a plate of mixed tempura. The batter was crispy and light, and the vegetables and seafood were delicious. My mother ordered chicken with vegetables. Unfortunately, her chicken was overcooked.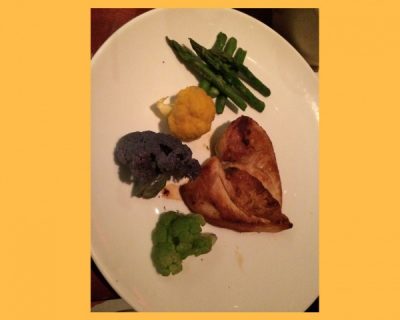 Chicken breast with vegetables
My daughter ordered California rolls, and I sampled one. They tasted very good, but did not stand out from other California rolls I've had in the past. My husband ordered a freshwater eel roll. The sauce on these rolls was tangy and delicious. These rolls stood out as the best sushi on the table.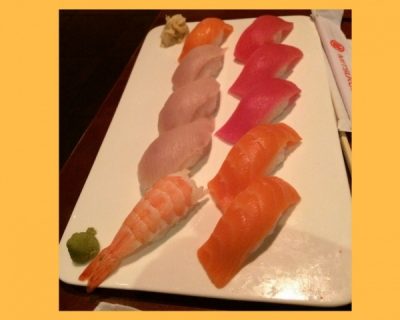 Nigiri sushi platter
I ordered a Nigiri sushi platter, which came with ten pieces. The fish was very good, but, again, this didn't stand out as any better or any worse than I've had at other sushi restaurants.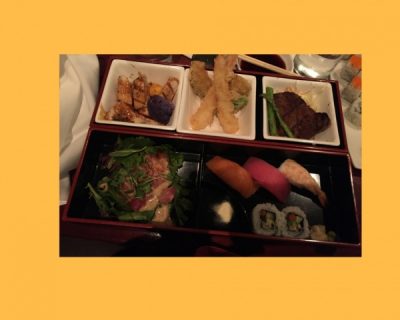 Bento box
My sister ordered the Bento box, which came with Teriyaki chicken, mixed tempura, beef, poke salad, and sushi. This portion of chicken was also overcooked. Everything else in the box, however, was quite tasty.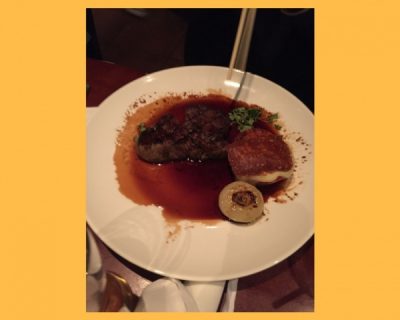 Filet mignon
My brother-in-law ordered the filet mignon, and insisted I try a bite. This was absolutely outstanding. I am normally not a beef person, but I would have gladly eaten this entire portion. The beef was cooked to perfection, but it was the sauce that truly made the dish.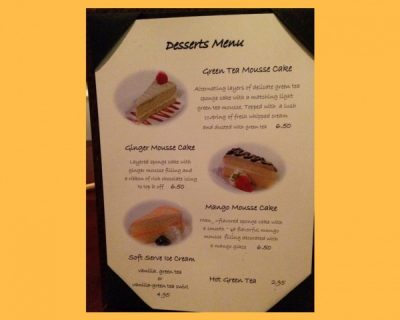 Dessert menu
For dessert, my daughter and I split the mango mousse cake. This was a nice light textured cake with plenty of mango flavor. If the weather had been warmer, I would have preferred to sample the green tea ice cream.
All in all, we enjoyed our meal at Tokyo Dining. The food was quite good and the atmosphere lively. Be wary about ordering chicken here, and stick to the excellent beef and tasty sushi.
Have you been to Tokyo Dining? What were your thoughts? Share in the comments.
Did you like this article? Make sure to share it with your friends! Check below for easy ways to share!