This post may contains affiliate links for your convenience. If you make a purchase after clicking a link we may earn a small commission but it won't cost you a penny more! Read our full disclosure policy here.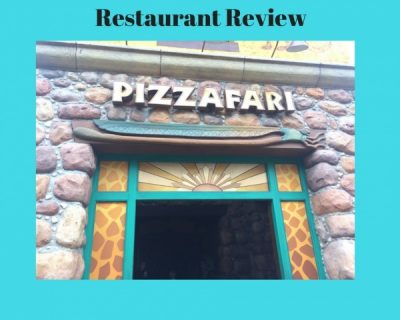 Welcome to Pizzafari, in Animal Kingdom!
My relationship with Pizzafari, a quick service location in Animal Kingdom, has always been one of convenience. The first time I ate here, I picked it because it was a blistering hot summer day and my only requirements for a quick service restaurant was that it be indoors and air conditioned.
That trip was four years ago, and the sight of the doughy pizza did not thrill me. I wound up getting a pretty tasty salad, and considered the meal perfectly acceptable but nothing more.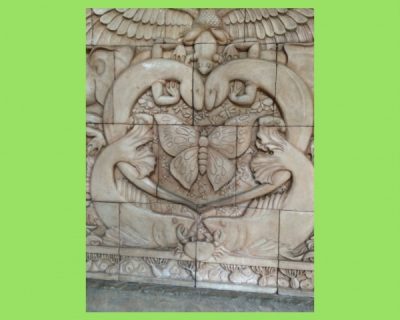 Animal designs are everywhere in Pizzafari
Well, I chose Pizzafari again for my trip this January, during one of the coldest weeks on record in Central Florida. This time, I was looking for a place that was indoors and heated!
Even though I had a problem with the menu four years ago, the menu had changed, and I wanted to try it. And even four years ago, I was impressed with the décor. Animal carvings and paintings can be found everywhere both inside and outside the building.
Bat sculptures hanging from the ceiling in a dining room
The large restaurant is broken up into smaller dining rooms, and there is also a dining area outside. Each dining area is decorated with different animals. As always with Disney, don't forget to look up!
It was too cold for me to consider a salad, so I looked at the intriguing menu, which had changed quite a bit since my last visit here. I ordered the shrimp flatbread, which came with a side salad.
Shrimp Flatbread and Salad
I was pleasantly surprised! The flatbread itself was thin and crispy, and the shrimp were perfectly seasoned. Arugula provided a nice bite, and the portion was huge. In fact, I didn't finish it, and brought my leftovers to someone else in my party who hadn't eaten yet.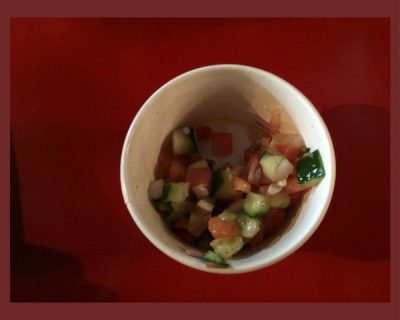 Side Salad
The salad consisted of finely chopped cucumber, tomatoes and spices. It was light and refreshing and provided a nice contrast to the hot flatbread. For dessert, I ordered a tiramisu cake to share with the others at my table.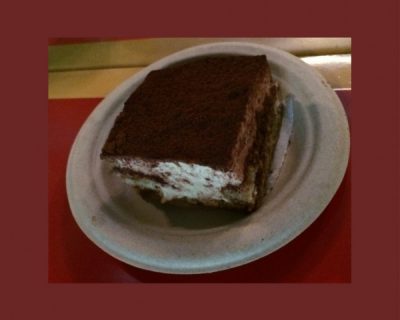 Tiramisu Cake
The dessert was tasty, and had all the flavors of a tiramisu without the sogginess that sometimes comes with it. It was one of the more interesting quick service desserts I enjoyed during our trip.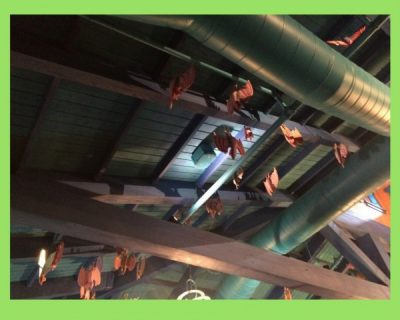 In case you couldn't tell, I really loved the "bats" on the ceiling!
All in all, my opinion of Pizzafari has totally changed. It's no longer just a respite from bad weather. The flatbread pizzas are a welcome change from the former pedestrian piles of dough they used to serve here. I am very glad that I gave it another chance.
Did you like this article? Make sure to share it with your friends! Check below for easy ways to share!