This post may contains affiliate links for your convenience. If you make a purchase after clicking a link we may earn a small commission but it won't cost you a penny more! Read our full disclosure policy here.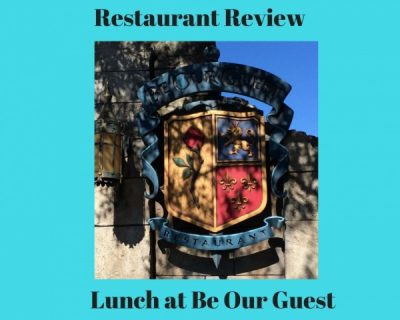 Welcome to Be Our Guest, in the Magic Kingdom!
Be Our Guest Restaurant, in the Magic Kingdom, has quickly become a "must get" reservation for many Walt Disney World guests. At dinner, it's a full service restaurant, and at breakfast and lunch, quick service. However, for all three meals, it is almost impossible to get a table without a reservation.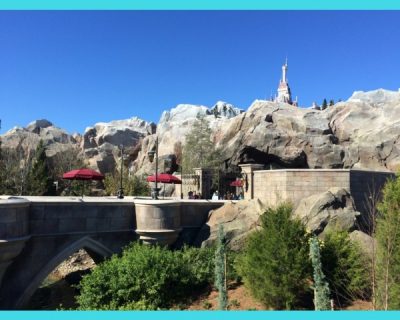 Cross the bridge to the Beast's Castle
This is my second time eating lunch at Be Our Guest Restaurant. You'll find Be Our Guest Restaurant in New Fantasyland. You'll cross a bridge and see the Beast's Castle far off in the distance.
The waiting area is lavishly decorated with tapestries, carvings, a glowing fireplace, and suits of armor. If you listen very carefully (which might be difficult, since this area can get quite loud) you might hear the suits chatting amongst themselves.
When it is your turn to order, you'll be directed to an ordering kiosk. Those with MagicBands can scan their bands to get started. Those without will be given a "magic rose" to fill the same purpose.
If the ordering screen seems intimidating, do not hesitate to ask a Cast Member for assistance. They are very friendly and willing to help. After all, the name of this restaurant is Be Our Guest!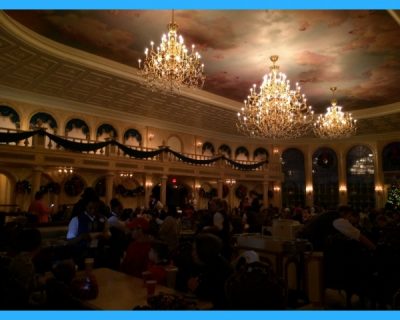 We dined in the Ballroom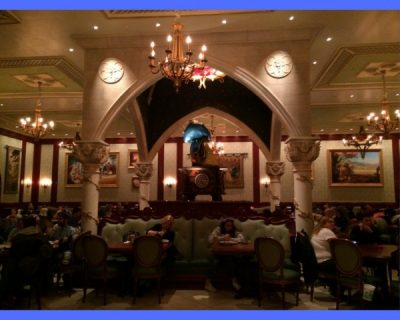 You can also dine in the Library…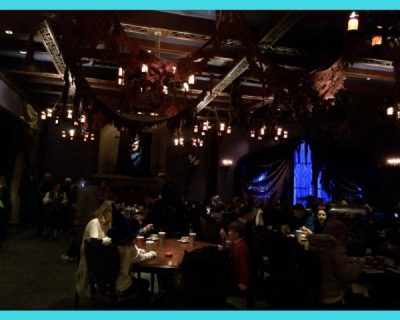 …or the West Wing
After ordering, you can find a table in one of three dining rooms. The one we chose last time is the Ballroom, where Belle and the Beast had their first dance. You can also choose the West Wing, where you can find the magic rose and the Beast's torn portrait, or the Library, featuring a giant statue of Belle and the Beast.
We were traveling as a party of nine, so we had a hard time finding a table. But a Cast Member saw us searching and stepped in to help us find a table. We once again ate in the Ballroom. Our visit was in the first week of January, so the beautiful Christmas tree was still up! But no matter what time of year you visit, you'll notice that it's snowing outside.
While you're waiting for your food to arrive, you can help yourself to the beverages you purchased. Servers will bring your food to your table, using your MagicBand or Magic Rose to locate you.
I'm a simple person. When I find something I like to eat, I stick to it. So I ordered exactly the same items I ordered on my previous trip. For an entrée, that meant the vegetable quiche with a side salad.
This entrée changed since the last time I ate here. Previously, the quiche had a traditional crust. This time, the quiche was crustless and was served atop flaky puff pastry. There was also an incredibly tasty tomato jam to go with it. However, I much prefer the quiches at Les Halles Boulangerie-Patisserie in Epcot.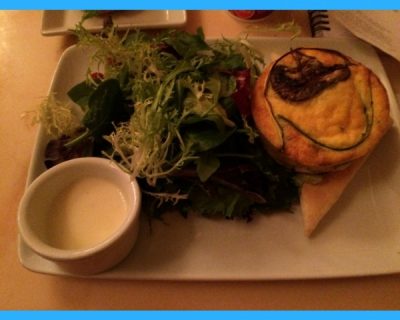 Vegetable Quiche with Side Salad
For dessert, I ordered the no-sugar-added and gluten free lemon raspberry cream puff. The lemon curd filling was rich and very lemony. However, the puff itself was very hard and difficult to cut. That did not stop me from eating the entire thing.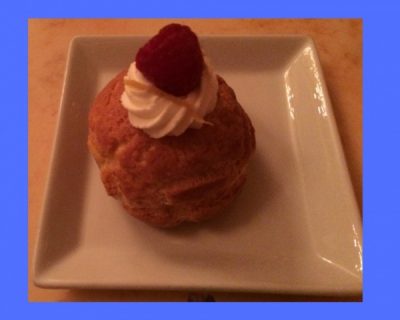 No Sugar Added, Gluten Free Lemon Raspberry Cream Puff
Lunch at Be Our Guest Restaurant is just fine. The food did not disappoint me, nor did it blow me away. What we come here for is the atmosphere. I cannot think of a more beautiful and better themed restaurant in all of Walt Disney World, or Disneyland, for that matter. That's the real reason to eat here.
Did you like this article? Make sure to share it with your friends! Check below for easy ways to share!