This post may contains affiliate links for your convenience. If you make a purchase after clicking a link we may earn a small commission but it won't cost you a penny more! Read our full disclosure policy here.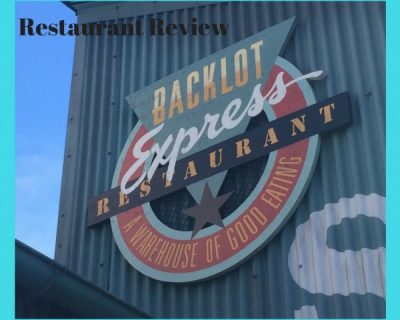 Welcome to the Backlot Express, at Hollywood Studios!
The Backlot Express is a quick service dining establishment at Disney's Hollywood Studios. I'd eaten here on a previous trip, and thought that the food was solid and acceptable. Plus, we found a table that looked out over the Jedi Training Academy, so we got lunch with a show!
So, when we returned to Walt Disney World early in January, we decided have lunch here again. This restaurant is cleverly themed to resemble an actual backlot, with areas representing the painting, props, sets and lighting departments.
The interior is very well themed to look like a real backlot
Having visited the Warner Brothers backlot in Burbank, I can attest to the fact that Disney did a great job capturing that feeling of floor to ceiling movie necessities that seems random, but is actually very carefully cataloged.
My previous trip was in the dog days of summer, and I enjoyed a tasty Southwest salad here. But we were here during one the coldest weeks in Central Florida history, so I wanted something hot. I ordered the Caprese sandwich with a side of carrots.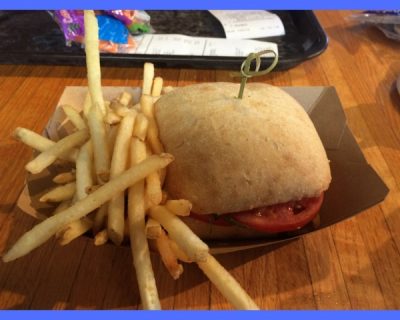 Caprese sandwich with fries and baby carrots
As it turned out, they made a mistake on my order and gave me fries. My husband pointed out that I wanted carrots, so they gave them to me, but told me I was free to keep the fries at no charge since it was their mistake.
The sandwich was tasty, with the freshness of the basil and tomatoes working well with the soft creaminess of the cheese. Even though I didn't order the fries, it seemed a waste to not even taste them. They were crisp, flavorful, and not greasy at all.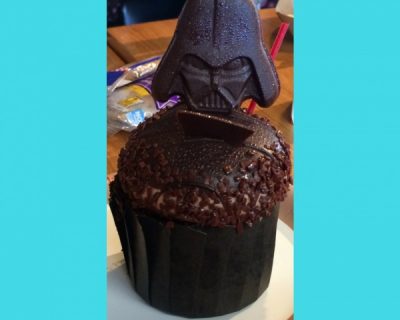 You don't know the power of the dark…cupcake?
For dessert I got the Darth Vader cupcake, which was a rich dark chocolate with creamy peanut butter frosting. This was outrageously good. The flavors reminded me of one of my favorite Girl Scout cookies, and the chocolate Darth Vader really made my day.
We ate inside this time, but there is plenty of indoor and outdoor seating available. Later in the day we returned to the Backlot Express for drinks, and snagged a table with a great view of the Jedi Training Academy.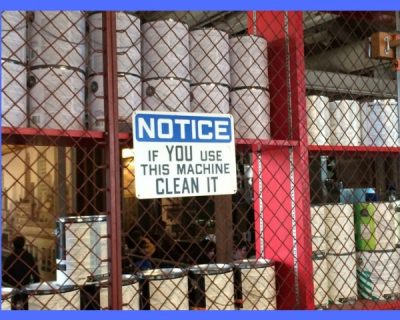 Another example of the clever theming
A lot of Disney's Hollywood Studios is behind construction walls right now, and will remain so until Toy Story Land opens later this year. So if you want to get a table at Backlot Express (or any other quick service location in this park) your best bet is to eat at non-peak hours. Try for 11:00 a.m. or 2:00 p.m. to avoid those lunchtime crowds.
Have you dined at Backlot Express? What were your thoughts? Share in the comments.
Did you like this article? Make sure to share it with your friends! Check below for easy ways to share!