This post may contains affiliate links for your convenience. If you make a purchase after clicking a link we may earn a small commission but it won't cost you a penny more! Read our full disclosure policy here.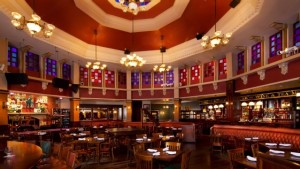 Downtown Disney is home to dozens of restaurants.  Trying to decide on one can be a little overwhelming; but if you are looking for savory food, fun atmosphere, and incredible service, look no further than Raglan Road.  Disney invites you to "indulge your tastes in hearty meals, cold pints, and nightly entertainment."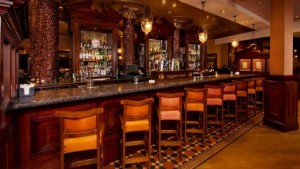 One of the first things you will notice upon entering, is the handsome décor and dark, rich woods.  The four antique bars and furniture were imported directly from Ireland delivering an authentic Irish Pub ambience.
After being seated, our server, Charlotte, delivered the drink menu and complimentary brown bread with Guinness dipping sauce.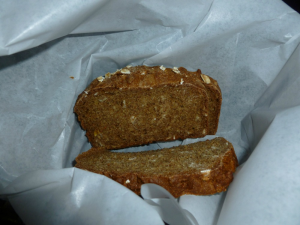 The sauce was sweet and complimented the bread well.
The drink menu is quite extensive with offerings of the very best Irish and European beers, beer flights, specialty drinks, whiskey, and whiskey flights.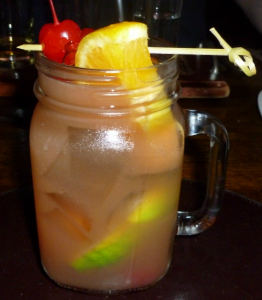 The Jay'Gal Sangria ($9.50) "A refreshing blend of Magners Cider, Peach Schnapps and Fruit Liqueurs & squeezes".  Charlotte recommended the popular sangria and it did not disappoint.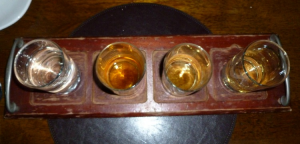 The Bushmills Trio ($20) featuring Bushmills, Bushmills 10 year, and Bushmills 16 year if you are in the mood for something stronger.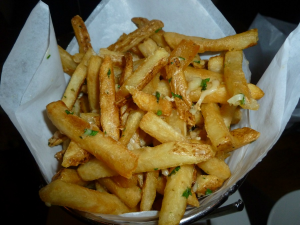 The Garlic Parmesan and Truffle Oil Skinny Chips ($5) I'm not sure how skinny they are, but these dressed up fries are highly addicting.
With over 25 entrées on the menu, there is surely something for everyone.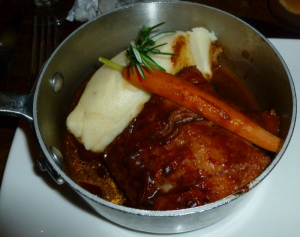 Braised beef ($25) "Braised beef with horseradish mashed potatoes, roasted carrots & parsnips" Served in a very cute pot, the beef was fork tender and delicious.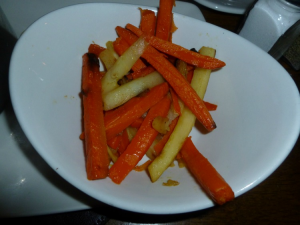 Accompanied by roasted carrots and parsnips that were fresh and cooked perfectly.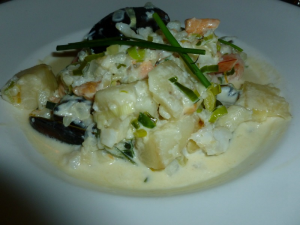 Its Not Bleedin Chowder ($25) " It's the freshest cuts of seafood & potatoes in a white wine infused cream broth".  A seafood lovers delight that is much heartier than a soup.  The broth was amazing.
Raglan Road offers 9 unique desserts.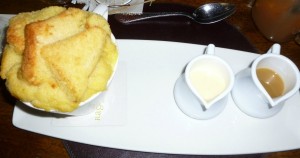 Ger's Bread and Butter Pudding ($8.50) If you love bread pudding (and even if you don't), this is a must do.  Order one for the table and share.  One of the best desserts on property and the sauce is decadent!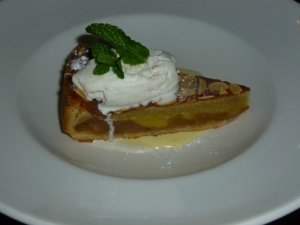 The Bakewell Beauty ($8.50) "Deep dish bakewell pear tart with almond frangipane served with vanilla bean ice-cream and sweet anglaise"  The tart was very good but fell flat next to the bread pudding.
In addition to your taste buds being entertained, there is nightly entertainment with live music and Irish dancing.  Dancers even invite the kids to participate creating a very family friendly atmosphere.
Stop in the gift shop on the way out to pick out some Irish gifts or Raglan Road souvenirs.
Raglan Road is open 11am-11pm serving lunch and dinner and offers brunch on Sundays. Dining plan (1 table service credit) and Tables in Wonderland accepted.
Whether you desire to relax over a drink, munch on some appetizers, eat an amazing dinner, or all of the above, Raglan Road has got you covered.
Advanced Dining Reservations Recommended