This post may contains affiliate links for your convenience. If you make a purchase after clicking a link we may earn a small commission but it won't cost you a penny more! Read our full disclosure policy here.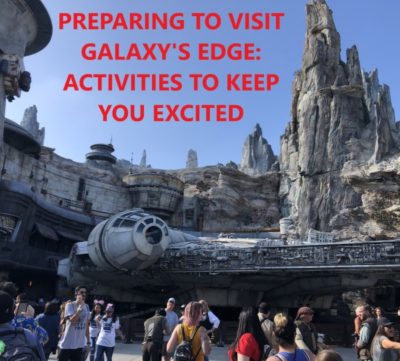 Do you have intergalactic plans but it seems like they won't occur until the next millennium? Or are you just curious about Disney's newest lands? Either way, here's are activities that you can do to keep your excitement level up until you go. Not all Disney fans are also Star Wars fans.  Preparing for your arrival in Galaxy's edge will help with these activities organized in descending of Star Wars geekiness.
You don't need to prepare
Just show up. Galaxy's Edge is designed to be fun for everyone. Even non-Star Wars fans can find lots to see and do. And let's face it, the people watching will be fantastic. When you get there grab a ronto wrap, a place to sit and enjoy.
You might want to make reservations at Oga's Cantina. In the Cantina you can have a drink and enjoy the sights and sounds.
Preparing for your arrival in Galaxy's Edge as a Passenger
You have decided to vacation in Galaxy's Edge. Here are a few things that will help you prepare:
Watch Star Wars movie episode VIII, "The Last Jedi". Star Wars Galaxy's Edge takes place on the Black Spire Outpost between movies VIII and IX ("The Rise of Skywalker"). Watching "The Last Jedi" would be a great primer for Galaxy's Edge and a great way to get excited.
Consider mix and matching your current clothes so that you can come up with something that simulates Galaxy's Edge attire. I mean, let's not go overboard here.   Remember to follow the rules for what is allowed.
Definitely make a reservation at Olga's Cantina. Discuss the menus for Docking Bay 7, Kat Saka's Kettle, Oga's Cantina, and Ronto Roasters menus with your traveling companions. Consider dropping blue or green dye into the dinner milk as a surprise.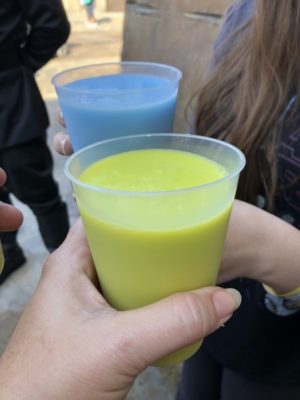 Read up on Galaxy's Edge. Galaxy's Edge A Crash of Fate is a recently released book that gives the back story of Galaxy's Edge. Keep up with the Mouse for Less Blog as well to get those travel hints that will make your travels easier. If you have a child in your group have them read Star Wars: Myths and Fables.
Print off the common words/phrases of Batuu. Keep them with you if you want to respond in the common tongue:
"Bright Suns" = "Good Morning"
"Rising Moons" = "Good Evening"
"On Planet" = In the Land
"Refresher" = "Bathroom"
"Hydrator" = "Water Fountain"
"Ignite the Spark" = Greeting for the Resistance
"Light the Fire" = A Resistance callback to "Ignite the Spark"
"Only the ancients know" = "I don't know"
"Til the Spire" = "Farewell"
"Good journey" = An Informal Goodbye
"May the Spires Keep You" = A Formal Goodbye
Preparing for your arrival in Galaxy's Edge as a Member of the Crew
Watch the first eight Star Wars movies. Although the prequel trilogy (I, II, III) can be a bit difficult to watch they do include important plot points. You can include Rogue One: A Star Wars Story and Solo: a Star Wars Story for Extra Credit on the geek scale.
Make your Galaxy's Edge outfit. Cut up an old robe to make a vest and sash outfit. Or, make plans to rush in ahead of your group and buy an outfit at Black Spire Outfitters.
Purchase the "Star Wars: Galaxy's Edge: The Official Black Spire Outpost Cookbook". Prepare dinners for the family that include Gurreck Gravy, Emul Sauce or Chadian Dressing. Of course, the ingredients are earth based but the results are out of this world.
You should also read up on Galaxy's Edge. Galaxy's Edge Black Spire, Galaxy's Edge A Crash of Fate and Star Wars: Galaxy's Edge provide you with essential knowledge and help you while away the waiting time.
Memorize the words and phrases in the common tongue. Then familiarize yourself with the Aurebesh Alphabet: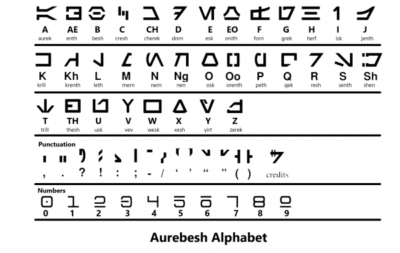 Preparing for your arrival in Galaxy's Edge as a Resistance Fighter or Imperial Agent
Do/Do not watch Episode IX – "The Rise of Skywalker".  It  is the last of the original trilogies of trilogies. In this respect it could keep your excitement up. On the other hand, it takes place after Star Wars Galaxy's Edge.  True geeks would want to stay within the Galaxy's Edge timeline. Personally, we will watch it.
Go through your closet and pick out your Galaxy's Edge outfit. Stuff you wore at the Episode II premiere may be dated. The Storm Trooper outfit and the Ewok costume will not be allowed. Next, try it out to see if it still fits.
Go on a Bantha hunt to find a supply for your blue milk. Short of finding a Bantha raise a goat on blueberries and see if that works.
Read Galaxy's Edge Black Spire, Galaxy's Edge A Crash of Fate, Star Wars: Galaxy's Edge and Star Wars: Myths and Fables. Note any discrepancies and write angry letters or write your own fan fiction correcting the discrepancies.
You already know the Aurebesh alphabet. You've known it since the Episode III blew your mind.  Therefore, translate the following:

What tips do you have to prepare to arrive at Batuu? Let us know your thoughts in the comments, or on Facebook or Twitter!
Did you like this article? Make sure to share it with your friends! Check below for easy ways to share!
Want to visit Star Wars: Galaxy's Edge? Contact The Magic for Less Travel for more information and a free, no-obligation quote.

Incoming search terms:
https://www themouseforless com/blog_world/preparing-for-your-arrival-in-galaxys-edge/
Galaxys Edge alphabet