This post may contains affiliate links for your convenience. If you make a purchase after clicking a link we may earn a small commission but it won't cost you a penny more! Read our full disclosure policy here.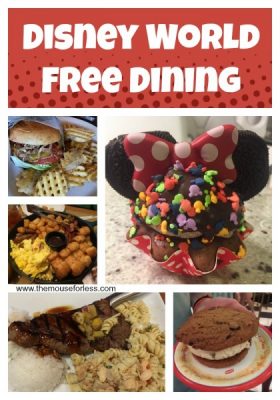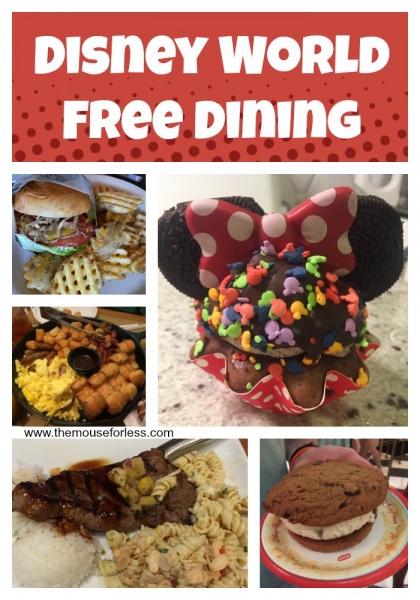 It's that time of year again! Time for rumors of Free Dining at the Walt Disney World Resort to run rampant. People are anxiously waiting for the news that Disney is once again releasing the extremely popular Free Dining promotion. Now, while we don't know with 100% certainty that Free Dining will be returning, we'll only know that when Disney officially announces the offer, with the way rumblings have been ramping up, we expect that Free Dining will released very, very soon! (Like as early as next week! I mean, in the past, Free Dining has typically been released in late April – early May.)
So, with that being said, I am here to answer all of your questions about the Free Dining promotion.
What is Free Dining?
Free Dining is a promotion introduced by Disney a number of years ago and its goal was to fill rooms during traditionally slow times of the year, like late summer, early fall, (ie, late August through September) and early winter (ie, early December). I actually took advantage of Free Dining back in 2008 when we traveled during the traditionally slower month of September.
With Free Dining, each Guest in the room on the reservation receives one of the Disney Dining Plans for free with the purchase of a Walt Disney World Resort package. (A package includes the resort room and tickets.) Keep in mind that with the Free Dining promotion, you are paying full price for your resort room.
How Do I Take Advantage of Free Dining?
To take advantage of the Free Dining promotion, you must be staying at one of the specific Disney hotels that is eligible for the discount. In addition, Guests should be flexible; availability may be extremely limited as this offer is often based on hotel inventory. This means that while a hotel may be listed as one of the options that is offering Free Dining, your specific resort room category may not be available during that particular time period.  In addition, there are typically some resorts that aren't included in the promotion.
One helpful thing is that for those who are looking to take advantage of this promotion, your whole stay does not have to fall within the promotional period dates, but your stay does have to start within the Free Dining dates. In addition, say you'll be at Walt Disney World prior to the start of the promotion, but part of your stay does include Free Dining dates. You can choose to do a split stay that allows you to check out of your first reservation that does not include Free Dining and check back in on the first date of the Free Dining offer.
In the past, Guests who stayed at a Value Resort have received the Quick Service Dining Plan for free and Guests staying at a Moderate, Deluxe, or Deluxe Villa have received the regular Disney Dining Plan. (Rumors for this year are indicating that the Moderate category may potentially receive the Quick Service Dining Plan for 2017, but again, that is just a rumor and is absolutely not confirmed.)
What's Currently Rumored for 2017's Free Dining Offer?
Currently, the dates that are rumored to include Free Dining include mid-August through September, the middle of November (not including Thanksgiving week), and most of December leading all the way up to the holiday week.  Additionally, it is also being rumored that Guests must say a minimum of four nights to take advantage of this year's offer.
How do I Get Free Dining?
The key to receiving Free Dining is to book as soon as the offer is released. That's where our partners at The Magic For Less Travel come in! With Free Dining, since there is a limited amount of availability, this offer tends to go quickly and The Magic For Less Travel agents are on the ball looking for discounts for you as soon as the offer is officially released. Their goal is to get you the best deal possible. Oh and The Magic For Less Travel is a fee free agency. You don't pay them, Disney does!
Our suggestion, for those who want to be in the know about Free Dining release dates is to make sure to sign up for our great free newsletter that lets you know when Disney discounts are released! We'll notify you know as soon as information is released.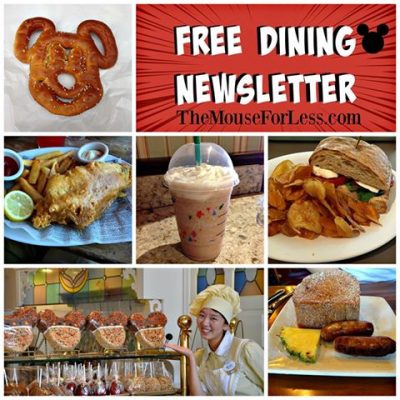 What Else Should I Know About the Disney Dining Plan?
Do keep in mind that even with Free Dining, you do have pay a gratuity to your table service server, which is not included in the Dining Plan.
The Dining Plan is not based on the number of days you have tickets for; instead, it is based on the number of nights you are staying and any unused credits will expire at midnight on your resort check out day.
Disney Dining Plan credits can be redeemed any time throughout your stay, meaning if you want to use 4 of your snack credits on one day, you can.
If you loose track of the number of credits you've used, take a look at your receipt; it shows the total number of credits remaining. Also, if you want to keep track yourself, use our Disney Dining Plan Tracker.
If you are looking to fully take advantage of credits, buffets, especially character buffets, are some of the most expensive meals on Disney property. We have a list of the Best One Table Service Credit Restaurant options to consider.
For those looking to maximize their "free" dollars, look for snack credit options that are unusual and expensive. For example, during the Epcot Food and Wine Festival, you can use your snack credits at many of the Marketplace Booths! Also, you can choose to get a tall latte or a venti latte at Starbucks and both count as one credit, so go for the venti!
Finally, you may want to have your Advanced Dining Reservations already made, prior to any Free Dining announcement. If you aren't dining at places you want to dine at, it makes this offer not as sweet.
Final Thoughts
One thing to keep in mind is that Free Dining can be a good deal, but we recommend taking a look at all options, especially when "Free" Dining is involved. Sometimes the better deal is to book a room only discount (which is often also released at the same time as Free Dining) and purchase the Disney Dining Plan instead. You really have to look at what's best for your family, so we strongly suggest you take a look at menus to get a general idea of what your family may order before deciding which promotion you should take advantage of.
Did you like this article? Make sure to share it with your friends! Check below for easy ways to share!