This post may contains affiliate links for your convenience. If you make a purchase after clicking a link we may earn a small commission but it won't cost you a penny more! Read our full disclosure policy here.

This year I will be taking my first ever trip to Disneyland. While I have been going to Walt Disney World since before I can remember, planning this trip feels a bit surreal. The best analogy I can think of is that it's like preparing to go back to your hometown, but seeing that there is a new high school, you don't quite remember that gas station, and a major road has been rerouted. At all times everything seems very familiar and incredibly foreign. As I am finishing my planning for this trip, I wanted to share some observations and tips from a Walt Disney World vet going to Disneyland for the first time.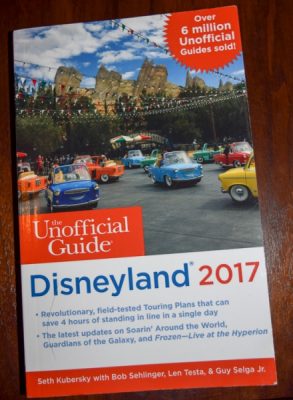 As I've written about before, I started this process by reading the Unofficial Guide to Disneyland. Books like this are invaluable for planning a trip that can be as complicated as a Disney vacation, and the thoroughness of description of the attractions and restaurants help you figure out what you want to do. Moreover, for people like me, they give you a chart showing the differences between attractions in Disneyland and Walt Disney World.
For actually planning, the first thing we actually did was reserve a room. Since my wife and I are Disney Vacation Club members, we wanted to use our vacation points to stay at the Villas at Disney's Grand Californian Hotel and Spa. In general, it can be a bit challenging to book in resorts outside of your home resort because of how DVC reservations work. This challenge is increased exponentially at the Grand Californian, which is the smallest of all the DVC resorts with only 50 units. My initial goal was to get a studio to save points, but studios are generally popular, and at the Grand Californian most two bedrooms take a studio out of circulation. As such, even with trying to book the second reservations opened every day, I ended up having to get a one-bedroom for most of the stay. This difficulty is not specific to DVC at Disneyland, but it is amplified.
As far as preparation goes, the next major difference has been restaurant reservations. Through planning several Walt Disney World vacations over the past few years, I have internalized the necessity for getting up early in the morning 180 days before my trip is set to begin, and utilizing the 180+10 advantage for staying on site to get hard to get reservations near the end of my trip. Disneyland dining is different in this respect, with reservations only opening up 60 days in advance. From what I can tell, the "make-or-break" mindset and, often, necessity of early reservations all across Walt Disney World is not nearly as intense for Disneyland. We still made reservations 60 days in advance, but that was more out of habit than anything else.
The last big difference I have been thinking about in preparation is with FastPasses. Over the past few years I have gotten used to the FastPass+ system at Walt Disney World, and in a lot of ways, I really like it. At the same time, I had also previously gotten rather adept at taking advantage to the legacy FastPass system, so thinking about FastPasses at Disneyland is kind of like a real life nostalgia trip. Instead of reserving a few select attractions, I'm back to choreographing a routine, or lining up my first series in a football game. I also might need to work on my wind sprints to get ready for FastPass running.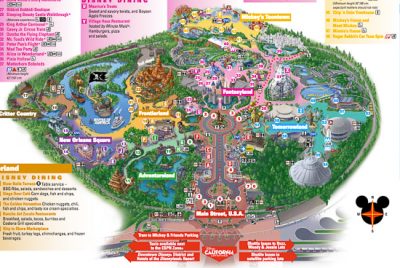 Familiar, but not.
Being as immersed in the Disney community as I am, it is sometimes hard to experience something truly new, and this trip really provides that opportunity to me. With all of the surreal-ness of seeing maps that aren't quite right, or castles that aren't quite the right color or shape, I'm getting really excited by the opportunity to not only experience something brand new to me, but is also laden with the history and inspiration that has since spread to Orlando and across the world. I'll let you know how it goes.
What are your best tips for those who are Walt Disney World veterans who are making their first trek out to Disneyland? Share in the comments!