This post may contains affiliate links for your convenience. If you make a purchase after clicking a link we may earn a small commission but it won't cost you a penny more! Read our full disclosure policy here.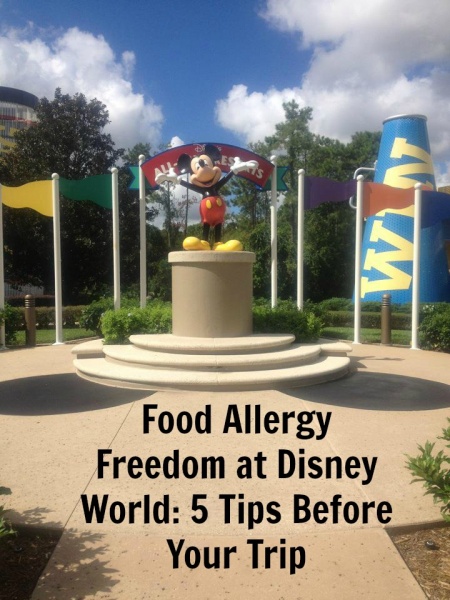 If you have food allergies or other dietary restrictions, you know traveling to a new place can require a great deal of research and at times limit your options. The good news is Walt Disney World has become a "gold standard" for food allergies and other dietary restrictions. Still, there are some things to additional considerations before booking your Disney World vacation if you have food allergies or other dietary restrictions.
Disney World with Food Allergies Tip #1
Know what you are comfortable with when dealing with your food allergies or dietary restrictions.
Disney is far above the average restaurant when it comes to allergy protocol. Chefs will fry fries in fresh oil, keep allergy friendly pastries separate from non-allergy pastries, and can be highly creative in working around a variety of restrictions. Still, Walt Disney World does not have fully separate kitchens and they can't fully guarantee no cross-contamination will occur. Disney World does offer allergy friendly menus, but for those with non-top 8 allergies, multiple allergies, or more complicated dietary restrictions (such as Type 1 Diabetes), you can ask to speak to a chef.
Similarly, you should consider whether you feel comfortable with buffets and quick service restaurants or only standard table service. At buffets, a chef will walk you through the buffet and tell you what items are safe for your allergy. You can then choose to eat off the buffet or request the item be made separately. At quick service, fewer modifications are typically available and similarly you are more likely to be offered options that are already available.
Disney World with Food Allergies Tip #2
Pick your restaurants and review their menus.
Even before booking Advance Dining Reservations, a family with food allergies or other dietary restrictions should review restaurant menus. These menus are available on the Mouse for Less. Disney World chefs are highly creative and accommodating, but they can't work literal magic. As a result, you are best off looking for restaurants that might have things that could be modified or at least have a general cuisine you may like.
Another reason to review restaurant menus is if the allergies are airborne or touch-sensitivity. Disney chefs can create an allergen friendly meal, but they will not completely remove that allergen from their menu to accommodate you. For example, 'Ohana's dinner menu includes a peanut sauce. If you are touch or airborne sensitive, you may need to seriously consider if you are comfortable with the other tables consuming peanut sauce around you. Similarly, several quick service restaurants serve Uncrustables. While these peanut butter sandwiches are individually wrapped, there's no guarantee the previous party at your table wasn't eating them.
Finally, you should be aware that some restaurants are not Disney owned and as a result may not have the same amazing record of special dietary accommodations. A travel agent can help you navigate these, but in general these restaurants are in EPCOT (World Showcase restaurants in Mexico, Italy, and Japan for example), Disney Springs, and Disney's Animal Kingdom (Yak & Yeti and Rainforest Cafe). That does not mean these restaurants cannot accommodate food allergies, but do not follow the same allergy protocols as other Disney restaurants.
Disney World with Food Allergies Tip #3
Consider how much you want to eat in Disney restaurants when picking your Disney or off-property resort.
Many people with food allergies or other dietary restrictions rarely, if ever, eat out in restaurants because of the stress and complications. As a results, families often look forward to not having to cook when at Walt Disney World. Still, you may want to know you at least have the option of cooking in your hotel rooms. The family suites at All Star Music and Art of Animation as well as Disney Vacation Club Studios offer kitchenettes. One-bedroom and larger villas offer full kitchens. It can be reassuring to know you have the option of cooking when you
Disney World with Food Allergies Tip #4
Be sure you notify Disney of your restrictions.
When you or your travel agent make Advance Dining Reservations, be sure you mark any dietary restrictions. When you check in for your meal reconfirm that the allergy is marked. Also verify your server is aware when ordering or order directly with a chef.
If you have more 4 or more allergies, an unusual allergy, or a more complicated dietary restriction such as a metabolic disorder, you should consider contacting Disney World's Special Diets Team via email (Special.Diets@DisneyWorld.com) at least two weeks prior to your trip. This team will be able to contact restaurants and help you better navigate your restrictions to have an enjoyable trip.
Disney World with Food Allergies Tip #5
Pack some favorite safe foods or snacks just in case.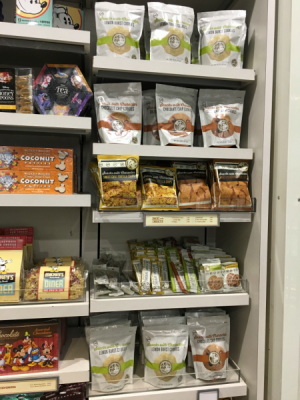 Disney is generally very good with having standard substitutes such as soy milk or gluten free cookies. Still if you have favorite brands, you likely want to bring some with you. Additionally, Disney does not have any non-peanut peanut butter substitutes like Sunbutter. If you have an allergy friendly snack you won't be able to live without, you may want to bring it with you.
Once you've decided to go to Disney World, you will find there are far fewer food allergy concerns than a typical food allergy vacation. Still, don't forget to pack your EpiPens or leave your awareness at home. In future blogs, I'll discuss my experiences dining at Disney World and Universal Orlando with Dairy and Tree Nut allergies. I'll also be bringing you some reviews and tips for specific restaurants and situations.
What general tips do you have when traveling to Walt Disney World with food allergies? Share them in the comments!
Did you like this article? Make sure to share it with your friends! Check below for easy ways to share!