This post may contains affiliate links for your convenience. If you make a purchase after clicking a link we may earn a small commission but it won't cost you a penny more! Read our full disclosure policy here.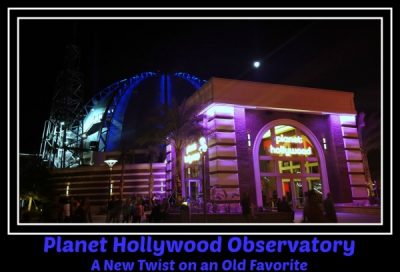 While all sorts of new restaurants were celebrating their grand openings at Disney Springs, an old favorite was in the process of receiving a big update. Planet Hollywood got a major overhaul inside and out and reopened as the new Planet Hollywood Observatory.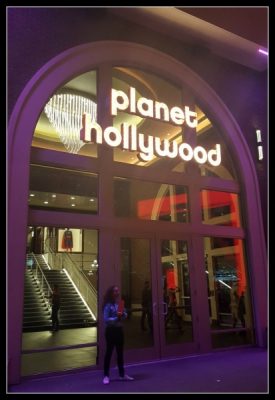 Front Entrance to the Planet Hollywood Observatory
Even the menu saw some major changes.  Guy Fieri, who you may know from the Food Network, stepped in to create some new and unique burgers and sandwiches. Some to-die-for dessert options and over-the-top appetizers were also added. This is definitely not your average menu anymore!
It had been really long time since I had been inside the Planet Hollywood restaurant. Almost 15 years! So, when it reopened as the Planet Hollywood Observatory, I was excited to check it out.
When I walked in, the restaurant looked somewhat similar to what I remembered, but I was still a bit overwhelmed.  This place was huge! We were seated on the second floor and had a great view of the giant screen where music videos played throughout our visit. We saw and heard everything from Disney tunes to pop hits. All of it was family friendly, of course.  With the music and the open floor plan, it got a bit loud inside. Probably not the place you want to go for a quiet dinner, but it was a fun atmosphere.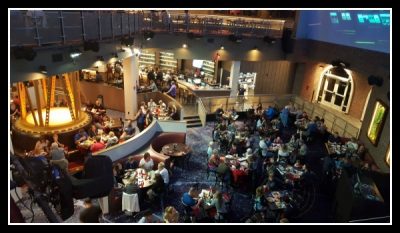 View of the First Floor Dining Area
The restaurant is also decorated with all kinds of movie memorabilia. Make sure you take a walk around to see all of the props, clothing, and accessories that are on display. You may just find something from one of your favorite films!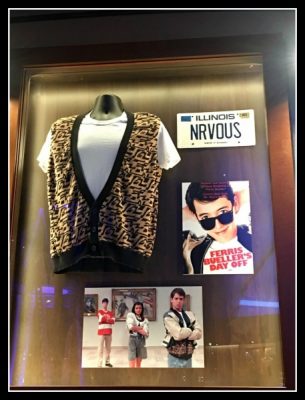 Ferris Bueller Memorabilia
I really enjoyed the Ferris Bueller and Back to the Future displays. Star Wars fans will find some great costumes and props from the movies.  Even our table doubled as a display case and contained some items from Indiana Jones.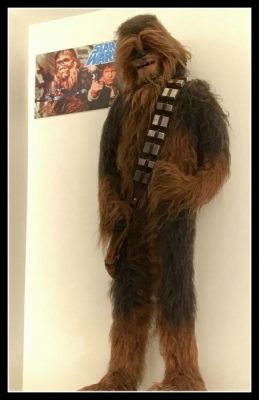 Check Out Chewbacca!
After a quick look around, we looked over the menu and decided what to try first. We settled on the potato wedge dippers as an appetizer. These are basically build-your-own potato skins. The potato skins are served plain with all of the toppings on the side. If you have people in your party who don't like certain toppings, this is great. I liked all of the toppings, so for me, this kind of seemed like unnecessary work because I piled on some of every topping anyway. The wedges were tasty and cooked well though. I would certainly eat them again. There are about 6 potato skins per order, so if you have a large group you may want to go with one of the larger appetizers.
Next, I chose the cajun chicken sandwich as my entree. The chicken was cooked in a cajun dry rub and topped with onion, tomato, slaw, and pickles. The most intriguing ingredient though was Guy Fieri's signature donkey sauce.  I wasn't sure what donkey sauce was, but I was interested to find out!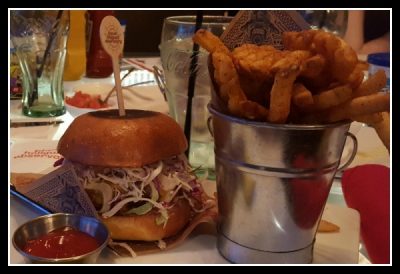 Cajun Chicken Sandwich and Fries
I loved this sandwich from the first bite. The chicken was delicious and the toppings were crisp and fresh. The sauce was the perfect compliment to the spice of the chicken. I was very happy with my sandwich choice.
Of course, no sandwich or burger meal is complete without a side of fries. These weren't your typical French fries. Some were straight cut fries, others were waffle cut, and there were also some that were sort of a spiral shape. The fries were sprinkled with the kind of barbeque seasoning that you would find on barbeque potato chips. I loved the different shaped fries. They were a bit more fun than the usual fries. I also liked the barbeque flavor in general, I am just not sure that I liked it on the fries. The flavor was not overpowering though, so with ketchup, the fries were just fine.
As we were eating our entrees, "Don't Stop Believin'" by Journey began playing and the entire restaurant started singing along. No other song got this kind of response. (Not even "Let it Go" from Frozen!) It was a lot of fun to sing along with everyone.
After dinner and a short sing along, it was dessert time! I had planned to order one of the elaborate milkshakes that I had heard so much about, but I was just too full. Instead, we went with another fun dessert option, the ice cream and gelato challenge. If you choose to accept the challenge, your server will bring a tray with 12 scoops of ice cream and gelato. You then have to guess the flavors.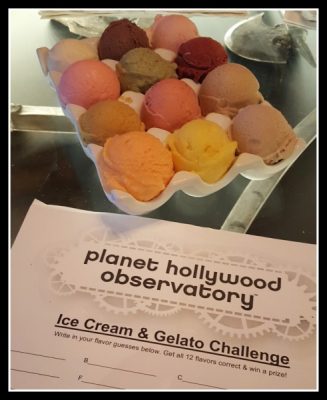 Taking on the Ice Cream and Gelato Challenge!
This was definitely harder than you might think! I won't give away the answers, but I will say that some of the flavors were fairly simple while others were much more complicated. It was really easy to overthink some of the flavors. We had a great time playfully arguing over flavors and writing down our guesses.  We only got two wrong. Pretty good, right?
I really enjoyed the food and atmosphere at the Planet Hollywood Observatory. I will definitely be back. Next time, I will be sure to leave more room for dessert. One of those fancy milkshakes has my name on it!
Have you dined at the Planet Hollywood Observatory? Let us know what you thought of your experience in the comment section.
Did you like this article? Make sure to share it with your friends! Check below for easy ways to share!