This post may contains affiliate links for your convenience. If you make a purchase after clicking a link we may earn a small commission but it won't cost you a penny more! Read our full disclosure policy here.
If you have been to Disney's Hollywood Studios lately, you know that there are some major construction projects going on these days. Since we are all anxiously awaiting the opening of the new Star Wars and Pixar attractions, it may be easy to miss the fact that the Muppets have officially taken over a small corner of Hollywood Studios. The newly renovated site of the former Pizza Planet is now PizzeRizzo, named after the beloved rat from The Muppets.
You'll find PizzeRizzo across from the Muppet Vision 3D theater. Next to the restaurant is Gonzo's Royal Flush, which as you may guess, is a restroom. PizzeRizzo rounds out this little Muppet themed area nicely and Muppet fans now how have a small portion of the park dedicated to some of their favorite characters.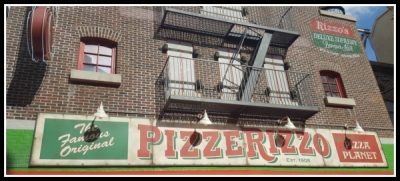 The PizzeRizzo sign includes a small tribute to Pizza Planet
The Muppet theme inside of the restaurant is very subtle, with pictures and drawings of the Muppets and some advice from Rizzo himself on the trash cans. A first glance, it is almost easy to miss the fact that this is a Muppet themed restaurant.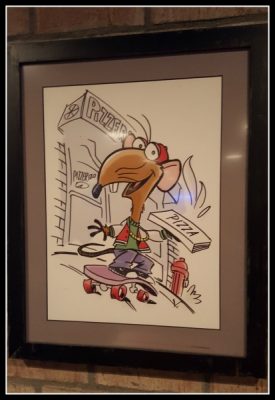 Rizzo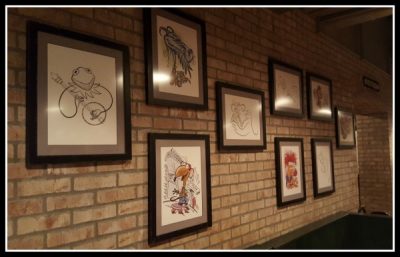 Muppet drawings on the walls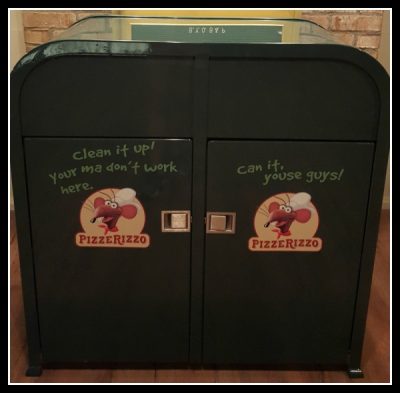 Be sure to listen to Rizzo and clean up after yourself!
Upstairs, you will find more seating and my favorite area, the ballroom. The ballroom is all decked out for a wedding reception. No need to worry about crashing. Everyone is invited!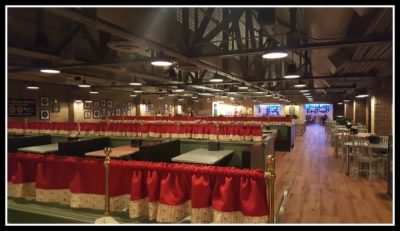 Additional seating upstairs
You will hear many of the typical wedding tunes play as you sit down to enjoy your meal. We heard songs such as the Etta James classic "At Last" and 'NSYNC's "This I Promise You" while we were there. I think we have all been to that awkward wedding reception where the music is cheesy and no one is on the dance floor.  That is what this section of the restaurant is like. I found it highly amusing. I could hardly resist the urge to get up and do the Electric Slide!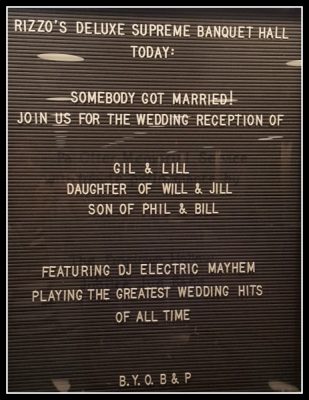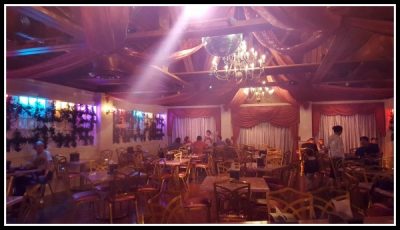 Welcome to Gil and Lill's wedding reception
OK, enough about the decor.  Let's eat!
When Pizza Planet closed and this new restaurant was announced, I was hoping they might make some major changes to the pizza, but alas, they did not. The current pizza is still served as individual pizzas rather than the New York style slices I had been hoping for.  Still, I decided to give it a try.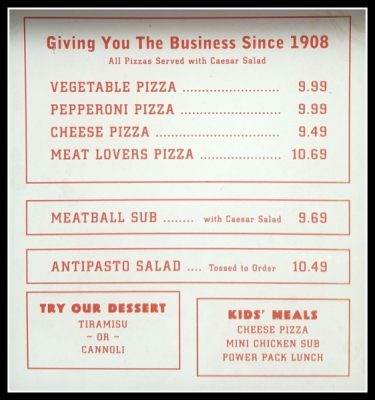 Basic menu on the window
I chose the veggie pizza, served with a small Caesar salad. I also ordered a peach bellini to drink because it sounded fun and refreshing. After endless sodas during the trip, it seemed like it would be a nice change. This particular drink is non-alcoholic, but PizzeRizzo does have some alcoholic options available on the menu as well.
I tried the peach bellini first. My first thought…whoa!  This drink was super sweet. Once I got over the initial sugar shock though, I thought it had a nice peachy flavor. After a while, the ice melted a little bit and toned down the sweetness some.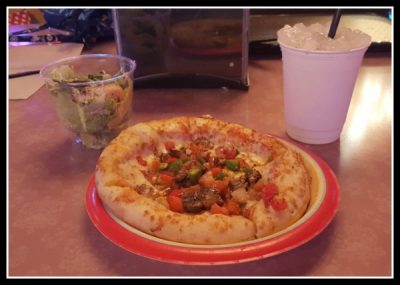 Veggie pizza, Caesar salad, and a peach bellini
The Caesar salad was pretty standard. It had a nice amount of cheese and dressing, so I found it to be exactly what you'd expect a side salad to be.
Finally, I tried the pizza. It had a good amount of veggies on top, so I was happy with that.  The only problem was, it seemed like the vegetables were not dried or drained before they were placed on the pizza. This left the bottom crust of the pizza really soggy in the middle. The outside crust didn't have a lot of flavor, but I added some red pepper to it and that helped a little.  The sogginess got to me though and left me disappointed. Hopefully, this was just an oversight and doesn't typically happen. It also shouldn't be a problem with cheese or pepperoni pizza.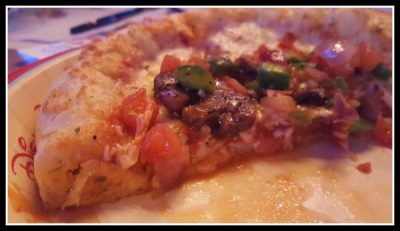 Veggies left the pizza a bit soggy
I'd give PizzeRizzo an "A" for effort in the theming department.  Major Muppet fans may be looking for more, but I actually liked the more subtle approach to the decor. I enjoyed the ballroom and I think the ample amount of seating is great for the days when the park gets busy.  I was just hoping for something more impressive when it came to the pizza. Maybe I will just stop in for a drink or dessert next time.
Have you had the chance to visit PizzeRizzo? Let us know what you thought in the comments!