This post may contains affiliate links for your convenience. If you make a purchase after clicking a link we may earn a small commission but it won't cost you a penny more! Read our full disclosure policy here.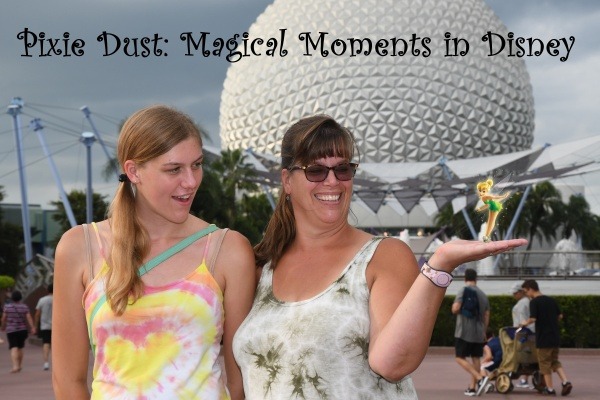 Pixie Dust! What is it?
Of course it's the stuff that helps Tinkerbell and Peter Pan fly. In Disney fan speak, however, Pixie Dust is an unexpected magical moment that happens during a Disney trip.
Oftentimes, it takes the form of some sort of upgrade or freebie that a cast member bestows upon you. However, Pixie Dust can also come from other guests or even just be a happy coincidence like the weather cooperating during a special outing.
On our most recent trip, my daughter and I experienced several magical Pixie Dust moments, starting right from when we arrived.
We stayed at Disney's Pop Century Resort, and during the online check-in process, I requested a room in either the 1970s or 1980s sections. Both of these areas have rooms that aren't too far from the main building, but are also a little quieter than some other areas of the resort.
When we arrived, I learned our room was in the 1960s section, which is right around the Hippy Dippy Pool. This area is busy and often loud. It's where all the main action at Pop Century takes place. But … Pixie Dust! Even though we had booked a standard view room – which generally means you're going to be looking at a parking lot or something equally unexciting – our room had a beautiful view of Hourglass Lake. It's a view that normally comes with booking a preferred room for an extra cost.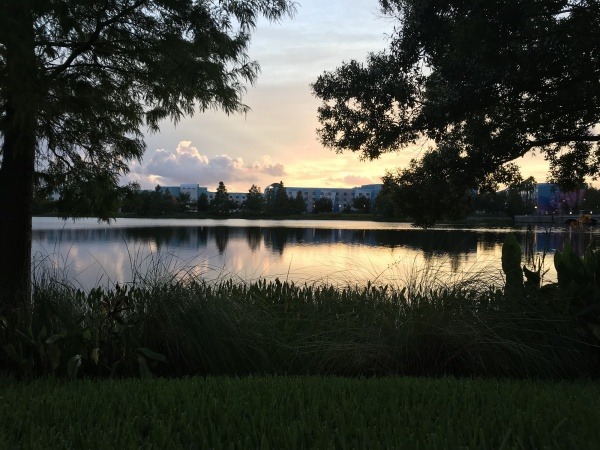 Our family had a similar experience the first time we camped at Disney's Fort Wilderness Resort and Campground. We booked and paid for a full hook-up site, but Cast Members upgraded us to a premium site when we arrived.
Another Pixie Dust moment on my most recent trip occurred when we attended Fantasmic! We had a FastPass+ reservation for the show. In another magical moment, when we checked in, Cast Members upgraded us to seats in the Fantasmic! Dining Package seating area, which is front and center for the show. Pixie Dust!
These little moments are truly a joy for us. We never expect them and always appreciate them. On a trip with just my husband a few years ago, I stopped at Kusafiri Coffee Shop & Bakery for a coffee. The Cast Member handed it over with a smile and an absolute refusal to charge me for it.
A weirder moment my family still considers a Pixie Dust moment is when we got stuck on Splash Mountain. The ride broke down. We were right next to the riverboat and enjoyed 15 or so minutes of "Zip-a-Dee-Doo-Dah" over and over.
The ride operators eventually turned the music off. In an unplanned moment, all of us stuck there just started singing the song to fill the sudden silence. Let's face it. Being stuck on a ride isn't fun – unless you make it fun. I'm so glad we were stuck with a group that decided to make it fun.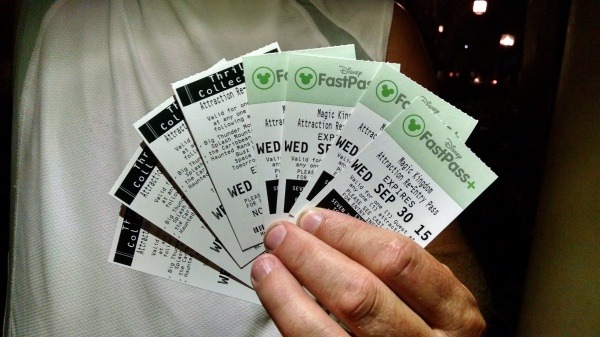 The second bit of Pixie Dust during that experience came as we exited the ride – through the back door, no less! Admittedly, it was a thrill getting a peek at some Splash Mountain behind the scenes. However, the two sets of amazing FastPasses we received were even better!
During various trips, there have been other Pixie Dust moments. A surprise dessert might show up at our table. Back in the days of paper FastPasses, we've had people hand us ones they couldn't use.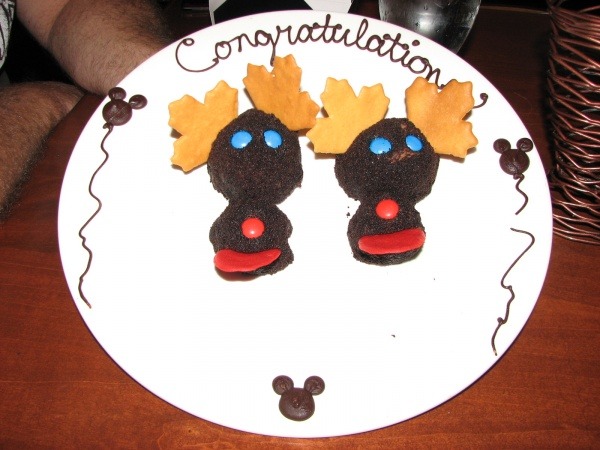 For several trips, my pin-loving stepson celebrated his birthday in Walt Disney World. Once, while headed to my stepson's birthday dinner at Boma – Flavors of Africa, a guest noticed his pin lanyard and struck up a conversation. Just before he got off the bus, that guest gifted my stepson with a limited edition collectible pin. Pixie Dust!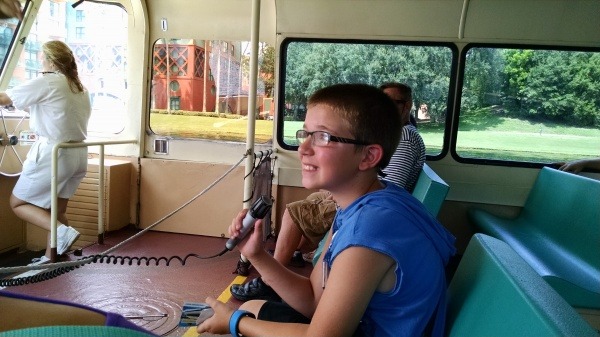 The most beautiful thing about Pixie Dust, however, is that you, too, can spread some of it around. Let someone go ahead of you in line. Offer to take a photo for a family struggling to get everyone in the picture. There are a million ways you can share the magic in Disney. Pick one and spread that Pixie Dust!
How has Pixie Dust been bestowed upon you? Share with us in the comments or on Facebook or Twitter!
Did you like this article? Make sure to share it with your friends! Check below for easy ways to share!
Want to visit a Disney Destination? Contact The Magic for Less Travel for more information and a free, no-obligation quote.

Incoming search terms:
https://www themouseforless com/blog_world/pixie-dust-magical-moments-disney/
cast member pixie dusted at disney world
disney lixie dust
disney pixie dust moments
https://www themouseforless com/blog_world/pixie-dust-magical-moments-disney/#:~:text=Of course its the stuff cast member bestows upon you