This post may contains affiliate links for your convenience. If you make a purchase after clicking a link we may earn a small commission but it won't cost you a penny more! Read our full disclosure policy here.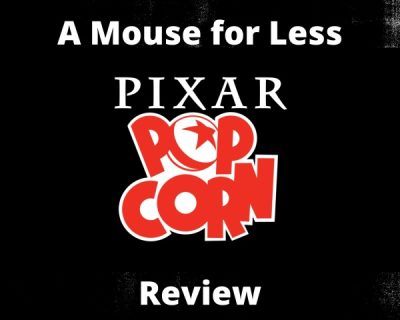 All episodes now streaming on Disney +
My family watches a lot of Disney +. There is so much new content always popping up that it is hard to keep track of it all (although if you follow the Mouse for Less blogs, you can get a monthly rundown of what's new!) so somehow we missed the collection of shorts known as Pixar Popcorn.

This is a collection of shorts made by Pixar animators that follow popular Pixar characters having mini-adventures. Most of the shorts have no dialogue, although two of them feature the comedic stylings of Key and Peele. They are called Pixar Popcorn because each of these is like a little snack, as opposed to the full meal you'd get with a Pixar animated film.

We chose the "Play All" option, which let us see every episode in quick succession. The entire series is only 22 minutes, so it's perfect for those times when you just want to watch something quick. I encourage you not to skip any of the openings, as each time the famous Pixar lamp introduces each segment, the animation is slightly different and always funny.

These shorts range from cute to funny, beautiful to silly, and they are a great way for Pixar animators to take famous characters and put them in humorous situations without worrying about the larger narrative. My favorite was the episode in which we see how the Parr family (otherwise known as The Incredibles) do their weekend chores. Suffice it to say, if my family had superpowers, we'd get the chores done a lot quicker, and we'd probably have more fun doing them!

Another favorite of mine is a very sweet moment where we see the characters from Soul in quiet, reflective moments of their day. Soul, after all, is all about enjoying the small moments in life, and this short gives us an opportunity to see some of them and also reflect on what small moments in our day were the most meaningful to us.

Strangely enough, Ellen DeGeneres (Dory), Craig T. Nelson (Bob Parr), Holly Hunter (Helen Parr) and Huck Milner (Dash Parr) are all credited in their respective shorts, although none of them have any dialogue whatsoever. This leaves me to wonder if the various "huhs," "mms" and "oohs" were actually voiced by these actors, or if perhaps there were contractual obligations at play.

Each of the ten episodes was directed by a different director. It makes me happy to know that more and more filmmakers are getting their chance to shine with so many Pixar and Disney shorts on Disney+.
Have you watched the Pixar Popcorn? Share your thoughts in the comments or on Facebook or Twitter!
Did you like this article? Make sure to share it with your friends! Check below for easy ways to share!  
Want to visit a Disney Destination? Contact The Magic for Less Travel for more information and a free, no-obligation quote.