This post may contains affiliate links for your convenience. If you make a purchase after clicking a link we may earn a small commission but it won't cost you a penny more! Read our full disclosure policy here.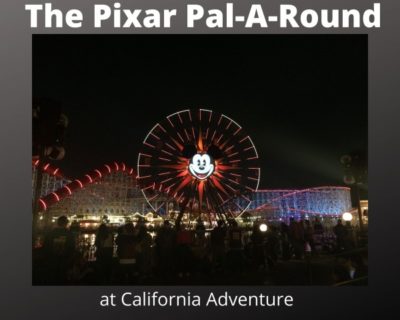 Have you ridden the Pixar Pal-A-round?
When you think about Disney theme park attractions, Ferris wheels probably don't spring immediately to mind. But Disney does have one in the United States. It's located in the Disneyland Resort's California Adventure park, and it's called the Pixar Pal-A-Round.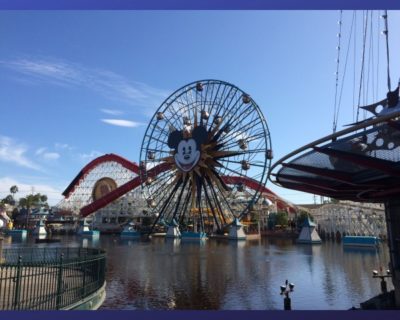 Pixar Pier on a bright, sunny day
It didn't start out that way, though. When the park opened in 2001, this 150 foot tall attraction was called the Sun Wheel, and the land in which it operated was called Paradise Pier. It had two different kinds of gondolas: stationary gondolas and ones that swing back and forth as the wheel rotates. We didn't realize this the first time we rode it, and wound up in one of the swinging gondolas, which we did not enjoy at all! But thrill seekers will gladly line up to get one of these gondolas. This type of Ferris wheel is known in theme park circles as an eccentric wheel.
The next time we rode, we were more mindful of the two different kinds of gondolas. (Large signs actually tell you which line to stand in depending on your choice of cars. We just missed it on our first trip!) From the stationary gondolas, we were treated to beautiful views of the Disneyland Resort.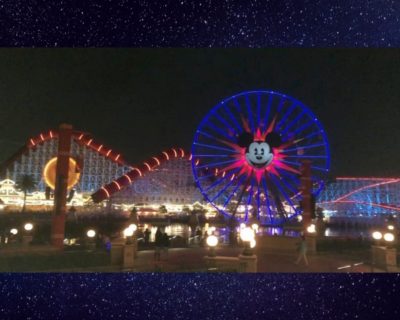 The Pixar Pal-A-Round with the IncrediCoaster
In 2008, the sun was replaced with Mickey's face, and the name of the wheel became Mickey's Fun Wheel. The exterior of the gondolas were decorated with images of Mickey, Goofy, Donald Duck and Minnie Mouse. The mechanics of the cars remained the same, with some sliding gondolas and other stationary gondolas.
In 2018, the Paradise Pier area reopened after a lengthy renovation and was rechristened Pixar Pier. So that the wheel would fit in this newly named area, it got a new theme yet again. Mickey's face remained on the wheel, but the exterior of the gondolas got a Pixar facelift. Now, famous Pixar characters from Toy Story, Finding Nemo, The Incredibles, Inside Out and Cars decorate those gondolas. The gondolas still are separated between sliding cars and stationary gondolas, so choose accordingly!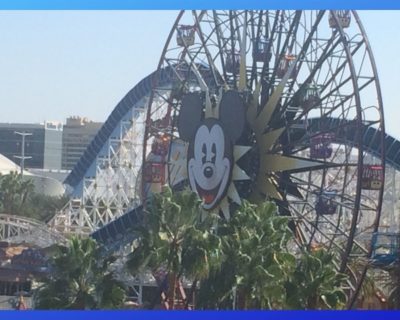 View of Mickey's Fun Wheel from the Disney Vacation Club observation deck by day…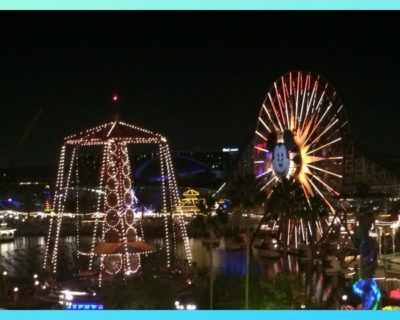 …and by night!
Even if you are not a fan of riding Ferris wheels, you will undoubtedly find the sight of this attraction breathtaking. Whether it is in the bright sunlight of day, or lit up with twinkling lights at night, it is definitely a sight to behold. You might be lucky enough to see this from your hotel. We really enjoyed the view from the Disney Vacation Club observation deck at the Grand Californian Hotel. From any angle, this eccentric wheel is lovely!
Do you enjoy the Pixar Pal-A-Round? Do you choose the stationary or moving gondolas? Let us know in the comments or on Facebook or Twitter!
Did you like this article? Make sure to share it with your friends! Check below for easy ways to share!  
Want to visit a Disney Destination? Contact The Magic for Less Travel for more information and a free, no-obligation quote.

Incoming search terms:
https://www themouseforless com/blog_world/pixar-pal-a-round/