This post may contains affiliate links for your convenience. If you make a purchase after clicking a link we may earn a small commission but it won't cost you a penny more! Read our full disclosure policy here.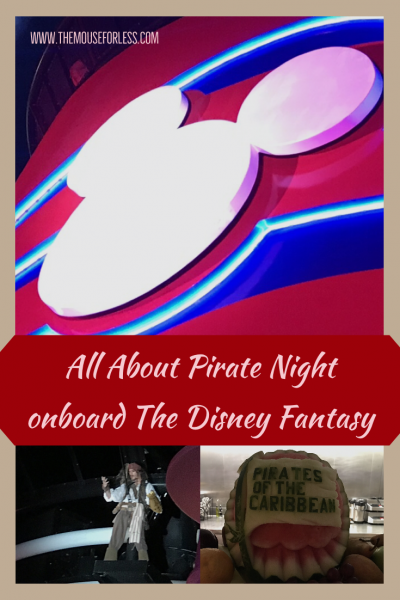 It's one of the hallmarks of taking a Disney Cruise. What is it? Well, it's Pirate Night! I mean Disney is known for their pirate stories, so what better theme night to have than a Pirates in the Caribbean night, right? The evening includes special dining and events that are all themed around the life of a pirate.
The festivities kick off in the early evening, right in time for dinner. Guests are invited to dress to theme, and trust me, I've seen some incredible costumes! (One guy looked so much like Jack Sparrow, people thought it was him….it wasn't.) If you didn't bring anything piratey, never fear! Disney does provide you with a fun bandanna emblazoned with a Pirate Mickey for you to wear.
Once you arrive for dinner, you will be served a meal that fits with the theme. It's a special menu that's served across all rotational dining restaurants. (If you are dining at Palo or Remy, you will not be dining on the special Pirate menu.) The actual dinner menu resembles an old map and your servers are in on the fun as they are dressed for the occasion too!
For my meal this Pirate Night on the Disney Fantasy, I enjoyed the Master Gibbs "1/2 Pint of Shrimp" Cocktail. This is dill marinated shrimp served on iceberg lettuce with cucumber, tomato and a marie-rose sauce. This was not what I was expecting.  There were only a couple of shrimp served in a beer mug with a lot of fluff in the form of vegetables. Personally, I was not impressed.
We then moved to the main meal and I chose the Tia Dalma's Jerk Chicken which is 48 hour jerk-marinated chicken that's been grilled and served with peas and rice, fried plantains, and a pineapple chili salsa. Again….I was not impressed. The chicken was moist, but didn't have a lot of jerk flavor to it. The rice was bland and the plantains were just a couple of strips of dried plantain. Definitely not what I was expecting.
Honestly, I was feeling pretty let down with dinner this time. The previous times I'd enjoyed Pirate Night, I had a much better experience, but this time, I noticed they had changed the menu and truthfully, I wasn't really feeling it.
It was time for dessert and this is where they made up for things. I got the Caramel Macadamia Nut Cheesecake Tart. Now this….this was excellent. I love macadamia nuts and mixed with the caramel and the light graham cracker crust and creamy cheesecake, this one was a winner. Matter of fact, this dessert actually managed to be one of my favorite ones of the whole cruise.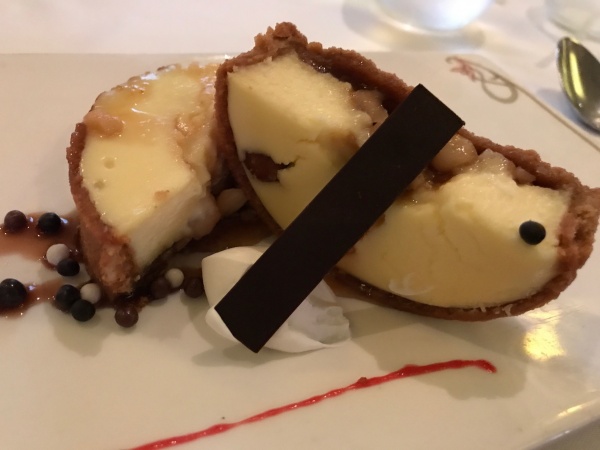 So, now that dinner was dine, it was time to head out to the Pirates in the Caribbean Deck Party. Here Guests are invited to dance, meet characters dressed in pirate garb, and more. Oh and you don't want to miss the special show! (Here Captain Jack actually does show up…the real Captain Jack!)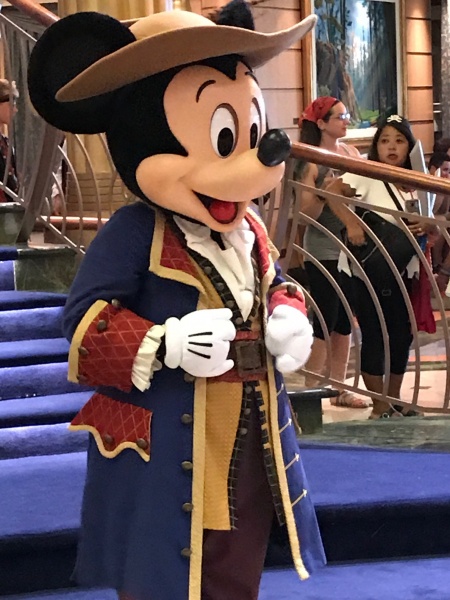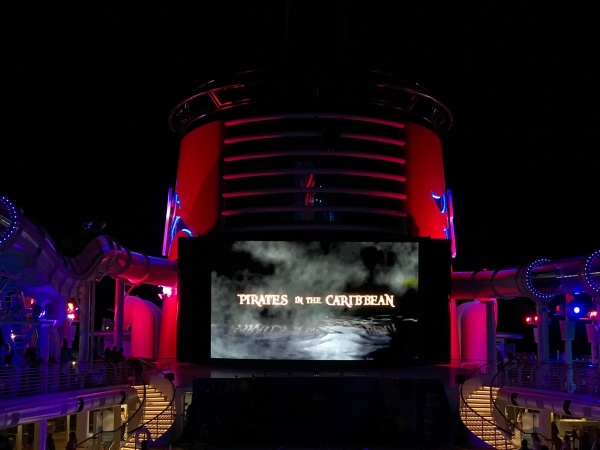 All of this is leading up to the famous Pirates in the Caribbean fireworks display. Do keep in mind that the fireworks show is weather permitting and may be postponed or canceled due to weather conditions, including high winds. (I have had the fireworks postponed before…so it does happen.) Also know that some itineraries do not include fireworks and some may even not include a Pirate Night.
Take a look at the fireworks show to see what it's like:
From there, it's the relatively secret Pirate Night buffet! It's only secret because it's not often talked about, but it definitely occurs!
Guests are able to head to Cabanas and enjoy delicious treats like tacos, turkey legs, baked potatoes, crepes, cookies, fruit, desserts, and more. Do know that this buffet is NOT available for very long. And when time is up, time is up. I watched as they closed the curtains on people who were trying to grab food!  The food here is good, but there is one problem….I'm usually stuffed from dinner still!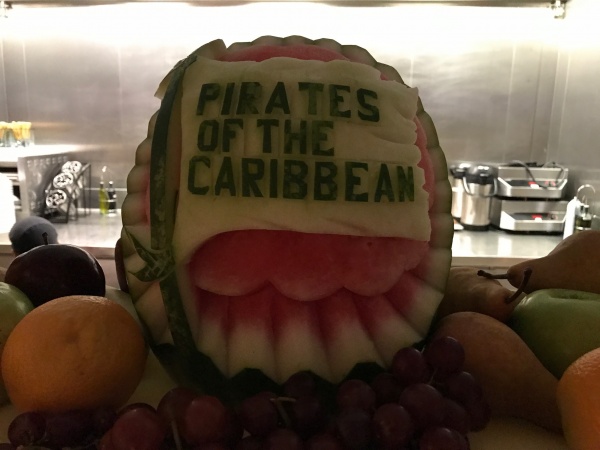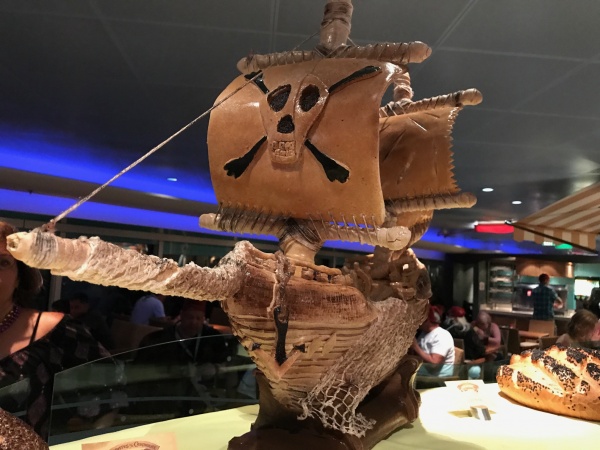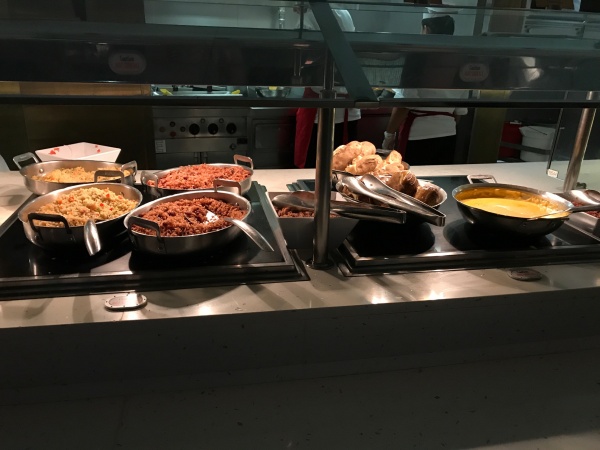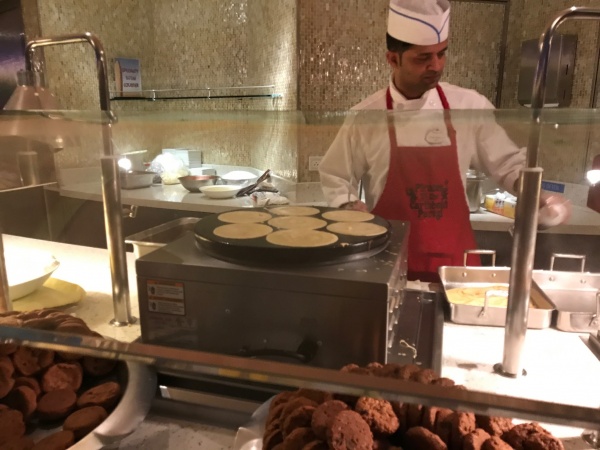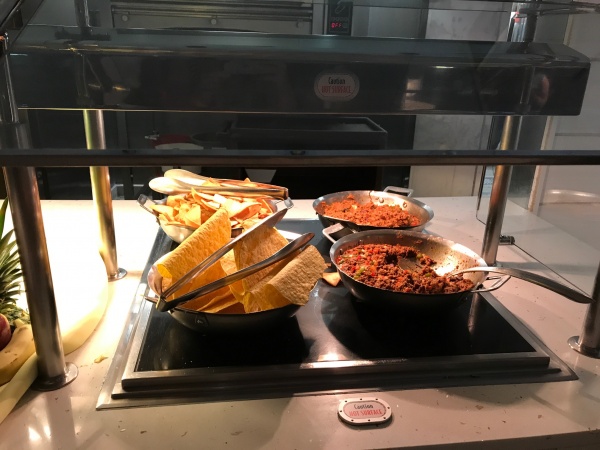 Pirate Night is such a staple of a Disney Cruise. I love how everyone gets in on the fun and really tends to go all in for the evening. The whole ship has a special energy on Pirate Night.
What is your favorite part about Pirate Night onboard Disney Cruise Line? Share with us in the comments or on Facebook or Twitter.
Did you like this article? Make sure to share it with your friends! Check below for easy ways to share!