This post may contains affiliate links for your convenience. If you make a purchase after clicking a link we may earn a small commission but it won't cost you a penny more! Read our full disclosure policy here.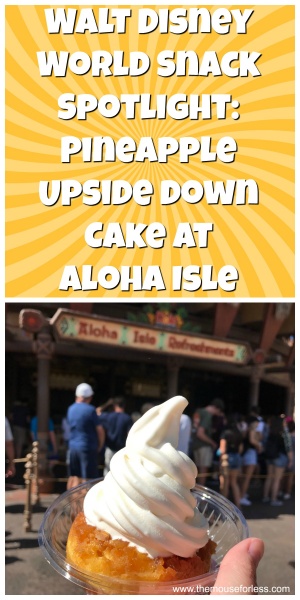 Stop the presses! There is a brand new treat that can be found at Aloha Isle at the Magic Kingdom. You know….the home of the Dole Whip. It's a pineapple upside down cake! Oh…and did I mention that you can get Dole Whip put on top?! Mind blown! So when I heard about this new treat, I knew it was something that I had to try.
Now, let's back up a bit because there's been some recent changes in regards to just where in the park you can find Aloha Isle. The quick service window recently moved to a larger location, near the Enchanted Tiki Room in Adventureland.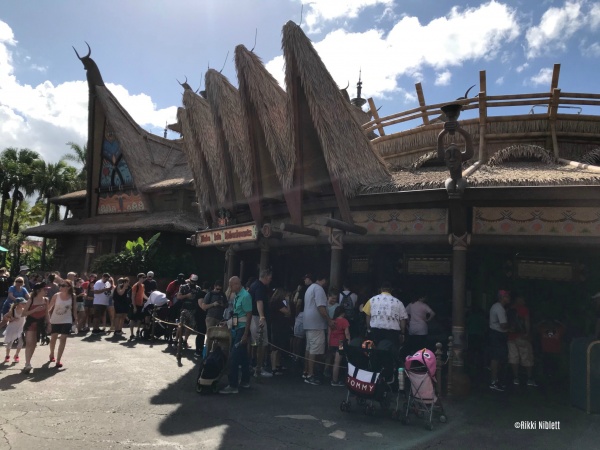 Oh and there's something else you need to know about Aloha Isle. It participates in the new Mobile Order System that was recently rolled out across the Walt Disney World Resort. So, on this occasion, not only did I decide I was going to get the pineapple upside down cake, but I was going to use the mobile ordering service to do it.
I pulled up the My Disney Experience app on my phone and clicked on the Order Food option. You can choose from a number of restaurants, so I chose Aloha Isle. Here, you can see the full menu of options and build your order as you go along.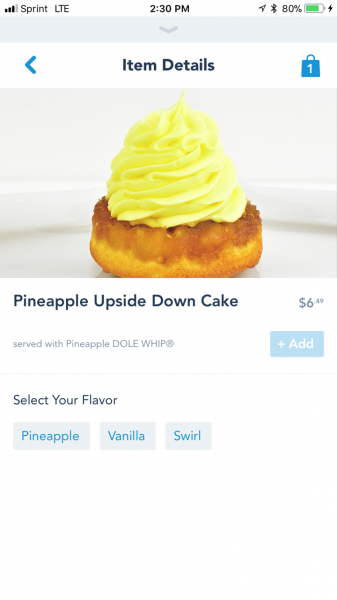 I picked the Pineapple Upside Down Cake and as you can see, you can choose to have regular Dole Whip, Vanilla, or Swirl (mix of Vanilla and Dole Whip) on top of the cake. Once I had the order the way I wanted it, I promptly paid via the app.  I did all the ordering while I was waiting in line for the Enchanted Tiki Room.
But that comes to the conundrum….I was going into the Tiki Room….wouldn't my ice cream be all melty by the time I came out of the show? The good news is that Disney doesn't start making your food until you hit the "I'm Here" button. Which means you can order your food well in advance and then when you're finally ready to eat, you can simply click and then head up to the designated Mobile Order pickup window.Which is exactly what I did.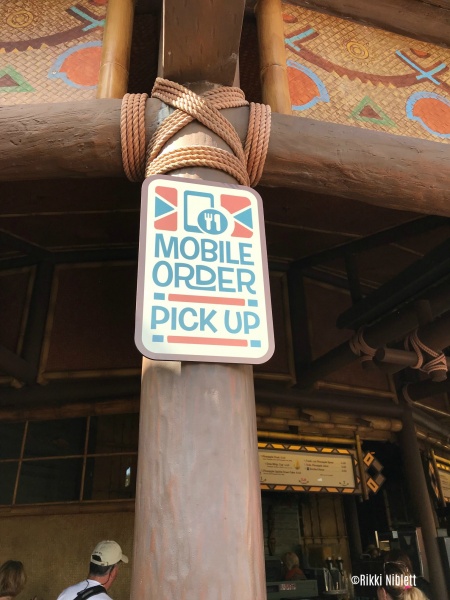 Oh and the best part….because I did mobile ordering, I bypassed the incredibly long line of people waiting to order their treats!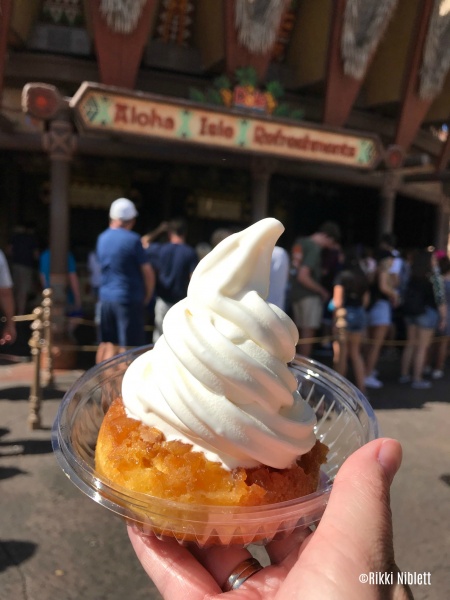 Now, let's get to the good stuff! The pineapple upside down cake was, quite delicious. I found that the cake, itself, was moist, and had a good amount of pineapple on top. It was a relatively decent sized cake overall.  Now, I don't really care for Dole Whip (I know…I'm terrible!) so I decided to get the cake with the vanilla option and it was fantastic. I hear that the cake was served warm….it was hard to tell because I had to eat the dessert in the middle of the blazing sun since there were no seats available with any shade.
I did split this cake three ways, and it was enough to give us all a decent taste of the dessert…however, I think you could easily eat this one all on your own and feel no shame.
Overall, I think the pineapple upside down cake with Dole Whip is a wonderful new addition and I can guarantee you that I will be getting it again. I do think it's a little pricey though, if you are paying cash. If you are on the Disney Dining Plan, this is considered a snack credit, and therefore would be a great value! But if you are a fan of the Dole Whip and pineapple upside down cake, you are going to want to try this new delight.
Have you tried the pineapple upside down cake yet? What did you think? Share your thoughts in the comments.
Did you like this article? Make sure to share it with your friends! Check below for easy ways to share!
Incoming search terms:
disneyland warm pineapple upside down cake