This post may contains affiliate links for your convenience. If you make a purchase after clicking a link we may earn a small commission but it won't cost you a penny more! Read our full disclosure policy here.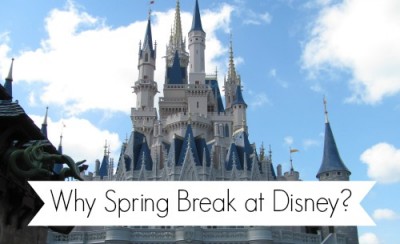 It may not feel like spring for many of us, but spring break season is upon us. When most people think of spring break during college, visions of beaches in Mexico and never ending parties usually come to mind. But a Disney Nut dreams of a much more magical spring break. Walt Disney World might not have a top ranking as the typical spring break destination among the collegiate crew, but after reading this list of reasons to give the resort a second look, I know you'll bump it up to first place.
1) It's in Florida!
I remember year after year after year of snow on the ground during 'Spring' Break. For a good portion of the country, that's probably your memories as well! So the idea of sunny Orlando when the temperature is below freezing at home is beyond appealing. If you're one of the lucky ones who gets to avoid snow and are laughing at the idea of going on vacation for warm weather when you already have it in your back yard, consider this: who else does tourism better? It's spring break! You deserve the best of the best for surviving the winter months, even if the only terribly cold thing you had to weather was your extended family at Christmas.
2) Sharing rooms is better in Disney
I am a huge fan of my own space, especially while traveling, but, if you're like me, when you're at Disney there isn't much else to do in the room but shower and sleep. There's so much to do in the parks instead of sitting in the room all morning. If you want downtime, check out the amazing pools that each and every resort on property has. With all of those things to do, there's not much time left to be getting in each others hair while sharing a room. Plus with so many room sizes across the property, you're free to get as many or as few people as you want staying in each room. (Editor's note: keep in mind that Disney resort rooms do have a maximum occupancy that must be followed, which does vary from place to place. Some only allow 4, some only 5, and some much more; make sure you follow occupancy rules.)
3) There's so much more to do
I will admit, I never took the 'typical' college spring break trip with beaches and loud music and drinking. So I'm assuming here that those are pretty much the three main things that happen on spring break. You are well aware that there is a lot to do at Disney World; it doesn't need to be restated here. Why in the world would you settle for a vacation that only has three main activities when you can go on thrill rides, watch parades, eat amazing food, drink around the world, rent a boat, see fireworks, go bowling, eat more amazing food, meet classic characters from your childhood, take a trip around two different lazy rivers, eat even more food, watch movies by the pool, and SO MUCH MORE. Disney isn't just a viable spring break option, it's clearly the superior option.
4) You CAN drink in Disney
All that from #3 being said, there are still plenty of places to have some of the more traditionally thought of spring break kind of fun. The only place you probably won't be able to find a drink is Magic Kingdom, unless you've lucked out with a reservation at Be Our Guest Restaurant for dinner. However, that being said, the other three parks and Downtown Disney provide a wealth of opportunities to pick up a fantastic beverage. It can be fun to pick up unique drinks from around the world at Epcot, trying things specific to each country. Also, most table service restaurants will have an excellent alcohol selection on their menu – The Abyss at Coral Reef (pictured above) is a personal favorite. Poolside bars at every resort offer refreshments while you lounge and most of the gift shops have a modest section of wine and beer these days. You are on vacation…so it can be fun to relax with a nice drink in your hand…just make sure to do it responsibly.
5) Flower & Garden Festival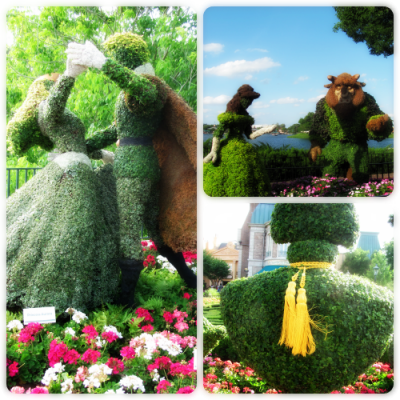 Does anything say spring more than thousands upon thousands of flowers? Every year from early March to mid-May Epcot is decked out in the most beautiful flower beds and topiaries. I haven't experienced them first hand yet but the wonderful food kiosks offer a whole new flavor to the World Showcase…why travel the world on spring break for great food when you can try unique options from all over the world in one day?
6) You don't even have to go to Walt Disney World to do Disney
So maybe, even after all of this, you're still not convinced that Disney World is the place for your spring break. First I'd like to offer you this alternative: Disneyland. It has all of the same great magic (of course with some things missing and some amazing exclusives) just on a different coast. The unbeatable experience of walking in Walt's footsteps doesn't hurt either. Still not down?
Looking for something outside the United States? What about some globe trotting to one of the four international parks: Hong Kong, Paris, Tokyo, or the soon to open Shanghai?  If that doesn't peak your interest and you still just don't want to go to a theme park for your spring break, then I present my trump card – Adventures by Disney. These type of vacations offer unique experiences in place like Costa Rica, Spain, Australia, and many more exotic locals. The entire globe has been searched by Disney for the best destinations. Above all else you do have to admit that Disney knows service; put everything in their hands and explore the world. Or if you want a beachy vacation, consider taking a trip with Disney Cruise Line to a tropical local!
Really, doing Disney for a college spring break trip (or let's face it, any kind of spring break) is the best option on the table. Why worry about losing your room key at the beach when your magic band stays securely on your wrist as you adventure through Disney's Animal Kingdom. Who needs to rent a car when Disney picks you up from the airport and drives you everywhere on property free of charge. It's time to give in already and high tail it to the Disney destination of your choice!
What's your best tip for enjoying Walt Disney World for Spring Break?