This post may contains affiliate links for your convenience. If you make a purchase after clicking a link we may earn a small commission but it won't cost you a penny more! Read our full disclosure policy here.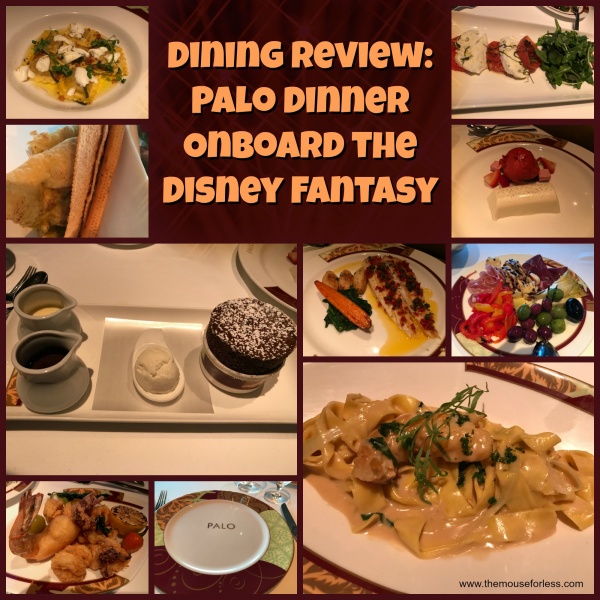 One of my favorite things to do when on a Disney Cruise Line ship is to take part in the adult dining. It's not that I don't like the regular rotational dining experience, but there's just something about being able to go on a "date" with my husband that's a little more elegant. Which is why, as you may have realized from my previous article, I really enjoyed my first ever experience at Remy. But, with all that being said, Palo has always been my go-to for when sailing on Disney Cruise Line. Both because of the price (it's only $30 additional per person), as well as the type of food served. (I love Italian dishes.)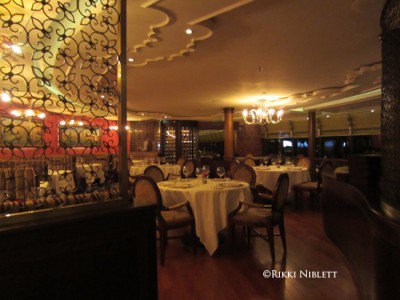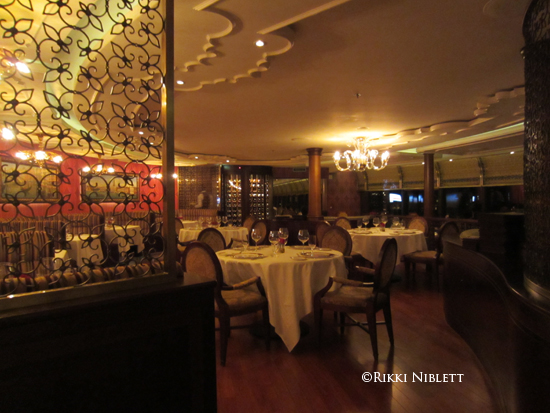 Palo, which is named after the signature long poles used by gondoliers in Venice,  boasts stylish furnishings, custom art and Italian-inspired décor. Palo has an upscale feel, with lots of rich burgundy and gold colors and is found on all four Disney Cruise Line ships – the Disney Magic, the Disney Wonder, the Disney Fantasy, and the Disney Dream. The tables onboard the Disney Fantasy all have a view of the ocean and the perfect time to dine here is at sunset. Also of note, Palo is an adults only restaurant, meaning only those 18 and older may dine here, so unfortunately, if you have little ones in tow, you'll either have to have another family member watch them, or have them visit the kid's areas during your meal.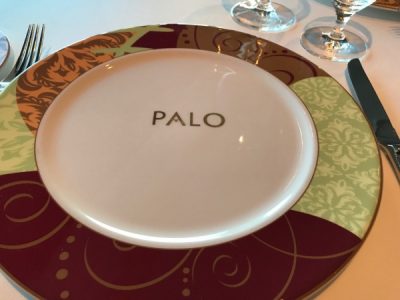 While Palo isn't as upscale at Remy, it still is a restaurant where there is a dress code that is enforced. Men must wear dress pants and shirt or jacket is required and a dress or pantsuit is required for women. Jeans, shorts, capri pants, flip-flops or tennis shoes are not allowed.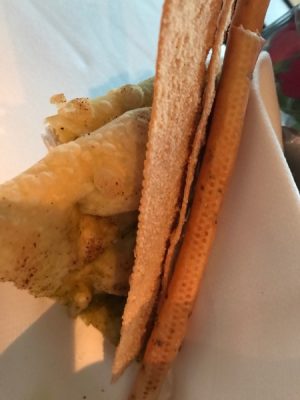 Once Guests are seated, they will be delivered delicious bread options. My tip….don't fill up on the bread. I know you're hungry and it's delicious, but I promise it will be worth it!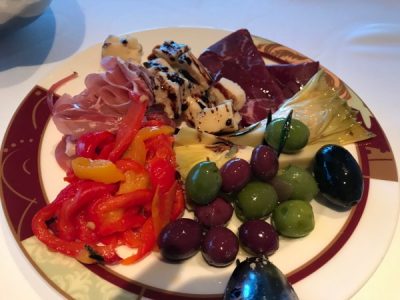 Then, you are brought the antipasti cart. Oh…the delicious antipasti cart! I adore this course. There are delicious meats, like prosciutto, great cheeses, olives, peppers, artichokes, and more.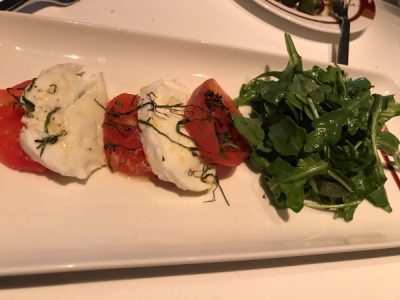 For our appetizer, we got the tomato mozzarella caprese with balsamic and basil. Again, because of cruising, I have learned to LOVE caprese. It's so light and fresh and of course, here was no exception.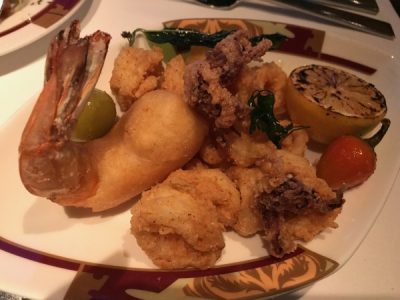 My husband got the calamari, which was cooked to perfection. It was not chewy at all, and again, another great choice. Also, the shrimp was HUGE!!!!!!!
Now, I do have one major disappointment. They have taken the lobster ravioli off the menu! Ack! I had to decide on something else to order!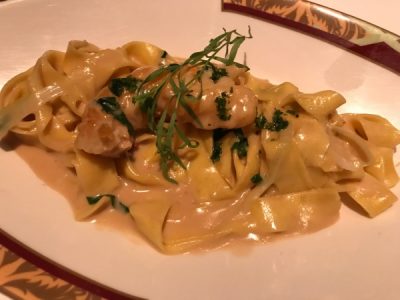 I decided to try the Pappardelle con Aragosta. This featured lobster, rosemary, and a lobster terragon. I thought this was just ok. It certainly wasn't as good as the ravioli was. I think I would choose something else the next time. It was good and filling, but I just wasn't wowed by it.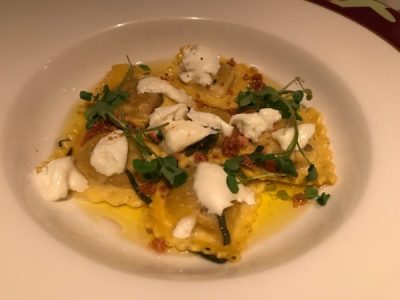 We also got the butternut agnolotti which is served with a sage butter sauce and topped with buffalo mozzarella. This was a better dish. Very rich, due to the butternut squash.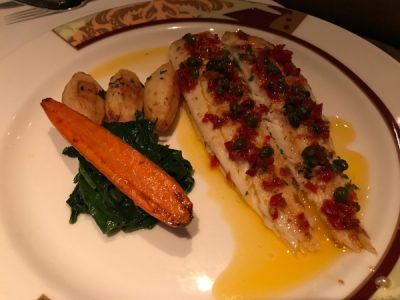 My husband got the Dover Sole, which is served with nut-brown butter capers, sun-dried tomatoes, spinach, carrots, and thyme potatoes. This is filleted tableside and he very much enjoyed it. The fish was flaky and light.
As far as entrees go, I do feel I need to keep trying dishes at Palo. It's hard to replace the ravioli to me, which is hands down, my favorite dish that I could get onboard Disney Cruise Line. But I'm sure I'll find something. That just means I need to keep researching.  🙂  The entrees are all very good, don't get me wrong; they just don't live up to the ravioli to me.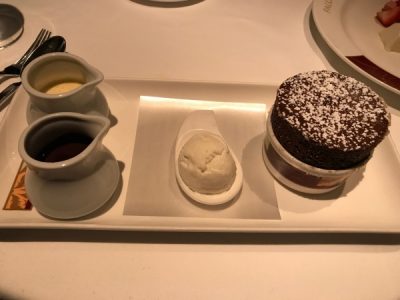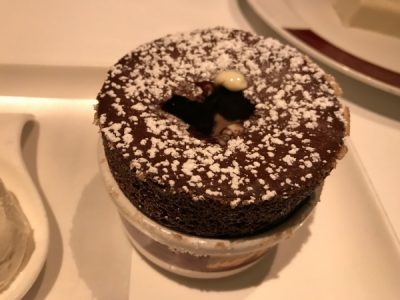 As far as dessert, for me, there's only one real option. It's the famous, chocolate souffle. This is a chocolate lovers dream. It is insanely rich and dense. Add the vanilla and chocolate sauce on top of it and it's just incredible. I dream about this dessert.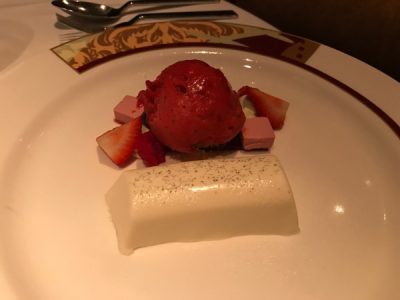 My husband isn't a big dessert person, but he got the vanilla bean panna cotta, served with a strawberry basil gelato. He liked this a lot! It was light, definitely, compared to my souffle.
Overall, I think Palo dinner is a good bet. It's honestly worth it for me, even if I just had the antipasti, appetizers, and dessert! Palo is a delicious option and a great choice for those who are wishing to have a romantic or adult meal when cruising on Disney Cruise Line.
Have you dined at Palo? What were your thoughts of it? (And what dish should I try the next time….because there will be a next time.) Share your thoughts in the comments.
Did you like this article? Make sure to share it with your friends! Check below for easy ways to share!
Incoming search terms:
https://www themouseforless com/blog_world/palo-dinner-disney-fantasy/