This post may contains affiliate links for your convenience. If you make a purchase after clicking a link we may earn a small commission but it won't cost you a penny more! Read our full disclosure policy here.
We all look to have unique experiences on our vacations. Something that really takes the trip to the next level; something that pluses it. There are many different plussed options available at Walt Disney World. Things that range from dessert parties, to boat rentals, to VIP tours. The options available are really incredible. Of course, dining experiences are a huge part of the vacation experience lately, and I can tell you, there's one place that you should definitely check out if you're looking to experience something a little more unique while visiting the Walt Disney World Resort.
Paddlefish, located in The Landing at Disney Springs, is one such restaurant that offers opportunities for you to plus your vacation. The award-winning restaurant (it just won the Orlando Magazine's Readers' Choice Awards 2018 Dining Awards as the Best Seafood Restaurant), offers a multitude of unique options that can take the dining experience to the next level including rooftop wine experiences, Sunday brunch, and a late night rooftop with live entertainment. But there's one more experience that I got to take part in that definitely needs to get added to your list. Paddlefish offers monthly "experiential" meals that Guests are invited to attend.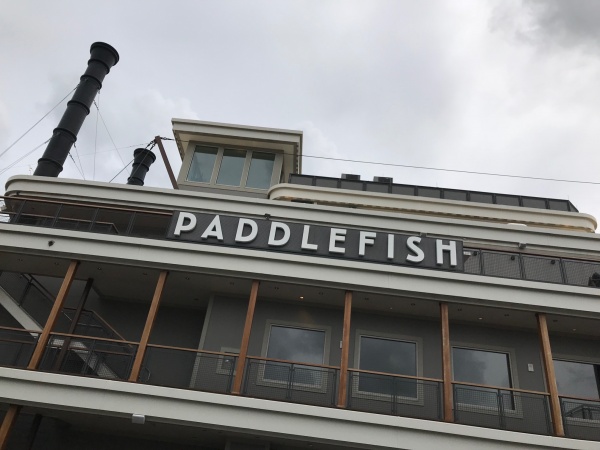 On my visit, I got to take part in the "Cooking with Mom" event. During the experience, Paddlefish's Chef Steve Richard taught how to cook using simple techniques to create restaurant quality dishes at home.
When we sat down in the private dining area, in front of us was a recipe booklet, so we could make the recipes at home that we would be seeing cooked and trying during our visit, and in addition, there was a Paddlefish apron. The whole opportunity was quite small and exclusive. There was only room for 16 of us.
Immediately after sitting down, we were offered glasses of wine. Red and white were available and were refilled frequently as needed.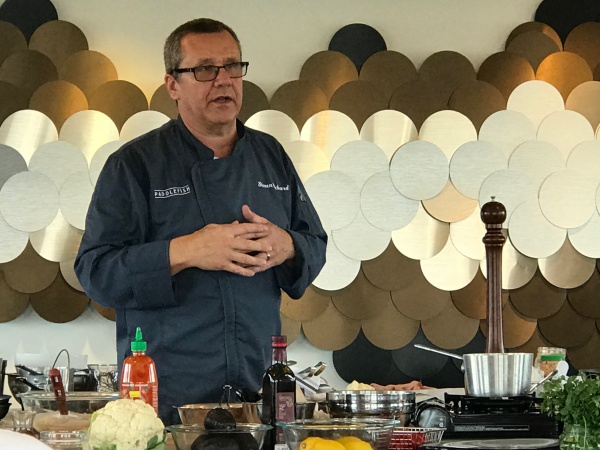 Chef Steve came out and immediately started getting to work. It was clear that many who were in attendance were frequent repeaters to these events that Paddlefish holds, giving the whole event a kind of "family" feeling and even though this was a first time as part of the family, we were quickly welcomed in.
The first course we learned how to make was the Crab Louie Salad. It was incredibly interesting to watch how this was made. As someone who is a relatively picky eater, but who is opening up her palate ever with every passing day, I still find it hard to cook. My dishes at home are very limited, because, truthfully, I usually only put things in my dishes that I know I like. The Crab Louie Salad was one of those dishes where when I saw the ingredients used, I wasn't sure I would enjoy it initially. It had things like avocados and siracha, neither of which do I have in my kitchen because I am "not a fan" of those two items. However, after one bite of this salad, my preconceived notions started opening. Chef Steve made me quickly realize that maybe I could make more adventurous things in my kitchen.
The Crab Louie Salad was incredible. It was light and fresh and a first course.
The next course was a miso-braised pork shoulder. Now I make pork shoulder at home, but making a miso-braised dish was certainly something I'd never thought of before. Holy cow! this was amazing! The dish was served with pureed cauliflower and picked carrots. Both were fantastic. Honestly, I will be making this dish moving forward on constant rotation.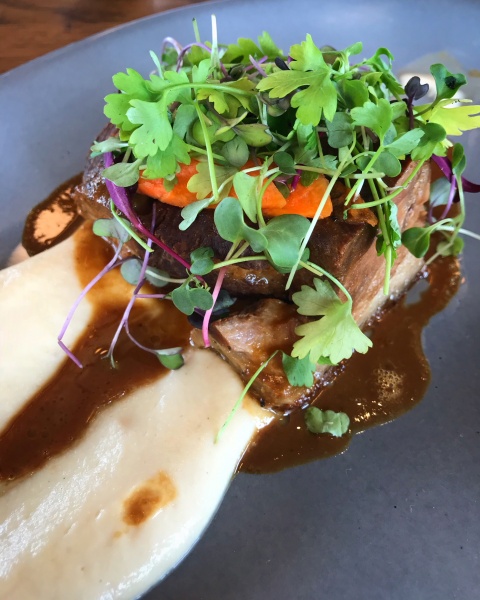 Finally, it was time for dessert and this is what I was looking forward to! You see, creme brulee is one of my all time favorite desserts and during this meal, we were going to be having a chocolate creme brulee. (You all know I'm a chocoholic, right?) One bite and I was in heaven. I was floating from deliciousness. This dish has been added to their regular menu.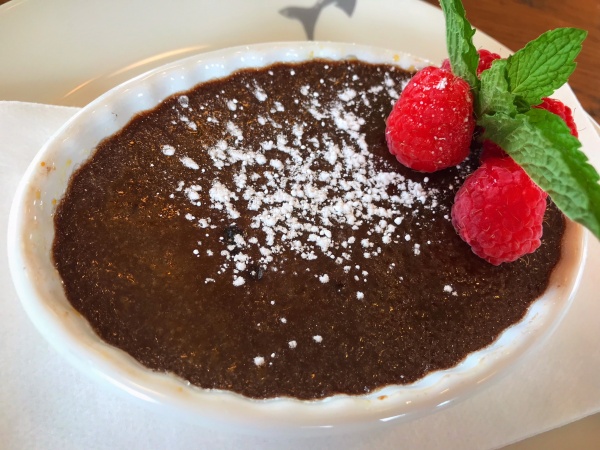 As I mentioned, this was sort of a family experience and throughout the event, those of us in the "audience" were asked to come up and assist Chef Steve. My participation was to help make the creme brulee! They actually handed me a blow torch(!) so I could help to make the hard crust of the dessert. (I wondered if they knew where the fire extinguisher was.) For my first attempt ever at using a blow torch, it went well! (And yes, there's video proof of me finishing off my very first creme brulee.)
The other thing we learned during our presentation was how important presentation is. Chef Steve showed us how just a small tweak in how we present our dishes can make a huge difference to making that dish look more appealing. Who else grew up with their family separating the meat from the starch from the veggies on a white plate? I definitely did. We learned that by just simply changing the way things are plated, it makes the dish look much more inviting and enjoyable.
This event was a huge learning experience for me and I'm quite glad I got to take part in it. The skills I learned will definitely be added to my cooking repertoire and my palate was expanded once more. To me, that's what these kinds of events are all about. They are about growing and experiencing delicious food that is simply decadent.
I would absolutely suggest that if you have the opportunity, you should take part in one of these special Paddlefish monthly events. I found it to be an enjoyable experience that certainly is one of those experiential options Guests longingly look for on their vacations. The next event will be taking place next week, on June 13 and will be a celebration of that award I told you about. Called The Best of Paddlefish Dinner, Guests will be able to enjoy a 5-course meal with fresh seafood and wine pairings. The cost will be $115 per person, which includes tax and gratuity. Tickets can be purchased here.
Also, I have a giveaway for you! I have a Paddlefish apron and recipe book, with all the recipes that we learned how to make at the event, to give away! Simply enter below to win!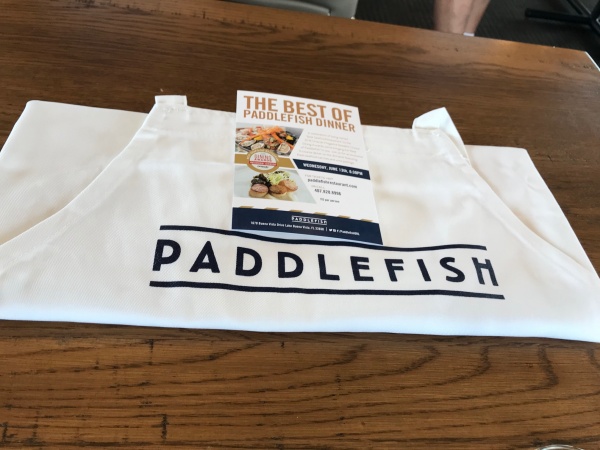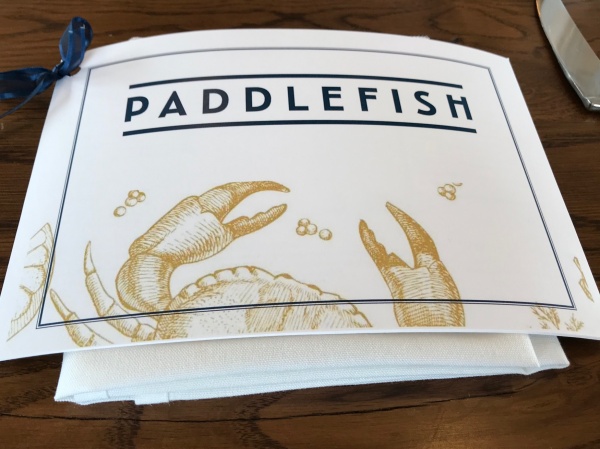 Disclaimer: I was invited as media to this event and was a Guest of Paddlefish's, however that does not change my experience, nor did it influence the opinions of my review. 
Have you ever dined at Paddlefish or experienced one of these special events? Let me know your thoughts in the comments or on Facebook or Twitter!
Did you like this article? Make sure to share it with your friends! Check below for easy ways to share!