This post may contains affiliate links for your convenience. If you make a purchase after clicking a link we may earn a small commission but it won't cost you a penny more! Read our full disclosure policy here.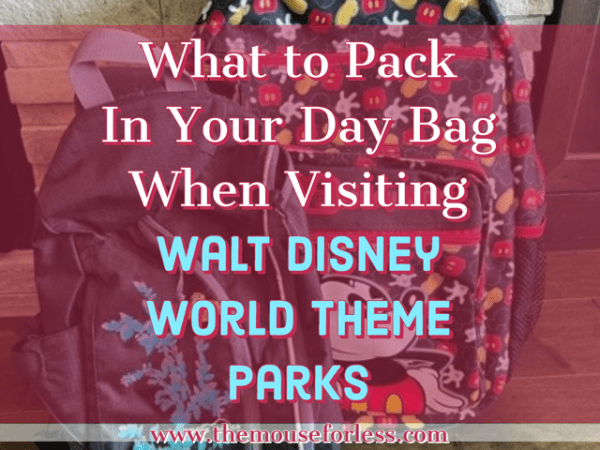 Two of the most frequently asked questions among Disney park goers is, "What type of bag should I bring?" and, "What should I bring in my bag on my park day?" It will vary from person to person and family to family, but there are some popular options and items that can make your day easier and happier!
What Type of Bag is Best?
Probably the most popular choice among families is a backpack. Backpacks come in all sizes, so you can choose which one will fits you and your stuff the best. You can use a full size backpack, such as a Jansport bag, or a smaller one, such as those made by Loungefly. Another style to consider is a sling style backpack. It can be very helpful to use a backpack with pockets on the sides to hold your water bottles. We've found this to be a must-have on our park bags. Another advantage to backpacks is that many styles can be unisex, meaning that everyone in the family can take a turn carrying it!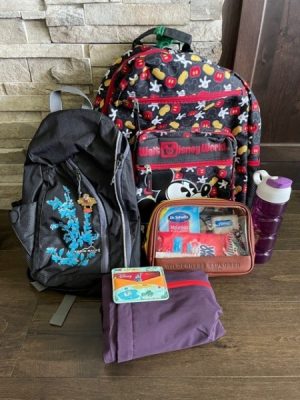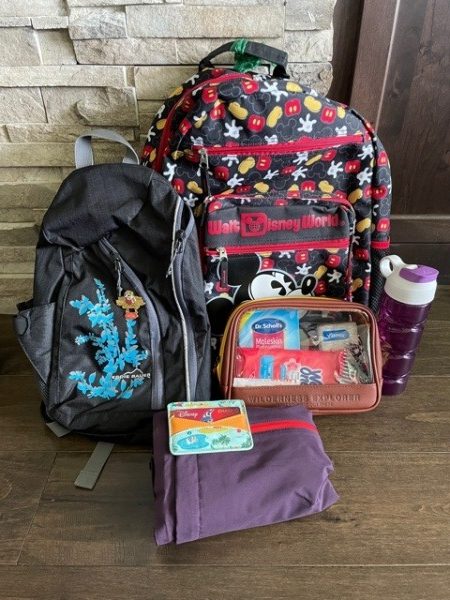 Another popular option is the crossbody bag. Crossbody bags are typically flatter than a traditional purse, and have long straps that can be worn "across the body." Many people prefer this style because of the security it adds. You can wear it across the front of your body, allowing you to see it at all times, and having the strap across you makes it more difficult for someone to try to lift off your shoulder than a traditional purse. It's also very easy to sit down on rides wearing a crossbody bag and not have to take it off, as you need to do with a backpack.
A bag that's been making a comeback recently is the fanny pack! They're more commonly known as "waist packs" these days. They allow you to bring the essentials with you, but not be burdened by a larger bag on your park day. This is a popular option with people who can be minimalists when it comes with what they bring into the parks.
Choose the right bag for you based on what can carry your personal needs and is comfortable to you for an extended period of time. Just like shoes, be practical! That tiny designer Mickey bag you purchased for the trip may be better suited for an evening at California Grill than a full day at the Magic Kingdom.
What Should I Bring With Me?
The next question is, "What should I bring in my park bag?" Here are a few suggestions of things you may need or want during the day.
Wallet/card keeper – Particularly your ID and credit card
Phone
Portable charger & cord – You'd be surprised how important these items are!
Sunscreen
Bandaids & Neosporin – You can get more at first aid station, but if you're on the other side of the park you'll be glad you packed them.
Sunglasses
Regular glasses (if needed)
Poncho or lightweight jacket – The weather can change quickly!
A hat
Water bottle/reusable straws
Snacks for kids and adults!
Tylenol/Advil – Available in gift shops and at the First Aid station, but can be pricey if you need to buy some.
Moleskin for blisters
Any personal meds
Baby wipes/hand sanitizer
Diapers and/or a change of clothes for little ones
I also suggest leaving a little room in the bag for souvenirs you may purchase during the day!
If you need first aid or baby care items and don't have them with you, the first aid station and baby care center may be able to help. There is one of each in every park, and their location can be found on the guide map or in the My Disney Experience app's park map.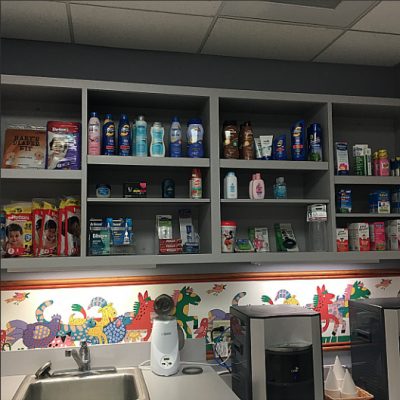 Another thing that I've found to be really helpful is to put my items into smaller bags. That way I can reach into by backpack and pull out the bag with all of the medical items in it when we need a bandaid or a snack and not have to dig and shuffle through everything. You can use bags with fun Disney prints, or just regular Ziplocs!
Pick which kind of bag you think will work for you and pack your/your family's essentials. You'll discover what works for you and what you really need (or don't need) for a great day in the parks!
What tips do you have for choosing a park bag and what you bring into the park with you? Let us know in the comments or on Facebook or Twitter!
Did you like this article? Make sure to share it with your friends! Check below for easy ways to share!  
Want to visit a Disney Destination? Contact The Magic for Less Travel for more information and a free, no-obligation quote.

Incoming search terms:
https://www themouseforless com/blog_world/packing-bag-walt-disney-world-theme-parks/
best backpack disney
best backpacks for theme parks
daypack at amusement park
good theme park backpack
https://www themouseforless com/blog_world/packing-bag-walt-disney-world-theme-parks/#:~:text=You can use a full have on our park bags