This post may contains affiliate links for your convenience. If you make a purchase after clicking a link we may earn a small commission but it won't cost you a penny more! Read our full disclosure policy here.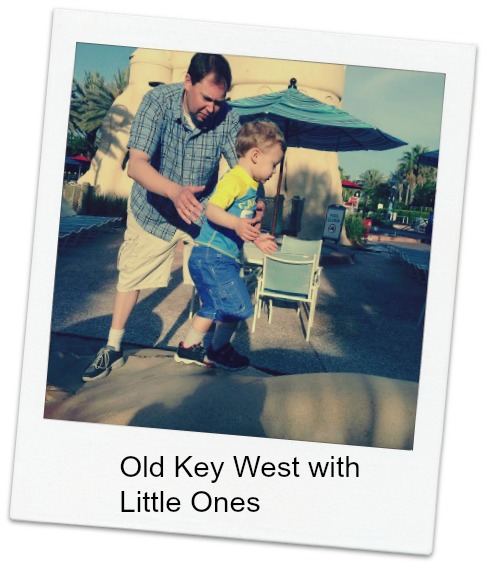 Old Key West was the first Disney Vacation Club Timeshare resort. It opened its doors in 1991 under the name Disney's Vacation Club Resort. Many people think of Old Key West as well….. "Older", I mean the word "Old" right in the name. This misconception, that Disney's Old Key West Resort is for the retirement crowd only, is often due to the more subdued and laid back theme of the resort. The resort features pastel, pink, teal and aqua buildings housing the typical Disney Vacation Club Studios one bedroom, two bedroom, and three bedroom deluxe villas.  The buildings are split into mini communities that center around the Sassagoula River and a stunning golf course.
The relaxed South Floridian vibe of the resort CAN read as mature for a young family, however I can tell you as a "been there, stayed there" Mom that this resort is wonderful for young families for a multitude of reasons.
Room Size: Old Key West has the LARGEST rooms in the 1, 2, and 3 bedroom categories of any DVC hotel and the second largest Studios after Disney's Polynesian Villas and Bungalows. The rooms are spacious and airy and bright, giving a family with small children the room to spread out after a long day at the park, and children space to play without being on top of the adults. Several years ago I stayed in a two bedroom and it was larger than the first home I owned!
Room Layout: Old Key West has the ONLY studios in the Disney Vacation Club inventory that has Two Queen sized beds in a studio rather than a Queen bed and a pullout couch. This is great for families traveling with a child who is used to sleeping in a bed at home, and may not want to sleep on a pullout on vacation, a family with two children who can share a bed, or even a family who co-sleeps at home but may want or need to spread out on vacation.
Pool/ Sand Play Area: The main feature pool at Disney's Old Key West is called the Sand Castle Pool for the large slide that is housed in a faux sandcastle with a "not so hidden Mickey" head as the opening to the slide. This ADORABLE area also features a wonderful small splash pool for little ones as well a terrific sand play area and play ground. Toddler through school aged can splash and slide and run around this area to burn off some energy after long days in the park. The Conch Flats General Store located right around the corner sells small boats and pails and shovels for reasonable prices, so kids can really enjoy their time at the pool. Like all Disney hotel pools life jackets in a variety of sizes are available. Quiet pools and smaller playgrounds are also located in the Turtle Pond and South Point Neighborhood.
Parking: Old Key West has plentiful parking, and it is conveniently located right outside each neighborhood's door. If you have driven to or at Walt Disney World with small kids the walk from the car to the resort room at the end of a long day in the parks is exhausting. Being able to park right in front of your resort room is a true convenience
Transportation: Although Old Key West relies on bus transportation to and from the parks, with multiple internal stops, it has the distinct feature of a water taxi to and from Disney Springs. This is a fun with small children as the boat ride is almost as thrilling to them as the Space Mountain is to adults, and being able to take a leisurely boat ride at the end of the day to a relaxed dinner and some shopping is a great perk to staying at this hotel. My son was fascinated by watching the boats come and go from the dock as a toddler. He could have spent all day waving to the boat passengers as they left.
Recreation Opportunities: Old Key West has a fun filled Community Hall. This space offers video games, arts and crafts (sometimes for free, sometimes for a small fee), board games, and more. Traveling with small children who are sometimes overstimulated by the parks it is nice to have a space to just unwind indoors and make some family memories playing a game or making a craft. The Cast Members that work at The Community Hall are wonderful at making everyone feel included in the experience of relaxing in a home like environment.
Dining: Goods to Go is the Quick Service option at Old Key West. Although they don't offer a huge variety of foods they offer family favorites like Chicken Nuggets, Pasta, and French Fries, as well as more exotic options like Shrimp Cobb Salad and Conch Chowder. Olivia's sit down restaurant has a delectable menu with staples such as Crab Cakes, and Key Lime Pie as well as kid's favorites like Mickey Pasta and Cheeseburgers. Both are open for breakfast lunch and dinner and often (but not always) have last minute walk up availability. The atmosphere here is casual and relaxed, so it is easy to dine with small children.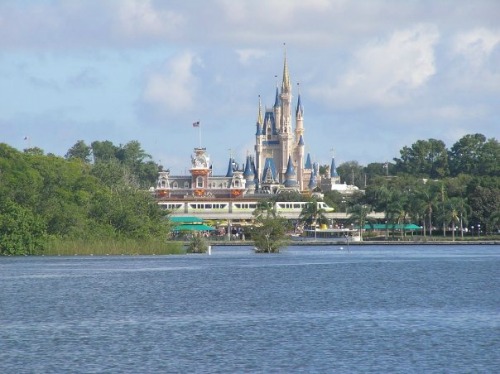 All said one of the best advantages to staying at Disney's Old Key West Resort with small children is that the vibe of the resort is relaxed, welcoming and "homey". Cast Members are genuine with their "Welcome Home" greetings and member family photos are displayed with pride in front of entrance to Olivia's. Old Key West really focuses on the family memories that make a Walt Disney World vacation so unique for so many people and can be a great choice with young children.
Have you stayed at Disney's Old Key West with little ones? What were your experiences? Share them in the comments.
Incoming search terms:
https://www themouseforless com/blog_world/old-key-west-with-little-ones/
disneys ild key wedt sith three yesr ild