This post may contains affiliate links for your convenience. If you make a purchase after clicking a link we may earn a small commission but it won't cost you a penny more! Read our full disclosure policy here.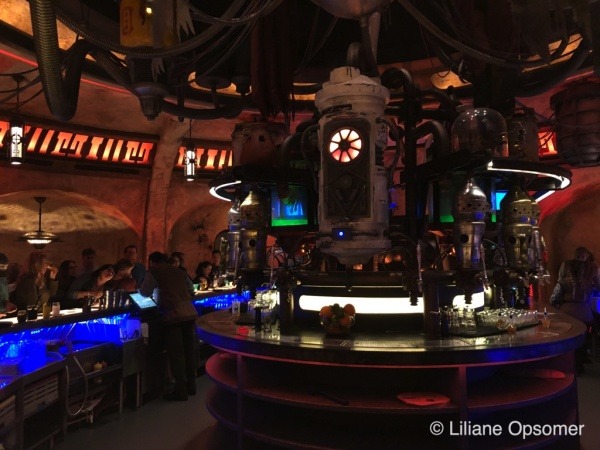 You heard that right, Oga's Cantina is open as early as 6:00 a.m. and the underworld boss welcomes thirsty visitors till park closing.
Breakfast guests can enjoy a Bloody Rancor, which is Batuu's version of a Bloody Mary, or enjoy a Spiran Caf, a coffee enhanced with rum and topped with whipped cream.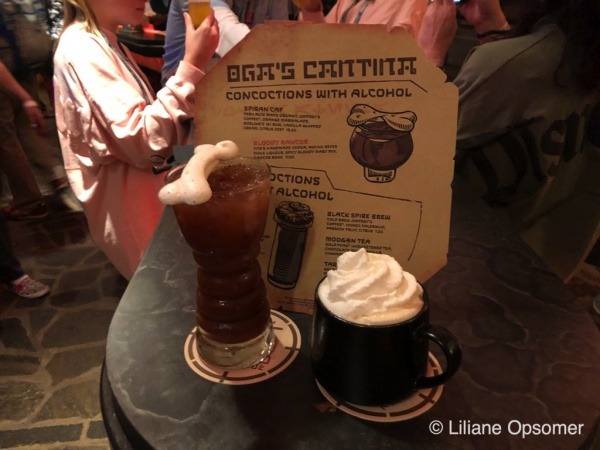 If you are into Blue Milk (I am not a fan), go for the Blue Bantha served with a cookie on top! If you worry about drinking on an empty stomach, worry no more. Order the Mustafarian Lava Roll, a cinnamon-flavored pastry, or the Rising Moons Overnight Oats, which is hands-down the best yogurt (with oats and other seasonal fruits) that I've had in a theme park.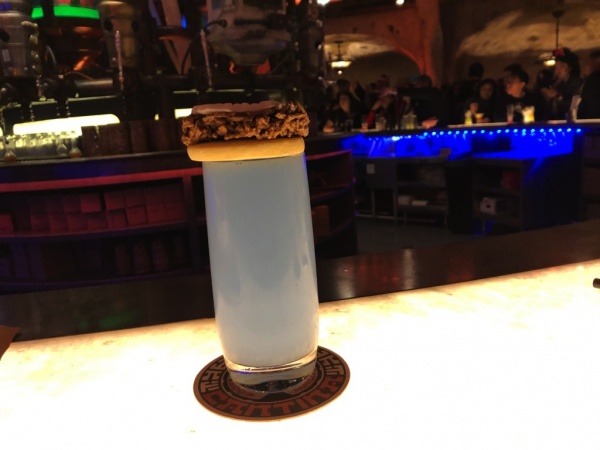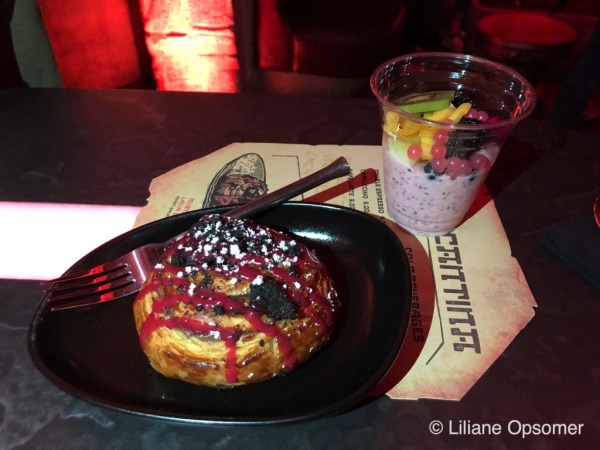 If you like fruit punch-style drinks, Bespin Fizz is for you. The mixture of yuzu puree, pomegranate juice, white cranberry juice, and rum with dry ice for added fun is too sweet for me. I did love the tartness of the Dagobah Slug Slinger, an herb-focused mixture of curaçao, tequila, bitters, ginger, and citrus juices.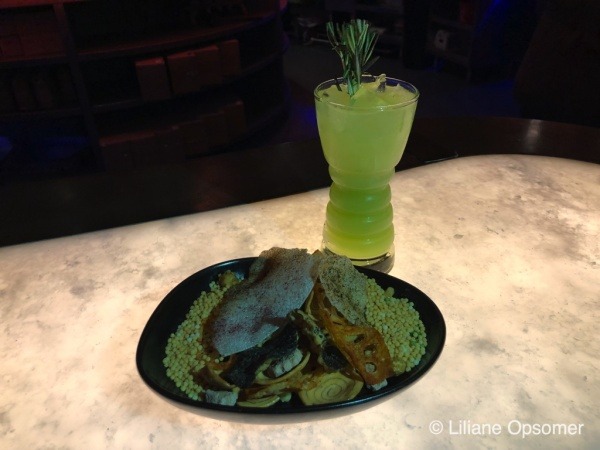 The most interesting drink is the Fuzzy Tauntaun, a vodka and peach Schnapps concoction topped with "Buzzz Foam." The foam creates a tingling sensation that heightens the sweetness of the peach Schnapps and the coldness of the drink. The Outer Rim is the closest to an earthly Margarita. It is based on tequila, blue Curaçao liqueur, and lime juice and comes topped with black salt and fruit purée.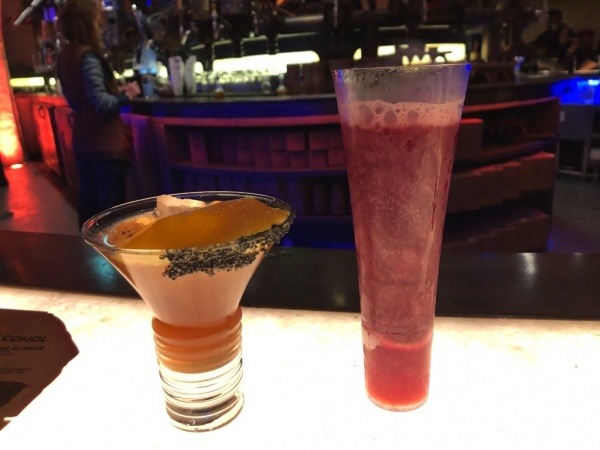 The Jedi Mind Trick, a blue Curaçao liqueur-based drink, is mixed with grapefruit and rose vodka, white grape and lime juice, and bitters. I would not order it again. I did enjoy the Jet Juice, a bourbon-based drink, which is the strongest offering in the house.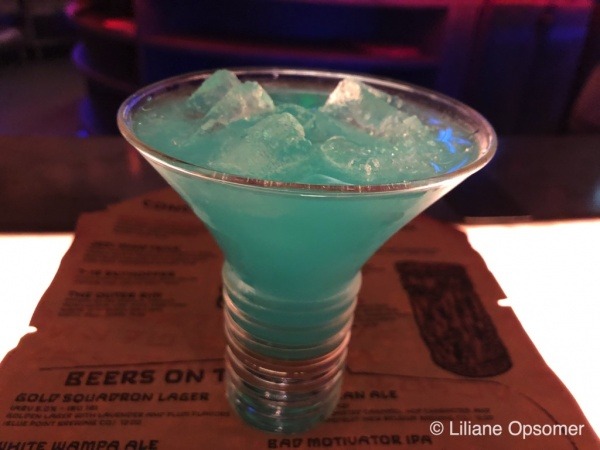 There is not much to munch on at Oga's Cantina during the day except for Batuu Bits, which are a well-themed salty mix of mostly dried fish pieces, tortilla chips, and wasabi peas.
If you are looking to bring home a souvenir mug, go for the Yub Nub, a fruity drink with rum and fruit juices. The drink is served in an Endorian mug ($42), while the Cliff Dweller, a nonalcoholic sweet drink, comes in a porg mug ($32).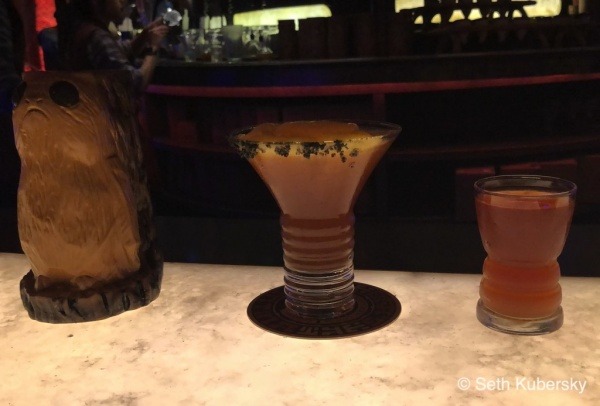 One cannot talk about Oga's Cantina without mentioning the droid in charge of the music. It is none other than DJ R-3X, also known as REX, the talkative Starspeeder 3000 pilot droid from Star Tours. He is doing a great job. Disney commissioned musicians and composers from around the world to craft original music for his playlist, and he is not going to run out of tunes anytime soon.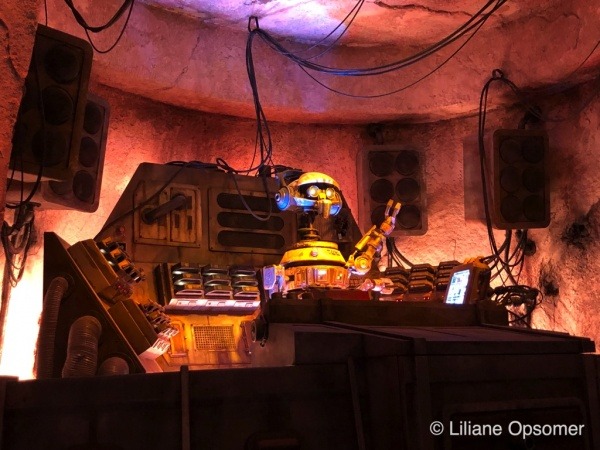 Know Before You Go: Oga Garra keeps a tight ship, and is a reservation-only experience. Reservations are available via the Disneyland App or online 14 days prior to your visit, however Disney will hold back some slots for same-day reservations when guests can reserve the remaining spots as of 7:00 a.m. on the day of their visit. The plan is to eventually integrate the experience in the regular 60-days advance reservation system otherwise available for experiences at Disneyland.  A credit card is required and a $10 fee, per person, will be charged if you decide to insult Oga by not showing up. More details can be found here about the reservation process.
For all there is to see and do at Star Wars: Galaxy's Edge, check out The Unofficial Guide to Disneyland.
Have you visited Oga's Cantina yet? What did you think? Let us know your thoughts in the comments, or on Facebook or Twitter!
Did you like this article? Make sure to share it with your friends! Check below for easy ways to share!
Want to visit the Disneyland Resort? Contact The Magic for Less Travel for more information and a free, no-obligation quote.