This post may contains affiliate links for your convenience. If you make a purchase after clicking a link we may earn a small commission but it won't cost you a penny more! Read our full disclosure policy here.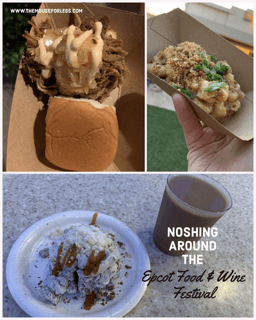 Last week, I was enjoying a delicious walk around Epcot, taking in all the smells and tastes of the Epcot Food and Wine Festival. This year's festival is the longest ever and lasts until November 23, so there's still plenty of time for you to make your way to the park to enjoy the deliciousness.
Now, I clearly can't eat everything in one day, so my husband and I decided we would make a dinner out of walking around and picking out a few dishes that sounded yummy to us. Here's what we tried and what were the hits and what were the misses. (Hint….this time, there weren't any misses!)
We started with the Eats section of the Festival. Here, you'll find Active Eats, Earth Eats, and Coastal Eats. We sampled dishes at two of these booths.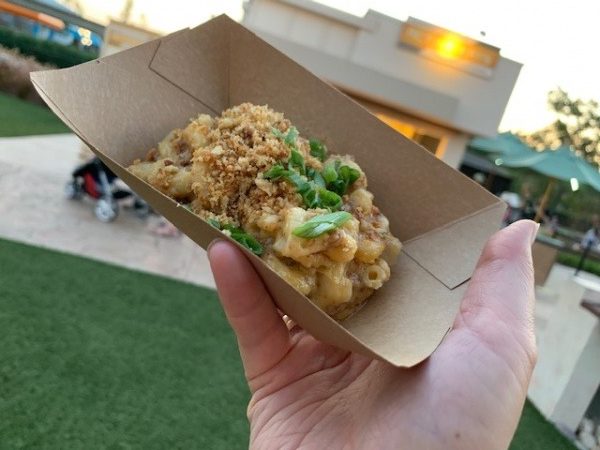 The first was from Active Eats and it was the Loaded Mac 'n' Cheese with Nueske's Pepper Bacon, Cheddar Cheese, Peppers, and Green Onions.  This year's felt a little light on the bacon, but the pepper was definitely there. The dish was cheesy and the breadcrumbs were a nice touch. This was a favorite of my husband's from the whole festival.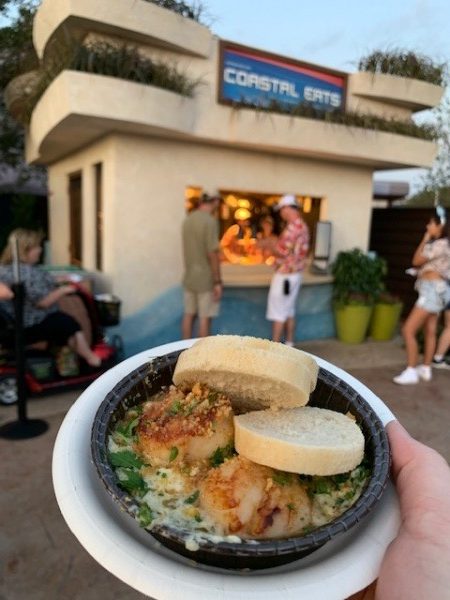 My favorite dish from the entire festival could be found at Coastal Eats. It was the Baked Scallop and Shrimp Scampi Dip with Sourdough Baguette. It was incredible. There were lots of hunks of seafood and this was incredibly cheesy and just good. I want to get the recipe to make this at home. Only downfall, I could have used more bread….but I always need more dipping material when I eat things like this.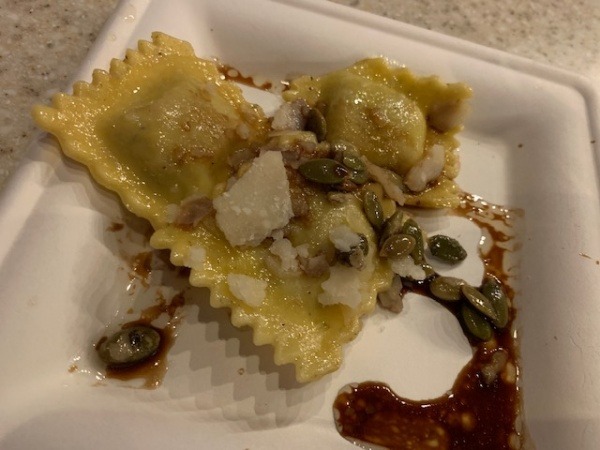 My second favorite dish was the Butternut Squash Ravioli with Brown Butter Vinaigrette, Parmesan Cheese and Pumpkin Seeds from the Wine and Dine Studio. The flavors meshed well together and the Butternut Squash was the perfect fall flavor, even though it was still really hot outside (at night.) I enjoyed the added crunch from the pumpkin seeds. Again, this is another dish I would like to make at home.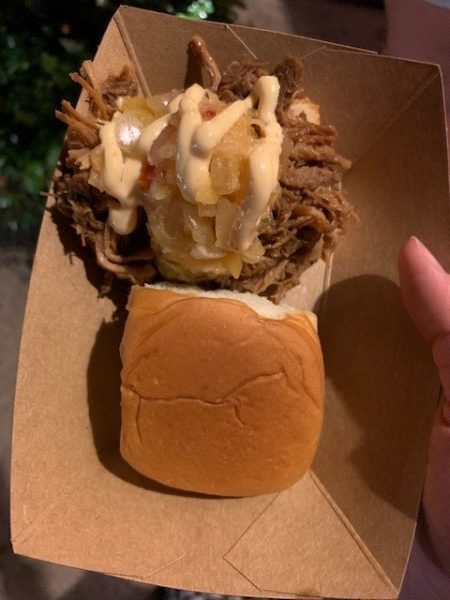 A staple of the festival is Hawaii's Kalua Pork Slider with Sweet and Sour Dole Pineapple Chutney and Spicy Mayonnaise. It was piled high with juicy pork and with the sweetness of the pineapple paired with the flavors of the mayo, it's another great choice.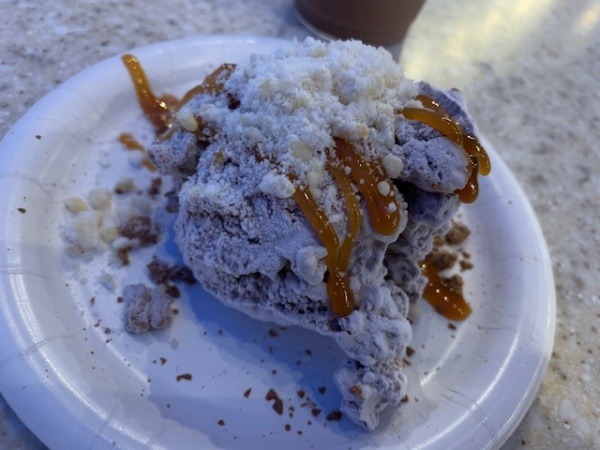 For dessert, we got the Liquid Nitro Chocolate-Almond Truffle with Warm Whiskey-Caramel from the Chocolate Studio. Again, this dish has become another staple and it's one you don't mind eating during the early days of the festival because it is served up ice cold! It's like frozen hard ice cream, with a creamy chocolate flavor.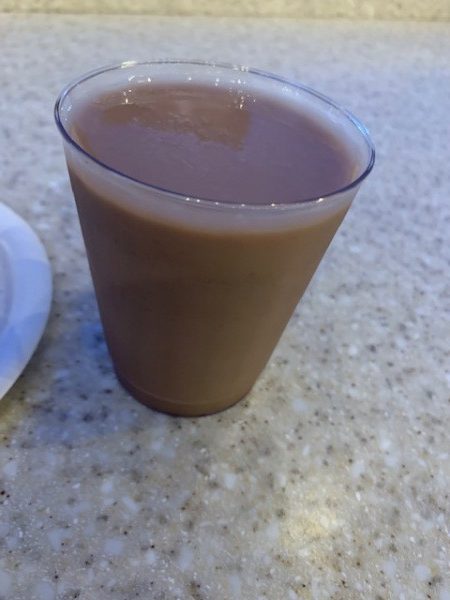 Finally, I did something I almost never do. I grabbed an alcoholic beverage. From the Chocolate Studio, they had a delightful sounding Twinings Pumpkin Spice Chai Tea Frozen Cocktail with Caramel Vodka. (You can get this without the vodka.) Vodka is the only alcohol I actually don't hate, so this sounded really good and again, was the prefect choice on the hot evening. The sizing is definitely small for the price, but I definitely enjoyed this drink.
So, after a successful evening of dining around the Epcot Food and Wine Festival, we settled in for our last showing of IllumiNations. It was certainly bittersweet, but I was glad we got to see it one last time.
Have you tried any of these dishes from the Epcot Food and Wine Festival? What should I try on my next visit? Share your thoughts in the comments or on Facebook or Twitter!
Did you like this article? Make sure to share it with your friends! Check below for easy ways to share!
Want to visit the Walt Disney World Resort? Contact The Magic for Less Travel for more information and a free, no-obligation quote.